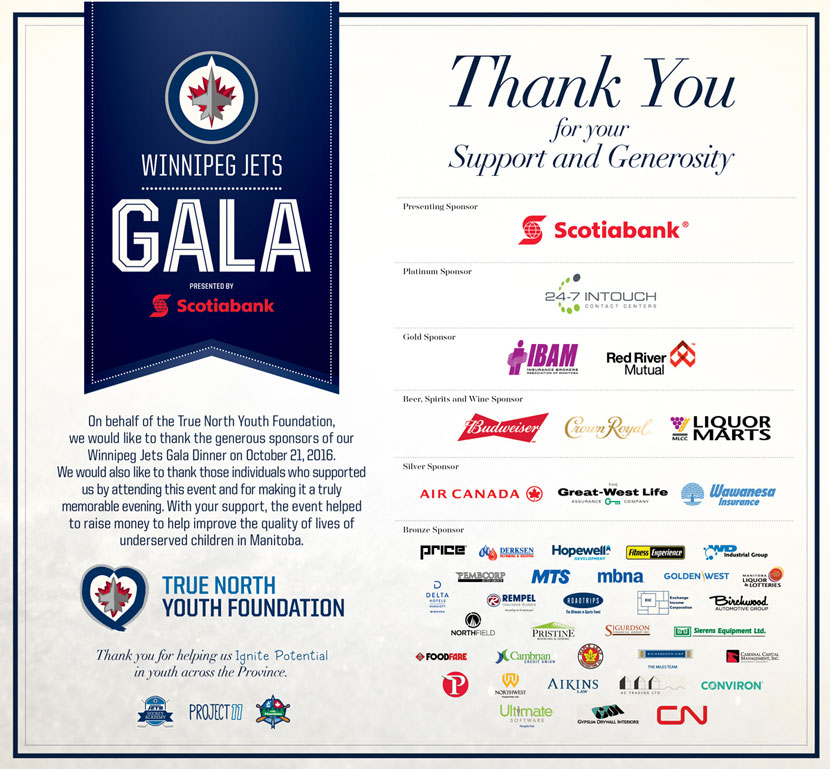 On behalf of the True North Youth Foundation, we would like to thank the generous sponsors of our Winnipeg Jets Gala Dinner on October 21, 2016. Click here to see a list of sponsors and videos from our past events.
---
4th Annual Winnipeg Jets Gala Dinner raises over $685,000 for underprivileged children in Manitoba
Winnipeg Jets players and hockey legends came together this weekend for the Heritage Classic Hockey games being hosted at the Investor's group field. To kick off the weekend, the True North Youth Foundation put on the 4th annual Winnipeg Jets Gala Dinner presented by Scotiabank which took place at the RBC Convention Centre on Friday, October 21, 2016.
Click here to view more photos from the 2016 Gala Dinner >
If you are interested in receiving more information about this event, please contact:
Julie Chartier
204.926.5524
jetsgala@truenorth.mb.ca
Stay tuned for updates on the 2017 date.
Thank you for your support.