A BOLD FUTURE FOR
CAMP MANITOU
An escape from the everyday, Camp Manitou creates meaningful opportunities for outdoor learning and adventure. Through programming that balances physical activity and nature exploration with relationship building and creative expression, young campers are immersed in an emotionally rich experience that positively impacts their well-being and development. Camp Manitou celebrates diversity, inclusion, and belonging, and strives to make camp accessible to all Manitoba youth by removing physical and socio-economic barriers so that more kids can benefit from the personal growth of the camp experience.
The True North Youth Foundation has explored an ambitious and exciting 11-acre expansion plan that will build capacity for Camp Manitou and bring new challenges, learning opportunities and fun activities that will continue to empower young campers to gain confidence and independence, develop life skills, foster and cultivate friendships, and create lifelong memories.
IMPACTS IN ACTION
BELONGING:
Fostering Community
Camp Manitou is a rare outdoor escape in an urban environment. Only minutes from the city in Headingley, Manitoba, Camp Manitou's 28 acres are within the limits of the metro school division, which removes participation barriers and makes camp accessible to more youth. Camp Manitou fosters a sense of community where everyone belongs and where every accommodation is made to ensure inclusion, regardless of socio-economic or physical barriers that campers may experience. With jam-packed days of activities, learning, and fun, kids are able to leave their troubles behind to simply be kids, bond, make friendships and immerse themselves in the community of camp. The mosaic of community at camp means that children meet and interact with kids from different backgrounds and with varied life experiences. Campers experience first-hand how they can learn from each other and that no matter how different they may be from someone, there are commonalities to celebrate as well. Read More
"We see all kinds of cultures and kids with different backgrounds, socio-economic, different barriers, and when kids get to Camp Manitou, everyone is on the same playing field. I really find that everything that's from the home environment or wherever they live – that's all gone and wiped away and they come here and everyone's at the same spot and that's really exciting to see."
– Rick Bochinski, Director, Camp Manitou
LEARNING:
Cultivating Resiliency, Self-Esteem
Camp Manitou invites kids to step out of the everyday and into nature, providing an experience that is out of the ordinary for both campers and staff. The safe and nurturing environment of camp allows children to be themselves, to fulfill their need for both physical activity and creative expression, and to experience a new degree of independence. Activities and programming push kids to test their limits, reach new heights (literally!), and show them that anything is possible. Read More
"I love that I have not yet found a limit to how much I can learn and grow here at Camp Manitou. At camp, everyone is always welcome and always belongs, no matter what. In this environment people are free to be and learn about who they are as gifted individuals within our community."
– Bryn O., Camp Prog. Mgr & Activity Leader
CONTRIBUTING:
Fostering Leadership & Citizenship
Camp Manitou meets children at their current level of ability and self-awareness and helps them to realize their full potential through self-discovery and problem solving. Not only do campers gain a respect for and awareness of their environment, they also gain a respect and understanding for others that helps to develop a sense of stewardship toward people and places around them. The games and physical activities at camp are also vehicles to help campers develop mental strengths and learn important values such as honesty, compassion, and responsibility. These values will play a role in shaping campers' future selves and will influence the impacts these kids will have in their community throughout their lives. Read More
"I believe that when (campers) do get older, they will look back at this experience and understand how it's helped shape their lives."
– Blake Fitzpatrick, TNYF Board member
OVERVIEW OF THE EXPANSION PROJECT
Although attendance at Camp Manitou has nearly tripled over the past six summers, 90 percent of Manitoba youth are not experiencing the joys, adventures and personal growth of any camp, according to the Manitoba Camping Association. Demand continues to exceed capacity and the TNYF is now planning to bring a bold vision to life with an exciting 11-acre expansion project that will empower even more young campers to gain confidence and independence, develop life skills, foster and cultivate friendships, and create lifelong memories. The expansion will double the daily capacity to up to 400 campers (depending on age) by introducing new sports and activities, with a focus on activities for older youth.
Three key deliverables of the expansion project are:
A new 10,000-square-foot lodge will double the dining hall capacity and provide abundant space for overnight campers and rainy-day activities.

A 150,000-square-foot custom-made lake will be developed along with a boat house and dock, providing a safe and controlled water environment to introduce new water activities like kayaking and canoeing, as well as offer swimming capacity for up to 150 kids. The lake will also be a hub for winter activities, bringing the tradition of pond hockey to Camp Manitou.

The development of mountain bike trails, a biking skills area including a jump line and pump track, hiking and cross-country skiing trails, a beach volleyball court, petting zoo and a zipline will allow Camp Manitou to provide an even more diverse camp experience to more kids than ever before. Camp Manitou's expansion plan takes the natural environment into consideration and accounts for a reforestation plan to replace and plant new trees, as well as create landscape features that enhance the natural, green beauty of the grounds.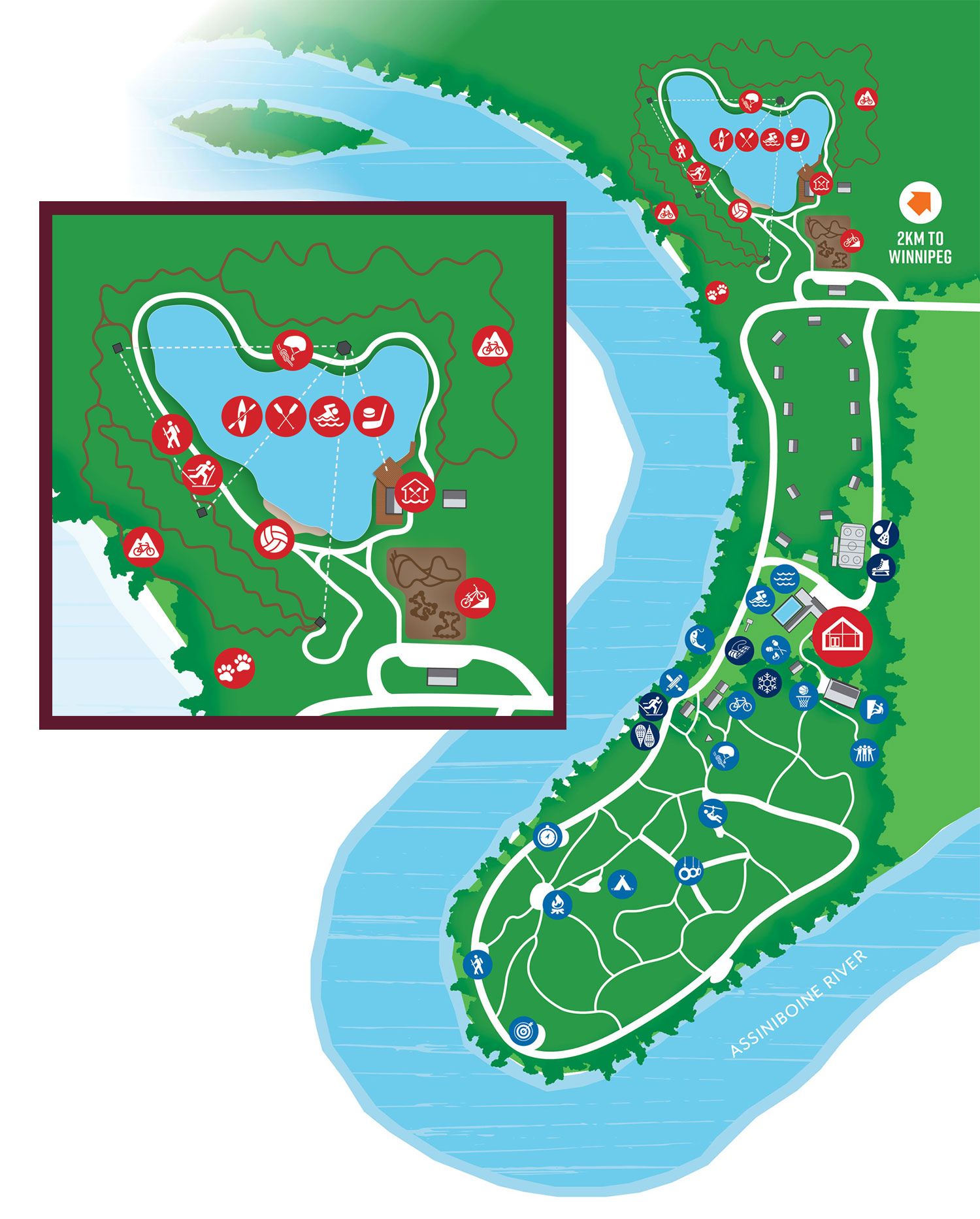 $20 MILLION
CAPITAL CAMPAIGN
Over the past four years, annual camp attendance has almost tripled from 6,000 in 2014 to just under 17,000 in 2018. In order to meet the increasing demand, the True North Youth Foundation is embarking on its most ambitious project to date, with the goal of doubling the number of children who are positively impacted by nature at Camp Manitou.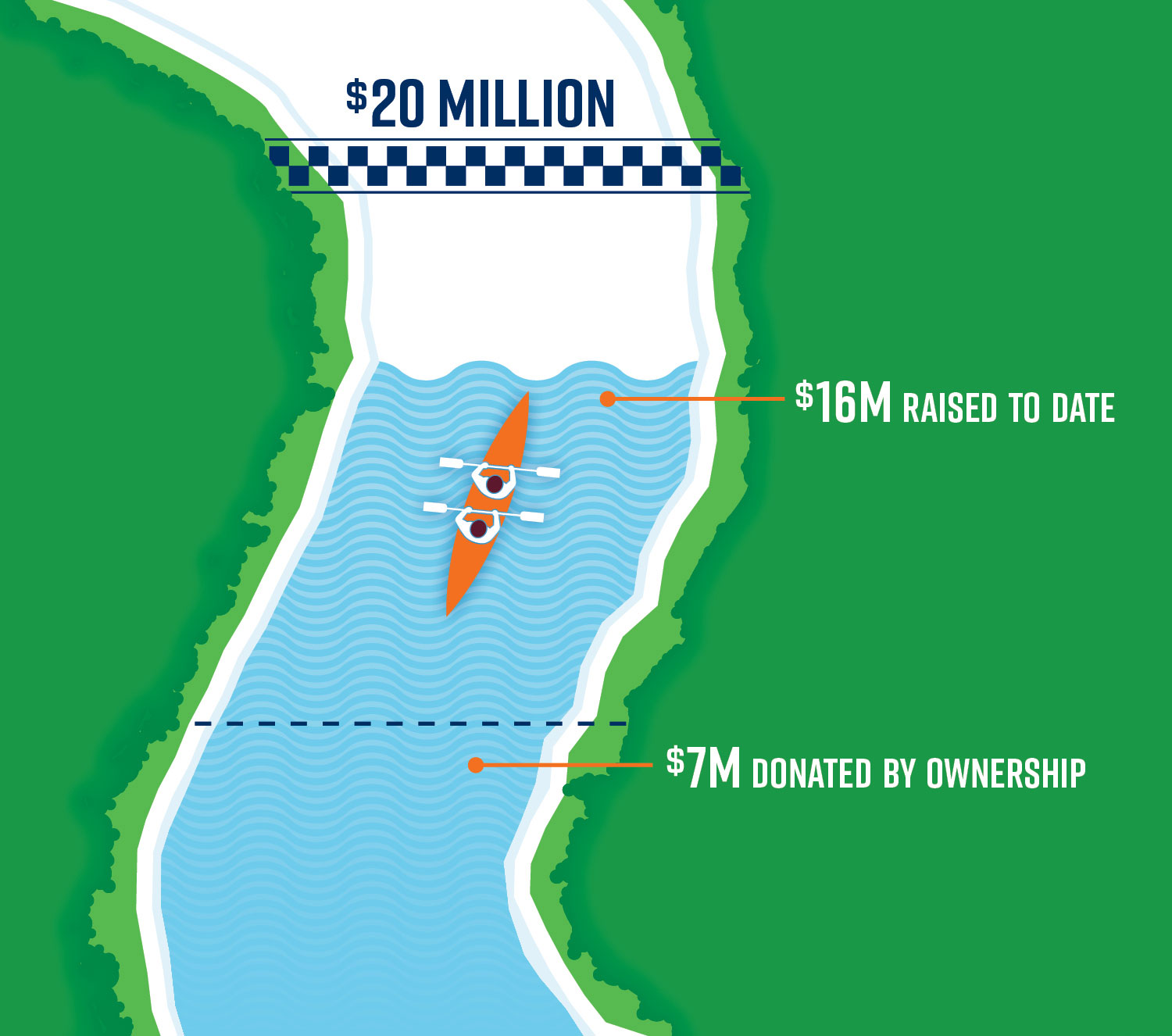 LEADERSHIP TEAM
Honourary
John Bock
Campaign Co-Chairs
Steve Kroft
President & CEO, Conviron Group of Companies
Catherine Baldwin Filmon
Cabinet Members
Kevin Chief
TNYF Board Member
Blake Fitzpatrick
Co-Owner & Director, Maple Leaf Construction
Brian Lerner
Partner, MLT Aikins LLP
Kevin Neiles
President, Prairie Region
Arthur J. Gallagher Canada
Gerry Price
Chairman & CEO, Price Industries Limited
George Sigurdson
Founder & President, Sigurdson Financial Group
YOU ARE THE FUTURE OF CAMP MANITOU
An investment in Camp Manitou is an investment in the future of our community. Your donation, no matter how big or small, will absolutely impact a young person's life, and create a bright future for the youth of today and in the years to come. We invite you to become part of the fabric of Camp Manitou with your pledge toward Camp Manitou's expansion.
---
YOU CAN ALSO DONATE…
BY PHONE: 204-926-5524
IN PERSON: 2nd Floor – 345 Graham Ave
BY MAIL: Print and complete this form and mail to:
345 Graham Ave
Winnipeg, MB R3C 5S6
Make cheque payable to the True North Youth Foundation