Ducky Pond Hockey Classic presented by Canada Life hits the ice at Camp Manitou Feb. 9-12
November 22, 2022 10:43 am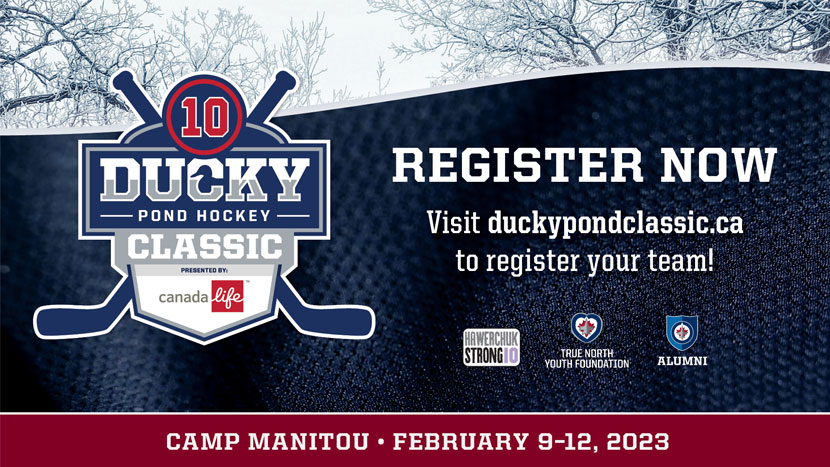 The inaugural Ducky Pond Hockey Classic presented by Canada Life is set to take over Camp Manitou just west of Winnipeg in Headingley for four days of exciting competition from Feb. 9 to 12, and teams can register starting today at DuckyPondClassic.ca/REGISTRATION.
The Ducky Pond Hockey Classic, hosted in honour of late Jets legend Dale Hawerchuk, will feature up to 72 teams in two divisions: an Open Division and a Women's Division. Teams will consist of a maximum of five players as opponents face off in a 4-on-4 format with no goalies. Each team will be guaranteed five games – one on Thursday, and two games on both Friday and Saturday – that will be played in two 15-minute halves with a five-minute break in between. The top teams from both the Open Division and the Women's Division will make the playoffs to be played on Sunday.
Affiliated with the World Pond Hockey Classic, the teams crowned as the Open and Women's division champions at the Ducky Pond Hockey Classic will each earn a berth in and all-expenses paid trip to the World Pond Hockey Classic in Plaster Rock, N.B. the following year.
The games on the ice at the Ducky Pond Hockey Classic will be complemented by plenty of off-ice activities. DJs will entertain players and spectators on the pond throughout the tournament, Jets alumni will be on site and participants can look forward to 50/50, prizing, and giveaways while food trucks, beer gardens and social events – including a Winnipeg Jets Hockey Night in Canada watch party on Saturday night – will turn the tournament into a true community event.
"We're especially excited to get the Ducky Pond Hockey Classic off the ground this winter after not being able to host the event planned for last season – and the extra year of planning time will only make this first tournament even better," said Anders Strome, Director of Player & Alumni Relations with True North Sports + Entertainment. "Our province's enthusiasm for playing hockey outdoors is on display all winter at community rinks, so we know Manitobans will be thrilled to participate in this unique event. Teams will want to get their registrations in early for what is sure to be a memorable weekend."
The Ducky Pond Hockey Classic presented by Canada Life is in support of Hawerchuk Strong, the True North Youth Foundation (TNYF), and the Winnipeg Jets Alumni & Friends, all organizations close to the heart of Dale Hawerchuk.
For more information and to register, visit the fully launched website at DuckyPondClassic.ca.