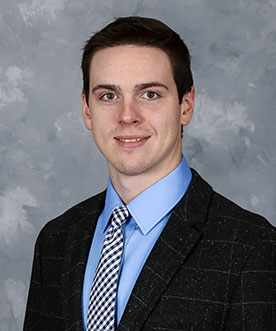 Alex Kampen
Minor Hockey Supervisor, WJHA
Following the completion of his playing career in 2014, Alex joined the Winnipeg Jets Hockey Academy (WJHA) as a volunteer. From the beginning, it was obvious he was well-suited to take on a bigger role as his passion for the game of hockey and the WJHA student athletes were evident. In 2015-16 Alex was given more responsibilities as he became a lead on-ice instructor, a head coach of the WJHA Minor Atom team, and a classroom leader for the After School Program. Out of these responsibilities, Alex was chosen to become the WJHA Minor Hockey Supervisor beginning in April of 2016. In this role, Alex is responsible for overseeing the growth of the WJHA Minor Hockey teams and players.
Growing up, Alex played minor hockey in North Kildonan, and remained in Manitoba to play Junior A with the Selkirk Steelers of the MJHL. In 2012, Alex signed a pro contract with Germany's Bremerhaven Penguins and they won the DEL2 Meisterschaft in 2014. Other highlights include an undefeated season (49-0) with the Winnipeg AAA Thrashers and playing against NHL players in the DEL2 during the 2012-13 NHL lockout.
Alex speaks German and has dual citizenship in Canada and Germany. Alex studied Principals of Coaching and Sports Psychology at the University of Winnipeg before graduating from Red River College with a Business Administration diploma. In addition to his extensive hockey background, Alex is also a certified coach and official.