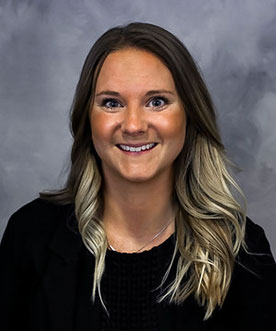 Jen McAlpine
Manager, Academic Performance, WJHA
Jen McAlpine came to the TNYF after starting her career at Winnipeg Child & Family Services. A University of Manitoba graduate with a Bachelor of Social Work, she transitioned into her role as the Youth Career Counsellor, WJHA in 2017. The position is well-suited to Jen's passion for educating youth in all major life areas – physical, social, and emotional as well as school and work – to enable them to achieve their highest potential. In addition to assisting with the WJHA on-ice program, Jen is responsible for coordinating the High School WJHA after-school program. One of the main goals of the after-school program is to provide experiential learning opportunities in the classroom and community for high school students to explore their work/life options as they start to transition into adulthood. Jen assists youth in finding employment – sometimes their first job – and exploring post-secondary options so that they can achieve their work/life goals moving forward.
Jen's experience working with youth goes beyond her professional roles having coached ringette for over 10 years and serving as a member of the Kirkfield Westwood Community Centre board of directors. Jen played hockey throughout high school as a member of the Westwood Warriors and has been playing ringette for over 20 years.
Jen is a certified Career and Employment Coach and a member of the Manitoba College for Social Workers.