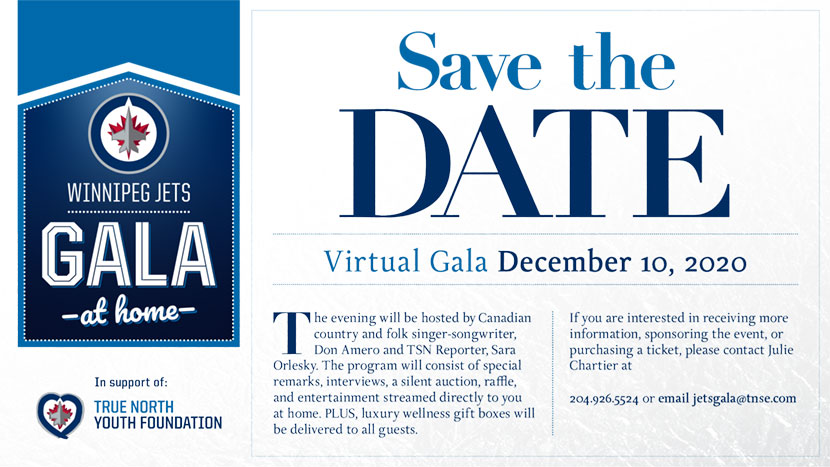 Winnipeg Jets Gala…at home
Stay home and support the True North Youth Foundation on Thursday, Dec. 10, 2020. This year's gala has gone virtual and your support has never been more important!
A virtual gala is very similar to a traditional gala, but you do not have to leave the comfort of your home to join in on the fun! Providing this event virtually lets us prioritize safety while fostering a sense of community.
The night will be hosted by Canadian country and folk singer-songwriter, Don Amero and TSN Reporter, Sara Orlesky. The program will consist of special remarks, a silent auction, raffle, and entertainment streamed directly to you at home. We are also delivering luxury wellness boxes to all guests.
The Gala is in support of the True North Youth Foundation, and through funds raised at the Gala, TNYF is able to offer 6,100 summer camp day experiences at Camp Manitou, the Project 11 curriculum to 2,227 classrooms across the province, and allows for more than 825 children to participate in the Winnipeg Jets Hockey Academy.
Whether through the academic support of the Winnipeg Jets Hockey Academy, the adventure of outdoor education at Camp Manitou or the wellness curriculum of Project 11, the True North Youth Foundation impacts over 60,000 youth annually.
With your help, we will continue our important work of empowering youth and providing an environment where kids can learn and grow, build self-confidence, and develop physical and intellectual skillsets that cultivate leadership, citizenship, and equip them for a bright and successful future.
2020 Winnipeg Jets Gala Sponsorship Package: COMING SOON
Reserve your table now by contacting Julie Chartier at 204-926-5524 or jetsgala@tnse.com.
Thank you for your support.