Birdies 4 Blades Scholarship removes obstacles for WJHA grad
June 30, 2022 9:00 am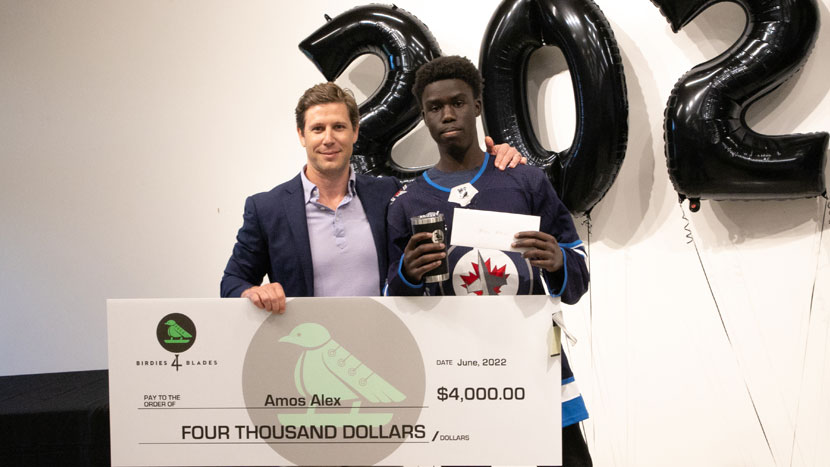 Hockey is full of obstacles to avoid. Whether it's a defending player trying to steal the puck or a goalie trying to poke check you on a breakaway, the puck won't be on your stick long if you aren't able to deke and navigate your way around those obstructions.
For some kids, there are obstacles to just getting onto the ice. Funds, opportunity, and transportation can all plant themselves in the way of youth getting the chance to play the game.
That's where the Winnipeg Jets Hockey Academy (WJHA) comes in. It's their mission to remove those barriers for youth like 2022 program graduate Amos, who might not have otherwise had the chance to play hockey.
"The greatest benefit I experienced in the WJHA was the free cost of playing hockey in middle school and high school. This benefit allowed me to keep playing hockey all through my school years without the worry of paying," said Amos.
Through the avenue of hockey, the WJHA's real goal is to help remove obstacles for youth that aren't just defenders and goalies at a rink. They're more concerned about eliminating the barriers to accessing post-secondary education and jobs and giving youth every chance at making the future they dream of a reality.
It's a mission that many others have joined them on, including the Birdies 4 Blades Golf Tournament through their annual scholarship to a graduating WJHA student. For tournament chair Chris Davin, the opportunities that the WJHA provides Manitoba youth with on and off the ice is a worthwhile investment.
"I was provided access to hockey and the biggest obstacle I faced was to avoid being hit by bigger, stronger players," noted Davin of his own experience in the sport. "Comparatively, WJHA students battle a tremendous amount of adversity and simply getting to the rink can be a challenge. Having a better understanding of the challenges WJHA students face day in and day out inspired me to take action and contribute to these well-deserving young role models."
This year's winner of the $4,000 Birdies 4 Blades Scholarship was graduate Amos. The funds are both a way to remove barriers to education, and reward him for his dedication to the program over the years. Time spent with the program has given Amos many more rewards along the way – ones he already knows he can apply to his future.
"I am proud of my hockey skill, the friends I have made through the program, and the improvements to my fitness. The greatest skill I learned during my time with the WJHA, though, is teamwork, and more specifically communication with team members. The ability to communicate effectively is not only useful on the ice but also off the ice. It is very important and useful in workplaces to effectively communicate with those around you."
The program hasn't just rewarded Amos himself – it's bettered life for his whole family, according to his mother Josephine, who has two other boys in the WJHA.
"The WJHA has allowed us as a family to spend more time together," said Josephine. "An example of this family bonding time is when the WJHA has offered us tickets to attend hockey games. These hockey games are wonderful memories for us."
Those fond memories and many lessons learned, along with his scholarship, will serve Amos well as he enters his first year of university at the University of Manitoba in the fall. More than that, they'll allow him to dream for the future and reach for whatever goals he sets for himself.
Davin, meanwhile, plans to continue with the scholarship to impact more youth like Amos, and he's got his own goals in mind.
"My ultimate goal in providing financial support through scholarship funding is to one day, many years from now, receive an email from one of the scholarship winners. I envision a successful, accomplished, well-rounded individual who has established themselves within the community. I envision them describing to me how the scholarship helped them to graduate, and kick start a great professional career. Most importantly, I envision them passionately describing an experience they had giving back to another well-deserving individual."
We won't be surprised if that email is from Amos.