WJHA grad gets boost of confidence from Jets Alumni & Friends Scholarship
June 24, 2022 8:52 am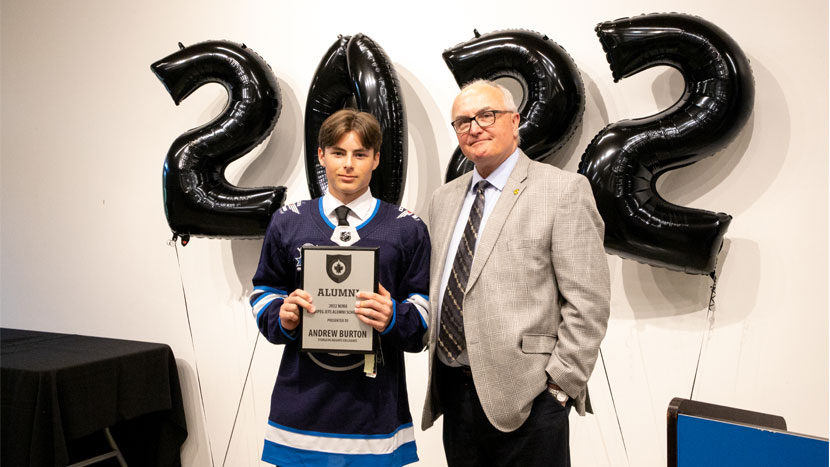 There are certain values that hockey players need in order to make it at the highest level – dedication to hard work and improvement, and strong character among them. The Winnipeg Jets Alumni & Friends know the importance of those values, which is why they reward those attributes through the Jets Alumni & Friends Scholarship that goes to a deserving Winnipeg Jets Hockey Academy (WJHA) grad each year.
This year, that student was Andrew, and it's little wonder why he was chosen by the Jets alumni. He certainly checks off the improvement box – he had never played hockey prior to joining the WJHA in Grade 6, and has grown into playing for one of the WJHA minor hockey teams.
"The WJHA introduced me to playing hockey. So, I would have to say, my first time stepping on the ice, my first time scoring a goal in minor hockey, my first time getting a hat trick, being able to go to the Mark Scheifele Hockey Camp, and getting to go to Jets and Moose games," said Andrew as he rattled off his highlights from being in the WJHA.
Though hockey has clearly been the highlight of his participation in the WJHA, the programming has naturally found a way to encourage improvements in other areas of Andrew's life too.
"I've become more outgoing thanks to the WJHA. I came out of my shell and became more vocal, which is something I'm proud of."
Andrew isn't the only one proud of that. His mom, Roxanne, has noticed Andrew's confidence evolve throughout his time with the WJHA too.
"One of the greatest benefits of the program is the encouragement to try and learn something new, maybe moving out of a comfort zone and creating memories while you do it. Andrew has always been a quiet kid and on the shyer side. That shyness has been replaced with a quiet confidence, which has helped him become a leader and gain respect among his teammates, friends, and coaches."
Coming out of your shell doesn't just happen, though. It takes effort, risk-taking, and trust. The Jets Alumni & Friends scholarship is an acknowledgement of those strides Andrew has made away from the rink, not just how far he's come on the ice.
"Like Andrew, many of us Jets Alumni & Friends found our confidence through playing hockey, and we further developed that through playing the sport," said Jets Alumni & Friends Association President Jordy Douglas. "We're forever grateful for how the sport has shaped us, and that's why this scholarship means so much to our group. We've all seen first-hand how the game of hockey can change lives, and that's already evident in Andrew's life too. We hope the scholarship serves as an encouragement to continue enjoying hockey and the gifts it gives, while spurring students on to translate those new-found skills to other areas of their lives."
Andrew has already been transitioning those hockey lessons to other endeavours. Learning how to use that quiet confidence has impacted his schoolwork and his ability to ask for help when he needs it.
"Andrew has always been a good student, but when he needed help with a subject giving him trouble, he knew he could reach out and receive assistance," said Roxanne.
"The after-school programming and volunteer initiatives also helped him realize the importance of giving back."
Both of those lessons will serve Andrew well in the near future. As he starts his university career in the U1 program at the University of Manitoba and plans to move into the Faculty of Kinesiology, being comfortable asking questions will help him to get the most out of his degree and will help him get the support he needs.
The importance of giving back is sticking with him too. Though he's graduating from the WJHA, the program won't be in the rear-view mirror for him yet as he plans to step into a voluntary coach position with a WJHA minor hockey team.
It's amazing what a bit of confidence can do for someone, and for Andrew, the WJHA and the Jets Alumni & Friends scholarship have him feeling like the sky is the limit.
"If you work hard, you can accomplish your goals," said Andrew. "If I put my mind to something and work hard, I am sure I can accomplish it."