WJHA student wins Winnipeg Jets Alumni & Friends MHSAA scholarship
June 16, 2023 1:56 pm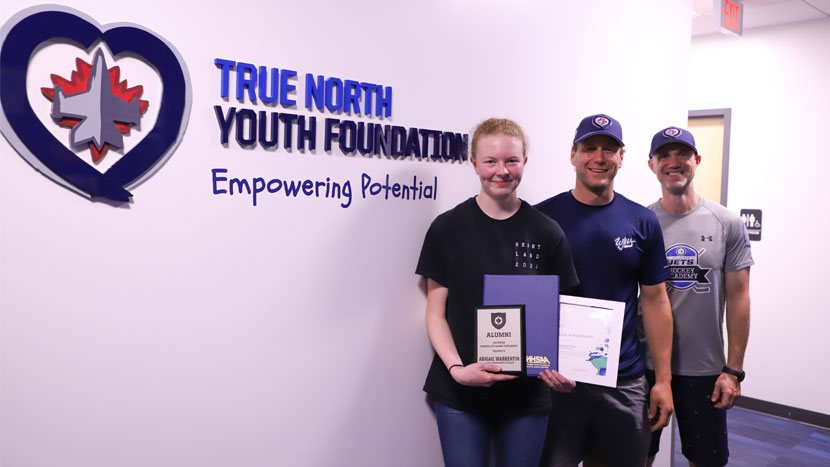 Graduating Winnipeg Jets Hockey Academy student Abby may not be the most outspoken person, but her school grades along with her skill as a hockey goaltender, and her commitment to her community do all the talking when it comes to her character and work ethic.
Her achievements have spoken so loudly that Abby was selected as the female recipient of the Manitoba High School Athletic Association's Winnipeg Jets Alumni & Friends Scholarship, awarded annually to one male and one female high school hockey player based on their on-ice skills and leadership in their school and community.
Though the Winnipeg Jets Alumni & Friends also award a scholarship specifically to a WJHA student each year, the group found Abby to stand out not just among here fellow WJHA students, but among all female hockey players in the province.
Abby still can hardly believe she got selected.
"There are so many great high school athletes in this province, so it was surreal to be picked," she said.
It's not hard to understand why she's so deserving of the award. Her high school grade average is 1.2 per cent away from perfect. She also received a high school hockey graduating player scholarship and was awarded the Goalie of the Year in Division 2 of the Manitoba Women's High School Hockey League in Grade 11. On top of playing hockey, she played lacrosse and participated in band and jazz band at Sturgeon Heights Collegiate where she is graduating this June, and she does too much volunteer work to mention.
It takes a lot of hard work to be involved in and excel at so many things, but putting in the time is well worth it according to Abby.
"It's about just getting down to work and focusing on things. Having confidence in yourself is important too, which I haven't always been good at. But if you believe you can do something, go for it and work hard."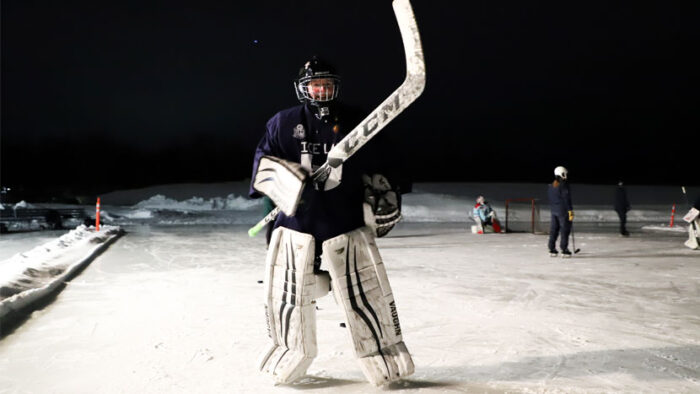 That's what Abby did upon joining the WJHA in Grade 6. Though she had skated on outdoor rinks, she had never played organized hockey. Only two years later, she was on a WJHA minor hockey team and strapping on the goalie pads for the first time.
"Ever since I can remember, I've wanted to play goalie. I'd play mini sticks with my brothers at home, and I was always in net. When I got to do it for real on the ice, my mind was blown."
Abby learned the lesson of having to put in the work to get results early on in her time in the WJHA. Her team lost 17-0 in their first game, and they didn't win a single game all season. But she and her teammates stuck with it, resulting in their first win in the first game the next season – Abby's first shutout in a 6-0 win.
It's that stick-to-it attitude that has gotten Abby to where she is today, but she gives plenty of credit to mentors in the WJHA for pushing her along the way.
"The team environment with the WJHA was very encouraging, and people pushed me towards trying out for high school hockey, which I wouldn't have otherwise."
Before long, Abby will be the one encouraging people to reach their potential. She's been accepted into the Faculty of Education at the University of Winnipeg for fall and will pursue a Major in Math and Minor in Chemistry in hopes of teaching those subjects.
WJHA Director Murray Cobb knows Abby will excel at that too, much like everything else she does.
"We're extremely proud of Abby's own success of course, but even more proud to see how she's impacted other WJHA students in her wake," said Cobb. "It's one thing for us as coaches and mentors to tell kids what's possible for them if they put their mind to something, but it's a much more powerful message when they see one of their peers succeeding. We're thrilled that Abby wants to keep impacting the next generation."
It all started with a chance to play hockey for Abby – something she wants all kids to get the opportunity to do.
"Seeing what the WJHA does for kids by giving them the opportunity to play hockey, it's been privilege for me to be a part of that. It makes me want to spread the joy too," said Abby.