Casting for a Cause
April 6, 2022 10:00 am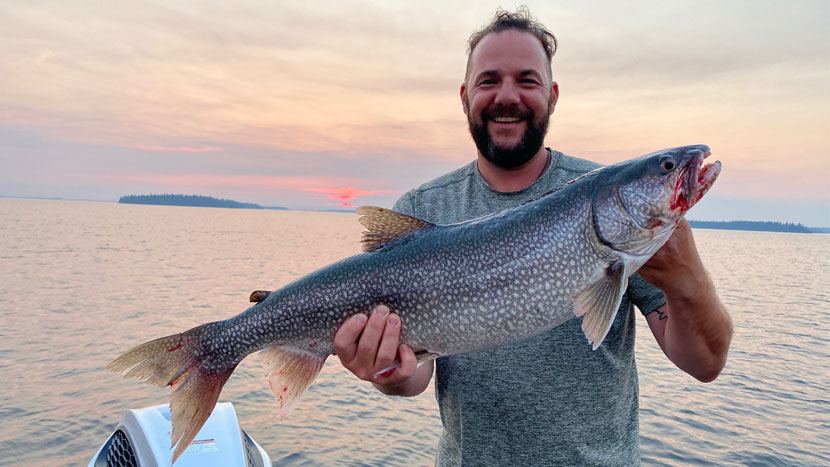 Buddies Rob Milette, Todd, Dwayne, and Brian Chornoby, and Ricky Ryan have spent plenty of time getting to know each other in a fishing boat. They know how well (or not) and how fast each can fillet a fish (30 seconds is the time to beat) and they know who should be cooking that fish (Milette). They also know how each, and their families, have been impacted by mental health struggles.
The group was there for Milette, Head Athletic Therapist with the Winnipeg Jets, and his family when they went through an unthinkable experience in 2018 – both of Milette's kids, then aged 14 and 19 and who had experienced depression and anxiety, attempted to take their own lives within four weeks of each other.
"That whole year was pretty difficult, but we're on the other side now and doing much better," Milette said, noting that his daughter is now at the University of Brandon, studying to be a psychiatric nurse in the hopes of helping other youth get through the kinds of struggles she had.
While they were able to access support through their connection to the Jets, it was Milette's observation that overall support and awareness was not as accessible, and he knows many families have not been as fortunate as his.
The pressures and stresses for teens today are all too familiar for Todd Chornoby, who has many friends with kids in the same age range who struggle with a variety of issues that affect their well-being.
Chornoby experienced his own difficulties with fitting in throughout his childhood, and he can see how technology and social media have further negative effects on today's youth.
"I feel like a lot of the kids today are having 10 times more difficulties than I had when I was a kid. People like me who are a little bit older and a little bit wiser need to be able to help those kids as much as we can."
Chornoby admits he is not always equipped to offer the right advice when people share their family struggles with him, but he does know what he is good at – raising money and showing people a good time.
The group of buddies were inspired to figure out how they could all best pull their skills and resources together to give back to the community through a very meaningful cause.
They thought of the beautiful Stevenson Island – where Chornoby's brothers Dwayne and Brian live, do business and have accommodations – their shared passion for fishing, Milette's connection to the Winnipeg Jets, Ryan's outdoor skills, and their collective desire to impact youth in the area of mental wellness support. As a result, the Fishin' with the Jets initiative was born.
Two lucky winners will win an all-inclusive fly-in fishing experience for two to Stevenson Island on Island Lake in northeastern Manitoba with a Winnipeg Jets player this summer, all in support of the True North Youth Foundation's (TNYF) Project 11 mental wellness program – a free school-based program for all Manitoba teachers that integrates mental health awareness into existing school curriculum and emphasizes the importance of mental well-being alongside physical health.
More than 2,500 Manitoba teachers are bringing mental wellness conversations to the forefront and positively impacting classroom communication, healthy emotional expression and constructive problem-solving – all skills and knowledge youth need to overcome the many challenges they face today as they grow and mature, and the challenges they will face down the road throughout adulthood.
"The TNYF is a perfect (cause) because it fits with so many things," said Chornoby whose company, Machone, will supply the food for the trip. "It's just something I need to do for myself and some of my friends and their kids who are having troubles."
Four brand new boats await the group on the shores of Island Lakes, and Chornoby and Milette promise an amazing time and some of the best fishing that is to be had, guided by members of their group who know the area like the backs of their hands.
"I'm not lying when I tell you you're putting your line in the water and you're bringing up a fish every time," said Milette who will man the kitchen and the barbecue with Ryan as sous-chef.
From the beauty of the Canadian Shield, the serenity of the still lake, the peaceful evenings and dancing northern lights to the shore lunches, and, of course, the camaraderie, the trip promises to be a memorable experience and opportunity to reset and recharge amid nature.
"It is all very personal to all of us," said Milette. "We all have our own story, some of them intertwined, and we wanted to do something good, try to raise a bunch of money for Project 11, specifically because of what they do in the community to help kids in schools."
Raffle tickets for this once-in-a-lifetime experience can be purchased until April 27 at TNYFRaffle.com.
This article was originally published in Game On magazine – Manitoba's hockey community magazine.