TNYF 12 Days of Giving – Day 3: Giving youth the chance to make their own impacts
December 8, 2021 7:00 am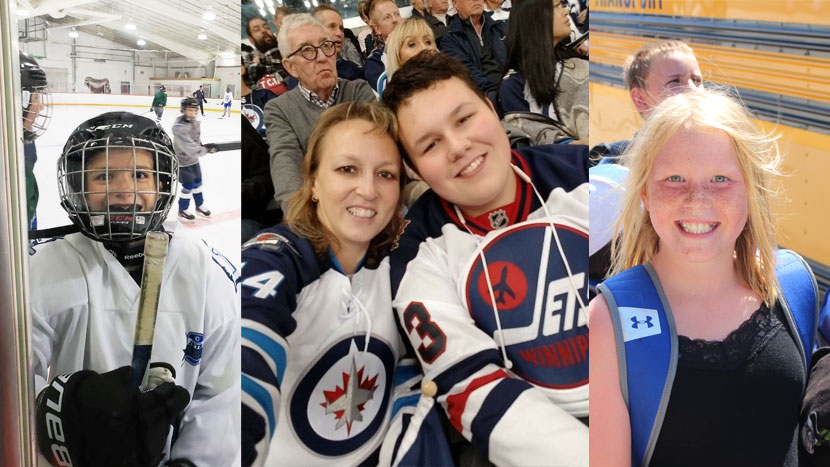 The impacts that the Winnipeg Jets Hockey Academy (WJHA) makes on youth are significant, and though you can see the difference being made during their on-ice, tutoring and after-school programming, the true sign of real impact is when students exhibit that growth away from the program.
For siblings Brendan (a 2021 WJHA graduate), Cam (Grade 10), and twins Kyra and Evan (Grade 9), the cuts they've left in the ice with their steel blades, the lines of algebra they've written, and the hearty laughs they've shared with peers and coaches are noticeable even when they aren't around those involved in the WJHA.
The program has shown Brendan that there's always a choice to work harder and do more to achieve our goals. Cam often commentates during NHL games what his WJHA coaches would have said on certain plays had it been him on the ice. Kyra noticeably has a greater sense of adventure and courage to try new things. Evan is continually coming further out of his shell. Their mother Tara has even become engaged in volunteering with the program and was encouraging other WJHA moms to walk with her at Camp Manitou during the pandemic while their kids had hockey practice on the outdoor rink to ensure everyone was making the most of a difficult year.
The impacts of WJHA coaches and volunteers are only the beginning. With Brendan now graduated from the program and his siblings soon following in his footsteps, and many other WJHA students just like them, the differences being made in the lives of Manitoba youth are not just being seen in classrooms, but also in workplaces and communities around the province.
"Hockey has given them something to look forward to, something to work harder for, and something that is theirs that they can turn to as an outlet for whatever emotion they are feeling. The after-school program has allowed them to make new friends, learn different ways to socialize, and try new activities that maybe they wouldn't have thought to try. It has expanded their horizons." – Tara, WJHA parent
Be a game changer this holiday season by giving more youth like Brendan, Cam, Kyra and Evan the chance to be impacted by the WJHA by donating to the TNYF 12 Days of Giving campaign HERE! All donations make a difference for Manitoba youth, as just $150 provides hockey skates for a WJHA student.