12 Days of Giving – Day 7: Maturing from camper to volunteer and beyond
December 20, 2020 10:00 am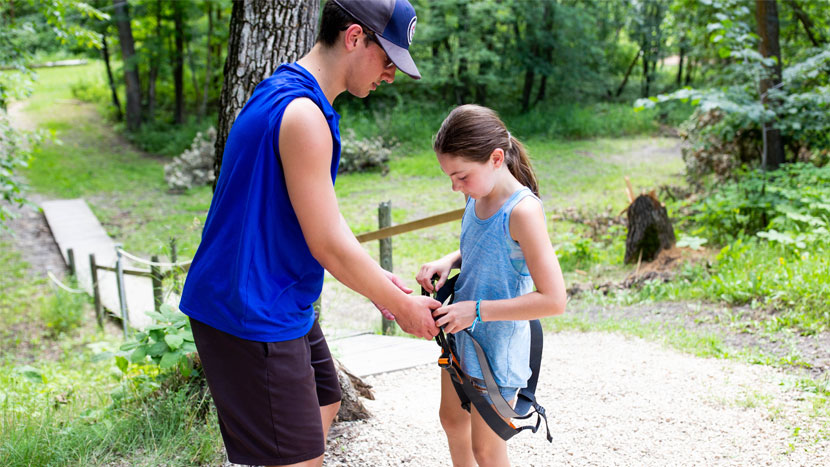 Camp Manitou offers campers, volunteers and staff alike the chance to grow in numerous ways. Though each individual grows in their own way, many campers and volunteers see development in areas such as confidence and relationship building abilities.
For Logan, now a Camp Manitou volunteer, his experiences at Camp Manitou have given him a great opportunity to mature.
Logan still remembers when he first heard about Camp Manitou.
"I first heard about Camp Manitou, I think, in spring break in Grade 3. My mom got an email saying that your kid can attend camp. I didn't know what it was or how it was going to go, but I jumped to the opportunity."
What Logan didn't know was just how much jumping at that opportunity would impact his life.
"Logan was your typical camper when he first came," said Rick Bochinski, Director of Camp Manitou. "He was a little bit apprehensive and not really sure what camp was going to be about, but super excited and happy to be here and do activities and hang out with his friends in a new environment."
It didn't take long for any trepidation to disappear for Logan though. In his early days as a camper, he regaled his family with his adventures.
"I didn't know what it could do for him," said Logan's mother, Amanda. "He had so much excitement coming home and telling us about his day. He's loved it ever since."
By the time he was in Grade 9, like many of his school classmates, Logan threw his name into the hat to be a camp volunteer. Though he had done plenty of growing at camp to that point, it was the shift from camper to volunteer where Bochinski saw him really grow.
"I guess the main thing, and I've seen this with a lot of the students that make the transition, is the difficulty of moving from camper to volunteer," said Bochinski. "I've seen a huge difference in his maturity after two full summers. To Logan's credit, he's spent a lot of time volunteering here, which is really admirable. Even more important than working here in the summer are the skills that he's gained in being able to work with others, to oversee kids, and to have the maturity that is eventually going to help him when he goes into a full-time job down the road when he's done school."
Logan already has his sights set on a specific career as a police officer. More significantly, though, is that Logan is making connections between his current experiences at camp and how they might help him one day as a police officer.
"I think that I can take the skills I've learned from camp and apply them there, like leadership skills. One of the most important points is to serve the public and be a public leader and role model for kids so that they can look up to me as a police officer, and so that they can do the right thing."
No matter where Logan takes the skills he's learned from camp, Amanda is just thankful for the life-changing experiences that he's had at Camp Manitou.
"Watching Logan grow from Grade 3 to the fine young man he is today and being a volunteer at camp, he has applied it to his life, and he's enjoyed every minute. The True North Youth Foundation has helped us give our children the experience that we weren't able to do on our own. I'll be honest with you, it's been a life saver. They touch so many lives; they've touched my family's life."
Become a game changer for youth like Logan and give them the opportunity to mature and grow at Camp Manitou by DONATING TODAY!