Project 11 launches new user-friendly website
November 17, 2020 9:30 am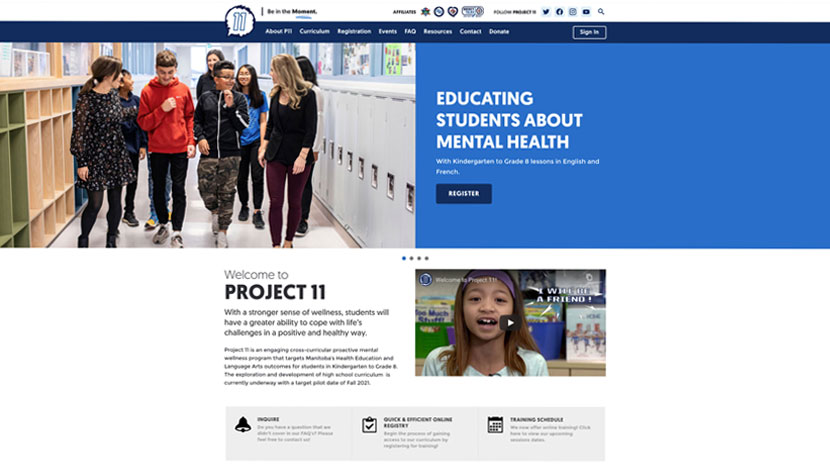 For mental health resources to be impactful, they have to be accessible. Project 11 has worked hard at doing exactly that since its inception – reaching out to more and more Manitoba youth each year through including more grades in their curricula, adding more resources, and even expanding beyond their English curriculum to include French programming.
To expand on that growth and further the accessibility of their programming, Project 11 recently launched a new and improved website that will allow youth, parents, and anyone else interested in their program to more easily learn about P11. Teachers who are already part of the program will also enjoy improved functionality and access to curriculum.
The new set-up better aligns with the program's priorities.
"Our goal with Project 11 since the beginning has been to invite more and more Manitobans into the conversation around mental health. For many people, our website might be their first point of contact with P11, so to have a website that is easier to navigate and visually relays that invitation into the conversation is an important aspect for us," said Suzi Friesen, Director of Educational Programs for Project 11 on the decision to update P11's online presence.
Noticeable changes for visitors include a better overall design with easy access to the curriculum on mobile devices, a smoother registration process for teachers, simpler navigation for users through quick links, searchability and pop-up videos, and new content such as P11 specialist profiles, animated flip cards to guide users through the curriculum, added sections for FAQs and events, and an enhanced resources section that is accessible to anyone looking for youth wellness supports.
"The new site is easier to navigate and features our newly redesigned lesson materials as well as additional resources for teachers, students and families," added Friesen. "Among many other things, it provides access to our newly translated middle years French curriculum. Accessibility has always been important to us and so we're very happy to be able to provide these resources to support our French K to 8 classes."
Clearly, the redesigned site is about much more than simply a new and more inviting look. In the same way that the P11 program emphasizes the importance of supporting one another, they are aiming to do just that through their site – giving teachers and students the support they need to teach the program and get the most out of its lessons.
"We owe a lot of credit to our digital and web design team for creating a website that is both engaging and user-friendly," noted Friesen. "Our P11 team learned a lot and mastered many new web design skills. They worked hard to get all the lessons, videos and additional resources up on the site, ensuring that teachers and students feel well-supported in their conversations about mental health. We've already had some great feedback from teachers saying how user-friendly it is."
See for yourself the updated website by visiting ProjectEleven.ca. If you are an educator who would like to register with the program, visit the site's registration page at ProjectEleven.ca/REGISTRATION.