Thompson lends his voice to normalize the conversation about mental wellness
January 12, 2021 12:03 pm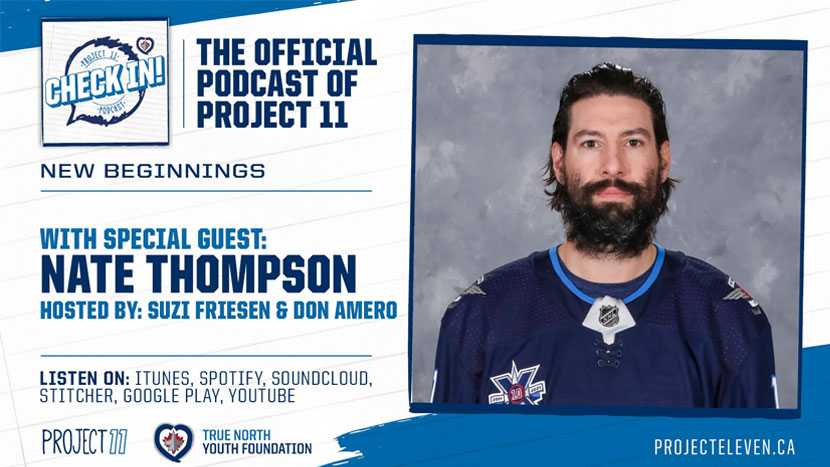 January is an important month on the hockey calendar – and for good reason.
Every year, the month is dedicated to Hockey Talks, a national public awareness campaign designed to encourage conversations about mental health.
It's a month very close to those in the Winnipeg Jets organization and the True North Youth Foundation's Project 11, which was named and created in honour of Rick Rypien, who passed away in 2011.
It was Rypien's desire that young people know they aren't alone when dealing with the challenges they face, and that they learn positive coping strategies to deal with those challenges.
In 2012, Project 11 – named after the number Rypien wore during his time with the Manitoba Moose, and the one he was set to wear with the Winnipeg Jets prior to his passing – was created. The program is an engaging cross-curricular prevention program, available in both English and French, targeting Manitoba's English language arts and physical education and health education outcomes.
No player in the Jets organization has worn Rypien's number 11 – until now.
Nate Thompson, who signed with Winnipeg on Oct. 10, 2020, will be the first to do so. It's an honour he doesn't take lightly.
In a wide-ranging interview with the Project 11 Check In Podcast hosts Don Amero and Suzi Friesen, Thompson spoke about how much care and respect he put into the decision to wear it.
"At first when Jason (McMaster), the Equipment Manager, said 'we want to give it to you, we want you to wear the number,' I didn't know what to think," said Thompson. "I just wanted to honour him the right way. After talking to a few different people in the organization, and I talked to Kevin Bieksa as well, he said you should definitely wear it."
Thompson said he's never been so honoured to wear a number in his career and wants to use it as an opportunity to continue to help people.
Though Thompson is new to Winnipeg and hasn't yet played a regular season game for the Jets, he hasn't let that stop him from talking about his story in his new hockey home. Thompson's courage has led him to not only sharing his story on the podcast, but he's already been on video calls with students from six Project 11 classes.
Having had his own battles with addiction, he provides perspectives on both the unhealthy impacts of keeping things in and the freeing feeling of opening up and reaching out.
"I could never surrender the fact I was an alcoholic and I was an addict. I just thought that was the norm," said Thompson, who, in the podcast, touches on the times he hit what he calls "false bottoms" – times when he should have asked for help but didn't.
Now 36 and sober, Thompson can look back on those moments and be honest about them. His resilience put him on the right path and gave him the courage to share his story in the hopes of helping others be more open with each other.
Not every day is perfect, he says, but, along with exercise and meditation, talking is the strategy that works best for him.
Project 11 hopes Thompson's example of talking and sharing is one that sticks with youth and the entire community, both during Hockey Talks month and beyond. The more people talk about it the more normalized the conversation becomes, and the less stigma there is around the topic of mental health, the more people will open up and seek help.
"It's so important for youth to see that their hockey heroes, professional athletes and people they may look up to are no different than they are in experiencing real-life struggles," said Friesen, the TNYF's Director of Educational Programming. "But more than that, their willingness to talk about it and share positive coping strategies also shows youth how important it is to reach out and that there are options to get onto a healthier path."
On the fourth anniversary of his sobriety, Thompson put pen to paper with the Jets on a one-year contract. He didn't know at that moment the number he'd be wearing, but knowing the kind of person Rypien was, Thompson can't wait to hit the ice to honour him.
"I played against Rick in junior, I played against him a little bit in the pros," said Thompson. "Now knowing what he went through and knowing the feelings he had, I'm so humbled."
Listen as Thompson dives further into his story, his support system and his positive coping strategies on the latest episode of the Project 11 Check In podcast now on YouTube, or your favourite podcast channel, or visit ProjectEleven.ca to see all episodes.