WJHA student awarded Point Douglas Citizenship Award
July 22, 2020 2:00 pm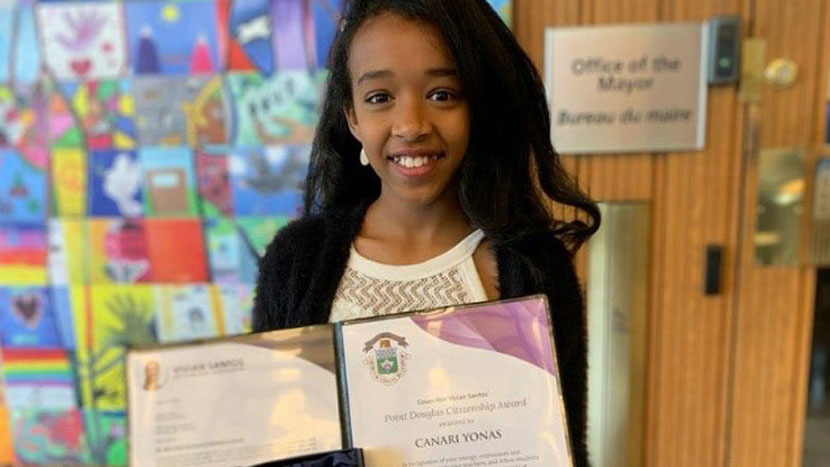 At the core of the Winnipeg Jets Hockey Academy (WJHA) are messages of respect, teamwork, and continually putting in your best effort. Those are messages that WJHA staff and coaches are constantly striving to relay to students in the program through the way they interact with youth.
Seeing youth take in those values and apply them to their lives, whether at school, on the ice, or elsewhere, is always rewarding.
Canari, a WJHA student entering Grade 6 in the fall, is one great example of a student who has shown those values clearly in her time with the WJHA and at Brooklands School. For her exemplary character, Canari was honoured with the Point Douglas Citizenship Award at the end of June. The award, presented to Canari by Point Douglas City Counselor Vivian Santos at City Hall, recognizes her energy and enthusiasm and the positive attitude she shows toward her teachers and fellow students, and her efforts to foster and build a strong sense of community.
Canari, who plays on the WJHA's atom girls' minor team, was of course thrilled to receive the award, but also quick to give credit to the community around her.
"I felt super proud of myself because I knew that all my hard work has paid off," said Canari. "My favorite thing about being a student at Brooklands is that all the teachers are kind and they all take the time to teach me all the things I need to know. I wouldn't have been able to be the way I am now without them."
Mary-Lynn Hrom, Canari's Grade 4/5 teacher at Brooklands School was the one who nominated her for the award, and it's not hard to see why. Canari participates in school intramural sports, the school choir, the knitting club, and the school's hockey program. She has been a member of the Divisional Theatre group for the past three years and she will continue with this as she enters middle school. Most importantly to Hrom, Canari does all of this with a smile on her face.
"Canari has been an exemplary student during her years at Brooklands School," said Hrom in her nomination letter. "She consistently excels academically, trying her hardest at each task that she takes on. Her attitude is always positive and cheerful, while also encouraging and supportive of others no matter who they may be. She is kind and respectful, while staying humble and appreciative of any opportunities that come her way. Her name is always the first to be mentioned when we seek a student to take on a leadership role or to assist staff members with an event, and she takes on these roles without hesitation."
Naturally, Canari's father Yonas is extremely proud of his daughter for the award and what she's achieved. He received the news of Canari winning the award around Father's Day, and he considered it the best gift a father could receive.
"Canari deserves the award not only because she is smart, but because she is very kind and compassionate. She is kind and always trying to help her friends and everyone she knows," said Yonas. "I am proud to be Canari's parent because she always admits to her mistakes and she works hard to fix them."
Her coaches at the WJHA have noticed that same honesty and inquisitiveness in Canari when she is on the ice. It's something that helped Canari grow during the year, which has also influenced her WJHA teammates.
"I couldn't have asked for a better leader on our team," said Janelle Forcand, WJHA Female Hockey Coordinator who has coached Canari for the past two seasons. "She takes being a great teammate to a whole new level by being respectful to everyone at the rink, constantly encouraging her teammates and working hard every time she steps onto the ice. One quality of Canari's that sticks out for me is her desire to learn all the time. She isn't afraid to ask questions if she doesn't quite understand something or needs clarification and that shows she has a lot of courage and passion inside of her."
Canari seemingly carries that courage and curiosity with her wherever she goes, including to City Hall when she went to receive her award.
"Being at City Hall was a really cool experience," said Canari. "Looking at where they take the videos for the news and seeing where they do their meetings, it was really amazing. It was also nice because I was able to ask as many questions as I wanted about the mayor and about City Hall."
That type of attitude will undoubtedly be a strength for Canari as she shifts from elementary to middle school in the fall, and as she continues to journey through the WJHA.