TNYF 12 Days of Giving – Day 12
December 16, 2022 8:00 am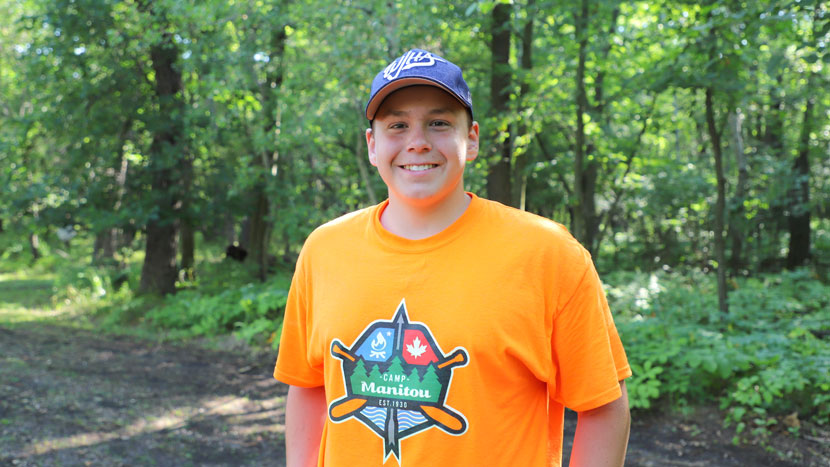 YOU can give youth lifelong lessons in a fun camp setting
A week at Camp Manitou typically sees kids learning different paddle strokes in a canoe or the techniques of building a fire, but thanks to donors like you, Manitoba youth can continue their learning through Prospects Week where they develop their leadership skills in a fun and safe camp setting.
WJHA student Cameron was excited to participate in Prospects Week this past summer, as being a camp leader is something he's always wanted to do after having such amazing experiences at Camp Manitou as a camper.
Learning and developing don't happen without facing a few challenges though. For Cameron, he grew a lot in discovering how to socialize with and entertain the campers. Though he found that easier with younger campers – as they tend to ask a lot of questions and are always up for a game or story – he realized how important a good first impression was with older campers. Taking initiative and explaining activities clearly and in a way that piqued their interest was important to keeping everyone engaged, and Cameron improved on that throughout Prospects Week.
Cameron learned plenty of other lessons about connecting with campers during the week, including how every child is different and the importance of adapting to a child's needs, and asking open-minded questions to get campers talking. And while those skills are important for giving campers the best week possible at camp, they're also great skills to carry throughout life and will help youth like Cameron as they develop relationships with friends and co-workers long past their days as camp leaders.
"Prospects Week allowed me to stay active and enjoy my time outside. Socializing and interacting with people all day instead of laying inside and watching TV improves your mental health. I really enjoyed my experience and cannot wait to go back!" – Cameron, Camp Manitou Prospect
YOU can make a difference this holiday season by giving more youth the opportunity to grow through Camp Manitou Prospects Week by donating to the TNYF 12 Days of Giving campaign HERE! All donations directly impact the lives of Manitoba youth.