Draft Week Sweetened 50/50 Pot to support work with underserved youth
October 7, 2020 4:56 pm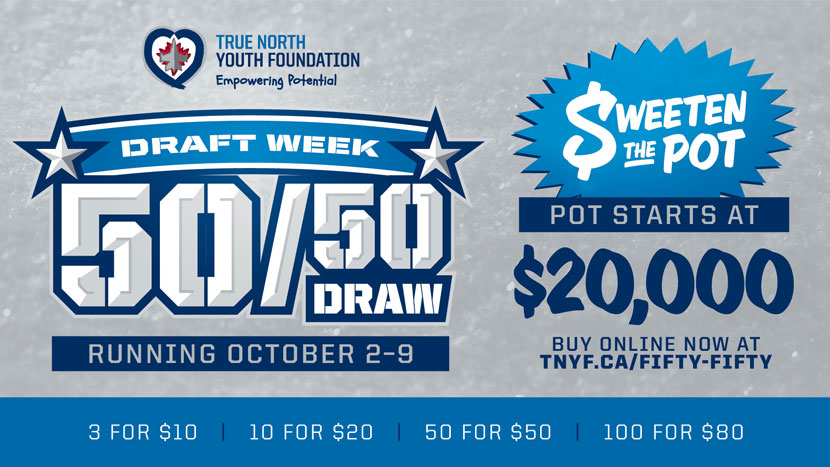 Winnipeg Jets fans and True North Youth Foundation (TNYF) supporters have another exciting chance to take home a sweetened 50/50 pot to enhance an already exciting NHL Draft week.
Starting at $20,000 the pot has been steadily growing since Monday and has reached over $44,000 and continues to climb.
Tickets are sold 3 for $10, 10 for $20, or 50 for $50 and 100 for $80 and can be purchased until Friday, Oct. 9 at 10 p.m. The winner receives half of the pot.
With the TNYF's primary source of funding being through the Winnipeg Jets and Manitoba Moose 50/50 programs, the NHL pause has significantly impacted the foundation's funding for both the 2019-20 and 2020-21 seasons. The Draft 50/50 draw is a key opportunity to generate some much-needed support for the foundation's three youth-centred programs: the Winnipeg Jets Hockey Academy, Project 11 and Camp Manitou.
Although the NHL season is on pause and life and activities have not quite returned to normal, more than 60,000 Manitoba youth continue to rely on the TNYF and its enriching educational, sports-based, and character-building programming to support and encourage them in achieving their full potential.
"Despite the challenges of the year, our program teams have found a way to stay connected with youth throughout this difficult time and we are committed to continuing to be a constant support for the youth who depend on the consistency and mentorship of our programs – especially the student athletes of the WJHA," said Dwayne Green, TNYF Executive Director.
"We may not be hosting home games but the youth we serve are still relying on us and we appreciate the support of our province's hockey fans and of our donors who are making it possible for us to continue our important work with students through initiatives like our virtual 50/50 draws."
By pivoting to provide virtual programming and support, the TNYF was able to continue its positive impact on youth throughout the pandemic, and WJHA, Project 11 and Camp Manitou teams continue to strive to do more to empower the potential in underserved youth across Manitoba.
To learn more about the True North Youth Foundation and its programs, please watch this video.