Fast paced and fun Camp Manitou atmosphere fosters long-term growth
August 30, 2022 9:00 am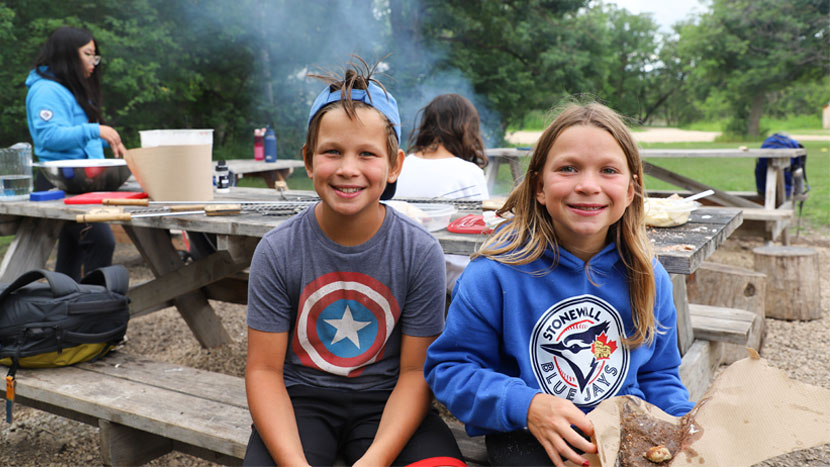 It only takes five minutes to drive from Winnipeg's west Perimeter Highway to Camp Manitou, but in that time, siblings Noah, Mariah and Ciara would easily have completed the camp's low ropes course…possibly even twice.
It takes much longer, however, for the kids to tell their parents about all the fun they had during their days at camp. There's just too much to cover, starting with the many amazing and engaging activities they partake in at camp.
"The kids have shared many skills they've learned, from starting a fire, to tying knots and reading a compass," said their father, Steven. "They have more confidence to try new things in the outside world."
The kids wouldn't dare forget to tell their parents about the amazing Camp Manitou staff and volunteers either.
"I hear nothing but great things from all three kids about how smart, funny, helpful and kind their camp leaders are. My kids really have created a bond with each and every one of them and hope to be one someday."
Though camp often carries a high-paced energy with the many thrilling activities and the infusion of energetic leaders, many of its foundational goals have the long-term in mind. Camp Manitou instills many skills in youth that aren't learned after one trip up the climbing wall or one lap around the lake on a kayak – they're developed over weeks of camp, year after year, and they're the kinds of skills youth can carry with them throughout their lives.
For Noah, Mariah and Ciara, courage has been one of those slowly developing skills learned at camp, but each has experienced that in a different way.
"Camp Manitou forced me out of my comfort zone to meet new people. I learned that I should go out of my comfort zone a lot more," said Noah.
"I'm really proud of myself for going on the zipline," noted Mariah. "I've gone to Camp Manitou for a long time and never went on the zipline, but this summer I did."
"I've learned to not be as shy, and I learned from one of the volunteers that anything is possible if you have a goal. You can do anything you set your mind to," added Ciara.
Especially coming out of two years where interaction with others was limited, Steven sees this growth as integral for his kids. Some kids just need that nudge to get back out and Camp Manitou has provided the perfect place to stretch their abilities in a safe and supportive environment.
"I feel the kids have struggled getting out and meeting new people, but camp has given them the
opportunity to meet and make new friends. It's nice to see them more outgoing as they make these
new relationships," said Steven.
Having Noah, Mariah and Ciara in that environment leaves Steven with peace of mind, knowing they are developing into better versions of themselves and meeting other wonderful people along the way.
"I would like to say thank you to everyone who has donated their time and funds to Camp Manitou," he added. "If they only knew how much stress it takes off the minds of parents who need help. I feel grateful knowing my kids are going to have a safe and exciting experience at Camp Manitou."