Continued connections: Camp Manitou hires WJHA grads for operations work
February 18, 2021 11:08 am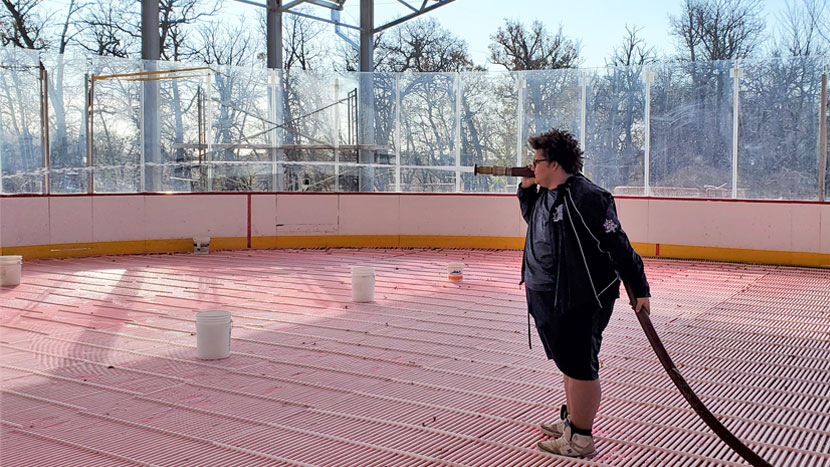 Camp Manitou is well-known as a place where youth can learn new skills, from wall climbing and fire making to finding courage and relationship building. Not normally among those skills are things like camp maintenance or operating machinery but under the guidance of camp's Facilities & Grounds Manager Jim Proulx, some youth have had the chance to further broaden their horizons.
While Camp Manitou has been forced to be relatively quiet since summer camp ended in 2020 due to public health restrictions, they haven't let that stop them from continuing to mentor youth. Throughout the year, camp has employed three graduates of the Winnipeg Jets Hockey Academy (WJHA) program, not only teaching them new skills, but also giving them meaningful work.
"When the graduating group of WJHA students became available, we needed some help at camp," said Jim. "We asked if they would like to take the opportunity to join the operations team."
Though the prospect of doing maintenance-type work was new to the WJHA grads, they naturally jumped at the opportunity.
"I had done some maintenance work when I was still in high school – some in classes, also outside of school for a summer job and basic maintenance at home," said Quentin, one of the WJHA grads. "Most of the stuff I was shown when working here, though, was a relatively new experience for me to learn and adapt."
The three youth have been a huge help around the camp as they've worked full-time throughout the fall and winter. Even without the usual schedule of campers, school groups and rentals, there's been no shortage of duties from cleaning to construction that need completing on the now 40-acre site.
"It's been a lot of fun," said Jim of having the WJHA grads at camp. "They generally didn't have a lot of experience in the operations field prior to joining us, so they are eager to learn, which makes it enjoyable to teach them new things."
The youth will be the first to tell you about how much they've been learning with Jim. Cody, another of the WJHA grads working at camp, had no issues rattling off some of the skills that have been developed while he's been working at camp.
"I've learned that you need to stay focused and keep your head up to prevent somebody from getting hurt. I've learned how to operate and maintain different types of machinery. I've learned how to properly clean and sanitize things. I've also learned patience and a good work ethic."
Quentin seconded Cody's thoughts.
"Jim and the others have shown me a lot, and I learned over time that there will always be work that must be done as part of maintenance," said Quentin. "They have taught me to check on various things to see if they are damaged or faulty and to check if they need to be changed. Also, I've learned to make sure nothing can become a hazard or cause any damage or harm to the things around it."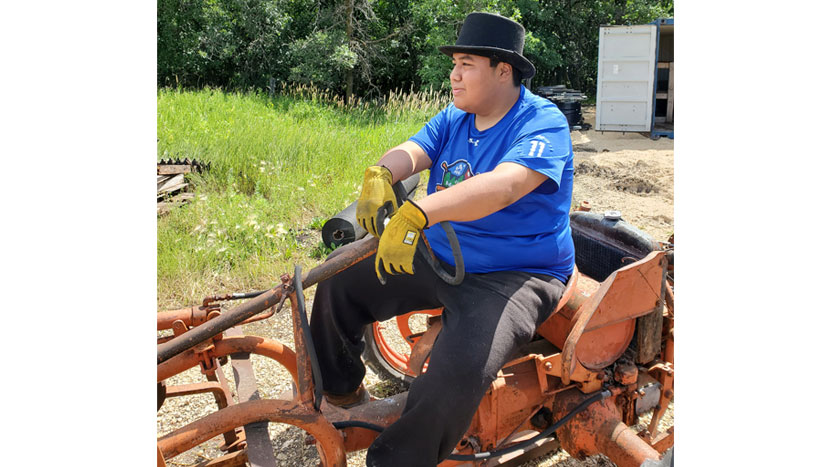 The growth promoted by the True North Youth Foundation (TNYF) is obvious in Quentin and Cody. They've moved from looking up to positive role models as WJHA students, to themselves being positive role models that today's students can look to, having taken the lessons of the TNYF programs and applied them to their lives.
Rick Bochinski, who has served as the Director of Camp Manitou for several years, is no stranger to seeing the benefits of the synergy that the TNYF programs have. Though Bochinski is transitioning out of his role as Camp Manitou Director to a position as Senior Manager of Youth Development with the WJHA this spring, it's clear that he's seen plenty of youth development in this opportunity with WJHA grads at camp. Beyond that, youth development has always been a part of his job and something all TNYF employees keep top of mind.
"For us to have the opportunity to provide work to a group of WJHA students who are not often given these types of chances is very gratifying," said Bochinski. "Being able to stay in touch with these students after they have completed high school and finished their time with the WJHA shows the positive impact that the TNYF can have from grade school to high school and beyond. These students have the opportunity to see many of their former coaches at camp during the summer as well, which strengthens the relationships they have with the TNYF."
On top of providing youth a continued connection to the foundation, this opportunity at Camp Manitou has given them continued work – something that nobody is taking for granted during the pandemic when many people have been forced out of their jobs.
"For these students to have steady work during the pandemic has given them the means to continue to pay their bills," continued Bochinski. "Being able to work over the past several months has been great for their self-esteem and mental health."
Quentin and Cody agree that the work has been a boost for them, and that they've really enjoyed it.
"The one thing I love most about working in maintenance and camp in general is that there is always another thing that must be done and it's different each time," said Quentin. "There are a variety of things that need attention and need to be worked on, and each day is different."
Far more important than simply enjoying themselves, these young adults plan to take this opportunity and the skills they are learning and apply them to their lives away from camp too.
"I can use these skills I've learned in my day-to-day life such as maintaining a clean living space, operating machinery and having a better work ethic," said Cody.
"The skills I learned here will always be with me," said Quentin. "Each of these skills can help me in everyday life outside of work, such as in doing house work, broadening my skill set to do multiple things, being proactive to see what else must be done, and in other work opportunities outside of camp."