WJHA team bonds not broken by distance
May 19, 2020 2:00 pm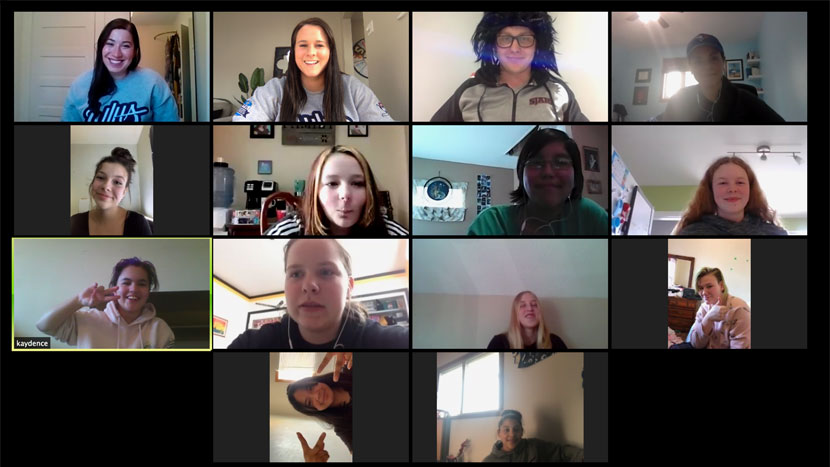 Impactful change doesn't come from individuals; it comes from a team of people working together to create something greater than they ever could have apart. This is the way the Winnipeg Jets Hockey Academy (WJHA) thinks and operates with their team of caring staff as they pass on the message of teamwork to their young hockey players.
While this is the case for all the WJHA's programming, it is especially true within it's minor hockey teams, which provide an opportunity for players to engage in a more competitive environment that further pushes their game and confidence. Like all teams – whether in sports, at work, or in families – the WJHA minor hockey teams faced their toughest challenge of the season when the COVID-19 pandemic forced them to stay apart with the cancellation of their hockey games.
Frustrating as this was for players, the situation gave WJHA minor team coaches the opportunity to put into practice their message of working as a team to overcome challenges that they had been preaching all season. The coaches still found a way of working together to give a meaningful end to the season for the players through some team windup video calls.
"It's super important for us to reach out to all of the players because with this time right now, it's very important to share that we care about them and are thinking about them," said Janelle Forcand, WJHA Female Hockey Coordinator. "I think it adds a bit of familiarity to their lives when everything has been uprooted. Just seeing a face definitely adds some reassurance for them that we will get through this together, and that they still have people in their corner supporting them."
The video calls started off with the bantam girls team, coached by WJHA Hockey Canada Skills Academy Liaison Nicole McAlpine, who did a virtual season windup allowing the team to chat and reflect on the season and play a few fun games. The coaches were even able to virtually recognize each athlete with an end-of-season award. The format served as a "test run", and with the success that they had, soon every WJHA minor hockey team was doing the same.
"We wanted to show the players that we're taking time out of our day to make sure that they're doing ok," said McAlpine. "I think that goes to show it's so much more than hockey for these teams; the coaches genuinely care for each of their players. Putting in that extra effort made the kids truly excited for something."
The kids certainly were thrilled, and the effort to create a unique celebration didn't go unnoticed by the kids or their parents. The atom girls' team, coached by Forcand, were surprised when Mick E. Moose to joined their call.
"I loved the Zoom call," said Krista, a player on the WJHA bantam girls' team. "It was great to reconnect with everyone. I made a lot of great friends during the season and I miss playing hockey with them."
"I was delighted the coaches took the time to spend with the girls," added Rosemarie Mckay, Krista's mother. "As young women, it's important to feel respected and appreciated. Our family is very thankful for the opportunities the program has given Krista, and she was so excited to spend time with her friends and teammates."
The video calls were so popular with the players there are plans for more in the near future. The message of teamwork also seems to have stuck with the kids. That was obvious to Forcand as soon as they started their team's video call.
"Our team had gone a few months without seeing each other, but when we hopped on the call, it was like no time had passed. It just showed me that no matter what is going on in this world, our team bond was still there. It was reassuring as a coach to see that bond in action."
That bond was also what players drew on when thinking about what they had learned from the season.
"Winning isn't everything," noted Margaret, another player on the WJHA bantam girls' team. "Whether we have a winning streak or losing streak, we work together as a team and give our best on the ice. Being together like a family feels better than just winning a game or two. I just love being with my teammates."
"The WJHA has helped Margaret become more mature," added Margaret's father Carlo Peregrino. "It's not just a game for her, it became a part of her."
As much as the coaches were able to inspire the players through the team Zoom calls, the reverse was also true. The coaches were uplifted by hearing what their players had been up to since the cancellation of school and activities.
"I have one girl on my team who has been learning sign language," said Forcand. "She has a cousin who is deaf, and she has never learned sign language so she's taking this time to learn that. It was very inspiring. You get off the call and think, 'I've got a 9 or 10-year-old girl learning something out of her comfort zone, and I should do something like that too.'"
McAlpine was also inspired by how her players are handling such strange and difficult times, especially as having a positive mentality was a big focus in her coaching during the season.
"Seeing our team come from where we were mentally in December to where we were in March was amazing. Their minds totally shifted from thinking 'I can't do that' to getting on the ice and proving themselves wrong. There were a lot of times at the start where our players would be scared to skate the puck up the ice, but I just told them to remind themselves that they can do it."
Now McAlpine, Forcand, and the rest of the WJHA coaches hope that their players are applying that can-do attitude to their lives amidst the quarantine.
"My favourite coaching line is 'change your mind'," said McAlpine. "There is so much negative self-talk that you can give to yourself, but changing your mind is really key in our situation right now. We hope the kids are continuing to use that positive mentality that they learned on the ice."