Camp Manitou provides students with a new place to learn
October 13, 2022 9:00 am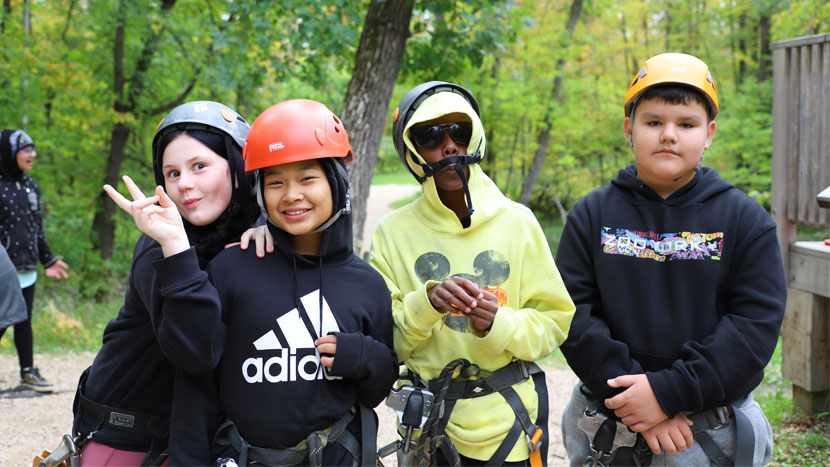 The phrase "back to school" often brings images of students returning to desks, pen and paper in hand, ready to take on math tests and creative writing projects. That's an important element of the education system, but the confines of a classroom aren't the only place where learning happens for students during the school year.
It's integral for students to learn from outdoor experiences too. Phys. ed. class covers some of that, but Camp Manitou expands that even further through many school visits after summer camp concludes.
One school that took advantage of Camp Manitou's outdoor learning environment this fall was John M. King School – an elementary school in Winnipeg's West End neighbourhood. The school has made time at camp a priority for several years and was excited to return to Camp Manitou for a day in September with their Grade 5 and 6 students.
"A classroom is very confined, and the desks and tables are very close together. Students always have a task to do in class. It's pretty rigid in a lot of ways," said Ryan Warkentin, phys. ed. teacher at John M. King School. "A day at camp provides a totally different kind of learning experience, and a lot of our kids will excel because there are different kinds of learners out there."
Perhaps the best part is that learning at camp is often more disguised than it might be in a classroom. Though there is value in having groups take part in structured lessons, camp's educational value doesn't only rely upon that. Learning happens naturally as students try different activities like kayaking or ziplining, and as they adventure the 39 acres that include forests, fields, and a lake.
Disguising that learning seemed to work, as John M. King students were more so focused on the fun they were having. For Grade 6 student Essence, it was a simple equation.
"Camp is a lot of fun and I love being out in nature. It's 100% fun."
Running a camp day at the start of the year is extra valuable for Warkentin and John M. King School to give students a different space to interact with their new classmates. With the Grade 5 and 6 students learning together in one class, many of them still needed to get to know each other, and Camp Manitou was the perfect place to do that.
"The activities at camp are fun on their own but are made infinitely better when done with a group or with friends," noted Audrey Hicks, Camp Manitou's Director. "Kids learn more than just the skills to perform each activity – they learn how to interact with each other in a variety of settings, which in turn helps create bonds. Where two students may not have found any common ground while in the classroom, they may find some commonalities in a passion for rock climbing or archery. It's amazing to see the connections that emerge on our grounds."
More than just getting to know each other, it gives students the chance to learn how to work with each other too.
"It's important for kids to learn how to get along, and this is an opportunity for that," Warkentin added. "Putting positive group memories into students' brains is a proactive way to problem solve difficult relational situations that might arise throughout the year. A memory like this – and the excitement and enthusiasm of just being together and sharing the experience – sticks with them and is something they can take back to the classroom."
But all that valuable learning wouldn't be possible for John M. King School if it weren't for the generous True North Youth Foundation donors who allow camp to subsidize part of the costs of renting the space.
"The affordability is the key ingredient," said Warkentin. "We ask our students to contribute a small amount, but many can't afford it. We don't want students not to go because of finances, but we also have a budget to work with. Having Camp Manitou subsidize the cost to rent is why we can come. It makes such a difference in these kids' lives."