Nurturing Growth at Camp Manitou
October 4, 2023 4:42 pm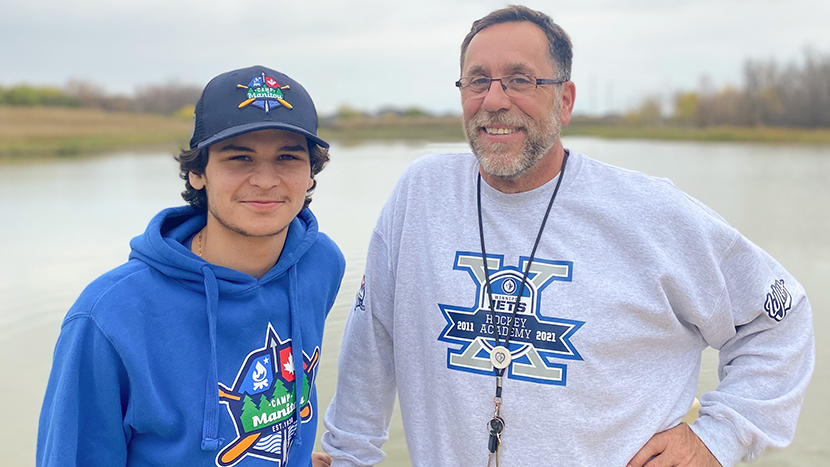 Amid the 39 acres of nature in the welcoming atmosphere of Camp Manitou, a man named Jim Proulx humbly introduces himself with a simple phrase, "Hi, I'm Jim – I mow grass." But the story of Proulx's role at Camp Manitou goes far beyond tending to the camp's grounds.
As the Operations Manager at Camp Manitou, Proulx works tirelessly to ensure that campers have a safe, fun, and memorable experience during their time at camp. Yet, it is his unwavering commitment to mentoring and guiding the youth who cross his path that truly defines his impact. He has dedicated time and effort to creating new avenues for learning and growth, through opportunities on his camp maintenance crew.
"My goal is to empower my crew members, equipping them with the skills and confidence needed to secure employment and lead safe, fulfilling lives," Said Proulx. "By keeping them engaged and actively learning, my hope is that they will be able to make positive choices that will set them on the right path."
Over the summer, Proulx's crew consisted of five young adults who learned maintenance skills, but more importantly, life skills. Proulx's mission centres around building his crew's confidence and helping them focus on tasks at hand, preparing them for future employment opportunities. One crew member working closely with him is Tyrin, who has been a dedicated part of Proulx's team for over two years, despite facing mental health challenges.
"Jim has taught me that it's not just about completing tasks; it's about proving to myself that I can overcome any challenge."
Proulx's journey of empowering youth began years ago when he worked with troubled youth at a corrections facility. While these young individuals were in great need of support, he often felt it was too late to make a lasting difference in their lives. When he discovered the opportunity at Camp Manitou, he knew the role would allow him to have more formative impacts and ideally play a role in setting them up for a bright and successful future beyond their time at camp.
"This gives me an opportunity to work with kids before they get into trouble and give them a healthier option for their future."
While Proulx sees his efforts as just part of the job, there is no minimizing the role he plays in inspiring and uplifting those he mentors and in equipping them with the tools they need to carve out brighter futures for themselves.