Winnipeg Jets Hockey Academy-trained goalies to share the ice for Jets Skills Competition
January 2, 2023 10:00 am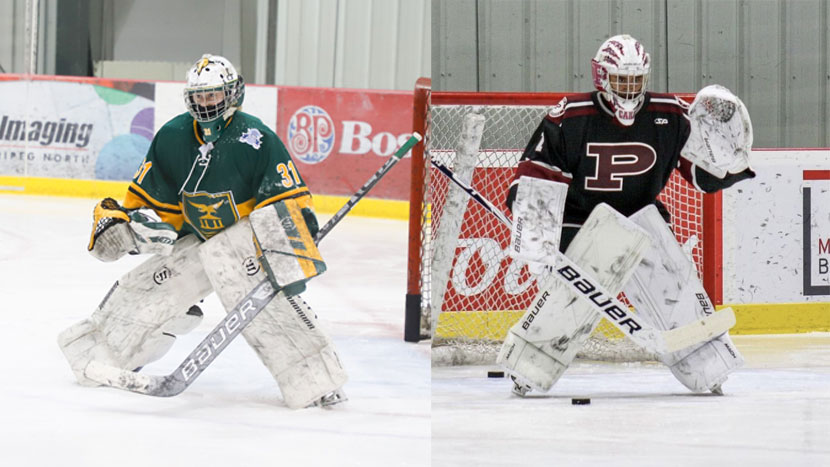 The Winnipeg Jets will have many young fans eager to cheer them on and give them high-fives at the Skills Competition on Jan. 4. But the Jets players won't be the only role models on the ice for the event.
Ron Cailo and Christmas Johnson, who are high school hockey goalies for the St. Paul's Crusaders and Balmoral Hall Blazers respectively, will strap on their pads and join the Jets as they show off their skills. Cailo and Johnson may not be professional hockey players, but they're certainly looked up to by many, particularly youth in the Winnipeg Jets Hockey Academy (WJHA) – a play-based hockey program of the True North Youth Foundation (TNYF) designed to increase school attendance and high school graduation rates in socially and economically challenged schools in Winnipeg.
Both Cailo and Johnson have developed on and off the ice with the WJHA, and both got their start in hockey in elementary school through the program.
"When I first skated, I was a forward, but that didn't last long," recalled Cailo. "In elementary school, each player took a turn playing goalie. I didn't know much about the position because I was new to the sport at the time, but I fell in love with it when I got my turn."
Johnson's experience was much the same, and she quickly grew fond of being relied upon by her team.
"I enjoy the pressure. You're the last line of defence, you have to stop the puck in the toughest situations."
Naturally, stepping onto the ice alongside the Jets players for the Skills Competition doesn't phase her either – even if she is the first female player to take part in the Jets Skills Competition.
"I'm super happy to be chosen, but I wouldn't say I'm nervous," Johnson continued. "I just love the pressure of it. No matter how many people are watching, I'm just excited about the thrill of it all, and I just want to inspire more young girls to play hockey. I think it will be a cool thing to have a girl on the ice with the boys."
Cailo also can't wait to hit the ice with the Jets on Jan. 3, and he hopes to take some lessons with him from the experience.
"I want to see how different the level of hockey is – why these guys are pros and what makes them so good. I'm really excited to meet the players, especially the goalies, and learn how they understand the game."
Murray Cobb, Director of the Winnipeg Jets Hockey Academy who has seen both Johnson and Cailo develop over the years, is just as excited as they are – if not more so. Though he's thrilled for Johnson and Cailo to show off their on-ice skills, there's much more to it for him than the saves they'll make.
"We're immensely proud of both Christmas and Ron for their on-ice achievements, and how they've developed themselves to where they are today," said Cobb. "But the WJHA uses hockey as a vehicle for off ice goals, like improving grades at school, and developing healthy relationships. Ron and Christmas are prime examples of getting involved in our program, not just with hockey but with the tutoring and after-school programs, and with volunteering for the foundation now too. Having them live out a dream by participating in the Jets Skills Competition is a way for us to show all our students that if they put in the work, they can achieve their dreams too, whether that's in hockey or otherwise."
Now being in Grade 12, Cailo and Johnson can attest to how the WJHA has shaped their lives. For Johnson, hockey really was the catalyst to improving her schoolwork, and the opportunities she is capitalizing on now, like playing at Balmoral Hall, wouldn't be possible without ensuring her grades were high enough.
"I've never seen myself as academically strong and I wouldn't have been very passionate about school, but the WJHA showed me that if I show up to school and put in the work, I can go play hockey," said Johnson, whose combined hockey skills and improved grades have allowed her to commit to Albertus Magnus College in Connecticut for next season. "I never would have understood that until I got into high school and the WJHA has helped me all along the way – they have an amazing staff that feels like a second family."
Cailo has experienced that family atmosphere as well and doesn't know where he'd be without the caring staff of the program.
"I didn't just join the TNYF because of the hockey, but also because of their ability to help kids off the ice in school and with mental health through Project 11," said Cailo.
"It's been a part of my life everyday, whether in school or hockey. Their supports have been very important for my development as a person and as a hockey player."
Whether on the ice or off, both Cailo and Johnson share a simple message with other youth wanting to make the most of their opportunities: work hard and be yourself, and good things will come.