12 Days of Giving – Day 6: Giving youth long-lasting relationships
December 11, 2021 7:00 am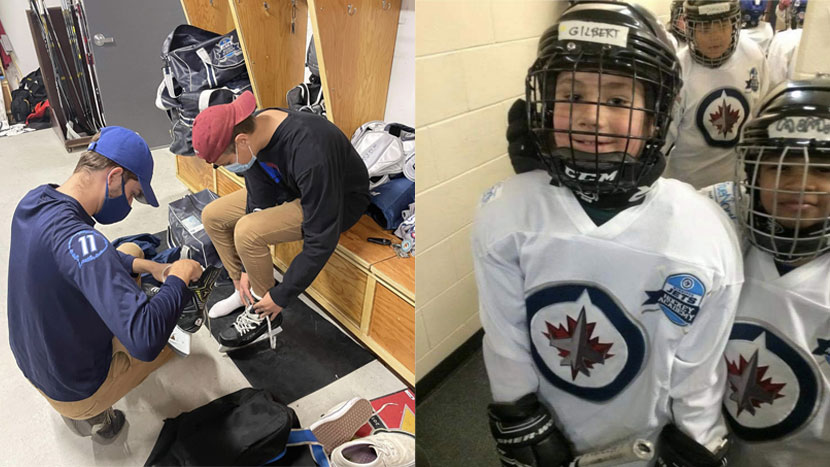 They say that friends become our chosen family. Over the past several years, Grade 10 student Gilbert and his mother Jocelyn have made many friends through the Winnipeg Jets Hockey Academy (WJHA), and those friends, whether peers or coaches, have truly become an extension of their family.
From day one, the WJHA has been a place where both have felt at home, thanks to the way the coaches have treated them and the time they've committed to them. Coaches have been there for Gilbert on weekends to help with equipment fittings, and throughout the season have been role models to him. They've given him the tools to grow and have built his confidence to where he knows that he can achieve anything if he works hard enough for it.
In Jocelyn's eyes, that's all because they've put in the time to build a bond with Gilbert and the many other students they work with. It's clear to her how the coaches treat every youth as an individual and focus on their needs, and that kind of attention and care results in lasting impacts and friendships.
Those impacts have certainly played out on the ice for Gilbert, but more importantly, they are seen far beyond the rink too. Thanks to the influence of his coaches, Gilbert is eager to put in that same hard work at school and keep up with his grades.
"All my hockey coaches have been awesome throughout my journey. They've always pushed me to be the best player on the ice and have helped me a become a better person." – Gilbert, WJHA student
Be a game changer this holiday season by giving more youth like Gilbert a second family by donating to the TNYF 12 Days of Giving campaign HERE! All donations make a difference for Manitoba youth, as just $150 provides hockey skates for a WJHA student.