Beaulieu's participation in P11 a boost for kids, and his own well-being
April 1, 2021 10:50 am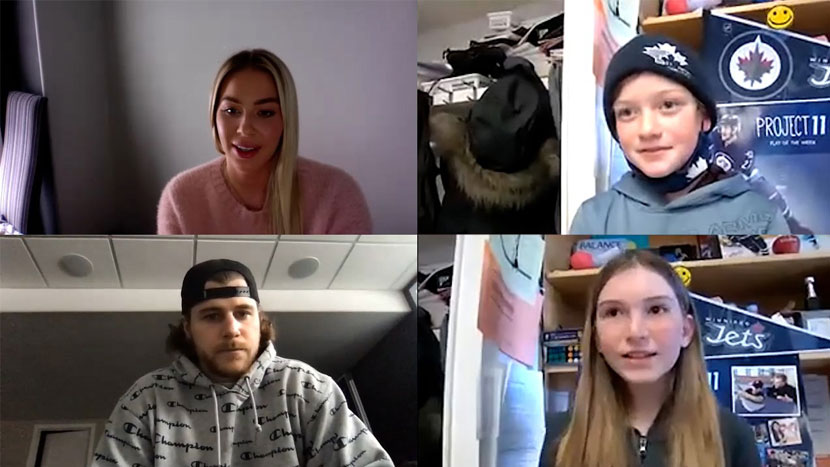 Nathan Beaulieu is quick to point out his favourite part of Project 11: classroom visits.
Sure, they're virtual classroom visits at the moment. But that hasn't stopped the 28-year-old Beaulieu and his fiancée, Katie Carpenter, from chatting about the importance of mental health with students of all ages.
The True North Youth Foundation's (TNYF) Project 11 offers mental wellness curriculum for students in kindergarten through Grade 8 and launched its senior years pilot program in the fall.
"It's fun doing the younger classes because they've got the great questions," said Beaulieu.
"I think we did a Grade 9 class that had more serious questions and, you know, more of an interaction. So, it's been pretty amazing so far. I'm excited to continue to do it."
The questions Carpenter faces in those classes are a little bit different, but equally important. She's a business owner with a fiancé who is away for days or weeks, depending on the road trip, in the winter months.
She studied business back in the East Coast instead of following Beaulieu around early in his career, a decision she felt was important, and it's just one of the messages she tries to pass on.
"(These young girls) are our future so anything that I can say to help inspire them to strive to be their best, I'm so happy to do it."
As a couple, Beaulieu and Carpenter have experienced bouts of adversity. Whether it's on the ice – such as Beaulieu suffering multiple injuries in a season (like he did in 2019-20) – or off of it, when their dog, Joey, was hit by a driver in 2019 and ultimately passed away.
"The last 10 years of my life I've been very fortunate that there are people to talk to and reach out to," said Beaulieu. "So, just letting people know that bottling things up is ultimately going to kind of make it worse and, if you can be there for someone – or find a friend or a family member that you know – it can be a different outlet just to have a conversation. Usually by the end of that conversation you're feeling a lot better about yourself."
Those conversations are the most important step. That's why it's always a point of emphasis when Beaulieu and Carpenter are talking with students.
"There's still a big stigma around being open about your mental health," said Beaulieu. "Everyone in their lives deals with a mental health issue one way or the other. They don't look the same, it's all different. Anxiety and depression are real things, especially during this tough time that we're living in in this world."
Anxiety is something Carpenter has struggled with in her life. It's another reason she loves being part of Project 11.
"When I was a kid, I didn't know what it was," she said. "So, for Project 11 to teach kids about their feelings and coping strategies, and have the opportunity to help normalize the conversation, it is just amazing."
Players like Beaulieu lending their voices to the important issue of mental wellness goes a long way to imparting the program's messages to students.
"If a hockey hero can open up about tough topics, it's our hope that students will realize they are not so different in managing some of their own emotions," said Suzi Friesen, the TNYF's Director of Educational Programs. "The fact that Katie is able to bring a different perspective, highlight her determination to better herself and reach her own goals, personally and professionally, and share her personal experiences with anxiety is really helpful for kids to relate to."
TNYF Executive Director Dwayne Green agrees.
"From a TNYF perspective, anytime with can have a player and their partner support our initiatives it carries a lot of extra pride for our staff. To have a strong, dedicated, successful business owner like Katie Carpenter, or Nate Beaulieu become role models for our P11 students also shows both our female and male students that no barrier should prevent them from reaching for their goals."
When it's safe to do so, Beaulieu and Carpenter would love to turn the virtual visits into in-person discussions.
Until then, they're enjoying being part of a program that reaches over 70,000 students in Manitoba.
"Sometimes it helps us just as much as them," said Beaulieu. "When you sit down and you talk to these kids, you think about 'maybe I've gotten away from this in my life too. I can maybe do a little better with that aspect of it.
"The main thing is, we could do this forever and if you help one kid out of a bad day, it's totally worth it."