WJHA student turns ice hockey passion into ball hockey gold
August 16, 2022 10:03 am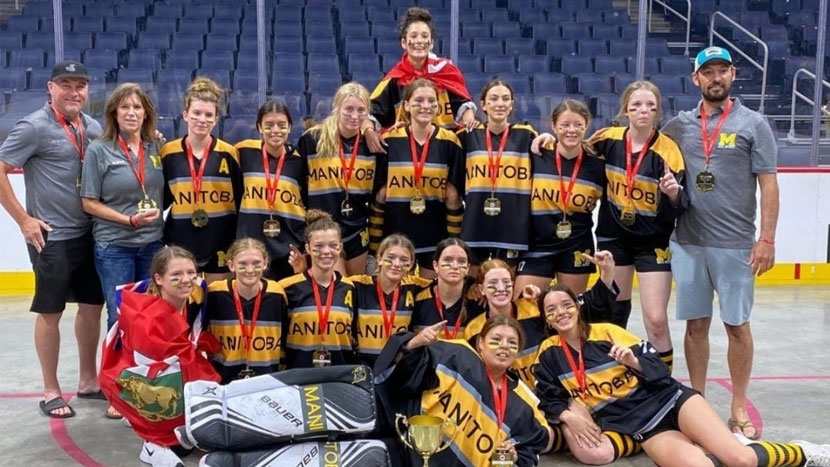 Fitting into a new classroom or school can be a challenge for youth, so trying to fit into a new country takes that challenge to a whole new level. That's exactly what Grade 10 Winnipeg Jets Hockey Academy (WJHA) student Ella had to do when her family moved from her home country of Finland to Winnipeg in early 2020.
Thankfully, she got connected with the WJHA through the principal at Hedges Middle School, who thought it would be a great way for her to create friendships with others at her new school. With Ella already being an avid hockey player from playing on both high-level boys and girls teams in Finland, it served as the perfect place for her to find her way in Canada.
"I knew I would get to play hockey here, so it was much easier to move," said Ella of the transition. "The WJHA has helped me transition to Canada by letting me on the ice, meeting with new people who share the same love towards hockey and supporting me in school and in hockey."
Now several years into living in Canada, Ella continues to be involved with the WJHA through the Hockey Canada Skills Academy school class at John Taylor Collegiate, and the WJHA also supports her through covering some of the costs of playing AAA hockey.
"Ella is one of the hardest workers we have in our WJHA programs, and it shows every time she's on the ice," noted WJHA Director Murray Cobb. "Unfortunately, she's faced some injuries through the sport, notably being hospitalized after she crashed into the boards headfirst in her last playoff game in spring. But her determination shone through as she worked to recover in time for AAA tryouts, where she earned a spot on the U18 AAA Interlake Lightning for fall. As the WJHA, we're just proud to support Ella along the way, give her a place to connect with a community, and help her reach her full potential in whatever she wants to pursue."
Ella puts as much effort into training as she did her recovery. Having frequently been at Bell MTS Iceplex with the WJHA and to use the Focus Fitness gym, she could often be found roller skating in the Iceplex parking lot in the summer months and working on her game.
Playing on the outdoor pavement was a precursor of what was to come this summer for Ella – ball hockey. Though she had never played formally, when her ice hockey coach asked if anyone on the team was interested in playing, both Ella and her friend decided to give it a try.
"You need to learn how to stick handle with a ball – and yes, it is harder than with a puck," said Ella of first trying out the sport. "You also need to be good at running with a ball and passing the ball and shooting. These are things you do in ice hockey, but in ball hockey it's harder because the ball is so light."
The transition phase wasn't long, though, thanks to Ella's work ethic. That was a good thing too, as she soon had the opportunity to play for Team Manitoba at the Canadian Junior Ball Hockey Championships being hosted in Winnipeg.
"Our ball hockey coach told us after one game that there would be nationals in Winnipeg and there would be a U16 team that we could play on," Ella recalled. "He asked if there was anyone who would be interested in playing at nationals. Everyone raised their hand and was ready to play."
The tournament, held in late July, was even played on familiar territory for Ella, being hosted in part at the Iceplex, with the finals being played at Canada Life Centre. The comfort of playing at home, and the hard work she had put in to making Team Manitoba, was obvious all tournament long – from the first game, where Ella scored an overtime winner in a 1-0 shutout, to capturing the gold medal.
"When the buzzer went off, and we knew we had won the game, it felt awesome," Ella described. "We played against a team that we had lost to a couple games prior, so winning the game was just awesome and beating the only team we lost to in the round robin felt even better."
For Ella, it was reminder of how hard work pays off, and Cobb hopes that Ella's WJHA peers see that too.
"Anything in life that's worth doing takes hard work. That's a message we constantly share with our WJHA youth," said Cobb. "Working hard is second nature for Ella, so a gold medal was well-deserved at the Canadian Ball Hockey Championships and a living example that if you set your mind to something, whether that's sports, school, or any other passion, you can achieve your dreams."