Spring Into Giving – Day 1: Giving youth a village to grow in
May 9, 2022 7:00 am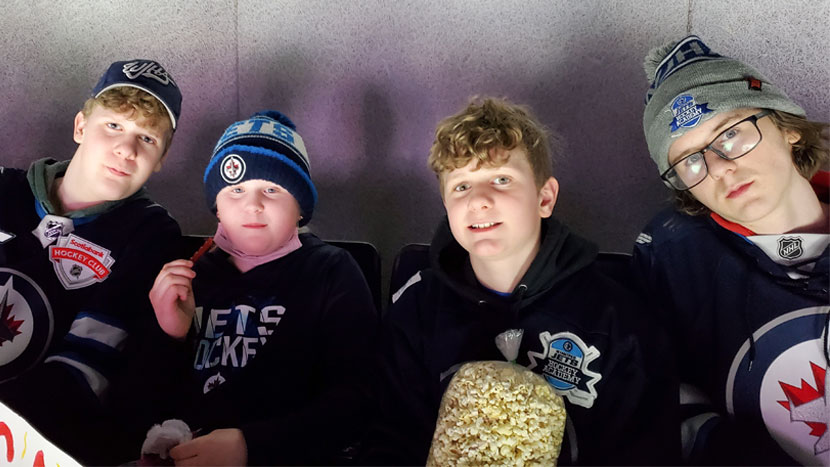 Donate to the TNYF Spring into Giving campaign TODAY by clicking HERE!
Without the Winnipeg Jets Hockey Academy, Jenny wouldn't have been able to provide her four kids – Alex (Grade 10), Chase (Grade 8), Finn (Grade 6), and Amelia (Grade 4) – with the valuable opportunities they've had for growth and development.
Each of her children have benefitted in different ways. Alex has used the tutoring program to his advantage, and through the WJHA, spent last summer volunteering at Camp Manitou – giving him required volunteer hours for high school.
"I've used the tutoring for math when I didn't understand the subject we were on, which helped bring my mark up," said Alex.
Chase – who lives with Asperger's Syndrome, three types of anxiety, Tourette Syndrome and ADHD – has used his time with the minor hockey team to learn about goal setting, creating relationships and developing coping skills.
"The coaches don't make you feel bad about something if you don't get it right away," noted Chase. "There is no pressure to be the best. They just want us to listen and work hard."
Finn has found his competitive side and a sense of teamwork and is soaking up all the training and teaching that is offered.
"I think the whole program has a positive impact," said Finn. "It keeps us out of trouble and keeps us in shape and gives us something to focus on when we're not in school."
Amelia just joined this year and has made new friends and formed her own hockey family that will serve as mental health support for her as she was recently diagnosed with ADHD too. Her enthusiasm was put quite simply:
"I get to play hockey now!"
Each sibling was on a minor hockey team, and all of them participated in the after-school program. But with each one's needs and interests being different, the many elements of the WJHA impact each differently and are key to keeping them engaged throughout their school careers.
To see how the program has helped each of her children overcome hurdles has been a powerful experience for Jenny.
"Alex is an introvert and has struggled to find his way out of his shell. He is growing and is getting comfortable in his own skin. Chase has endured bullying and so much anxiety, but he uses hockey to cope and has found his own strength. Finn has always struggled being in his older brothers' shadows but has found his own path as a leader. Amelia has struggled with authority at times and watching the respect she had for her coaches this season was amazing."
No family can raise their children and give them all the valuable experiences they need to reach their full potential on their own. The WJHA provides that community where youth can learn from their coaches and grow alongside their peers to become caring people who go on to impact others.
"This program has given so much to our kids – mentorship, training, experiences beyond our means," said Jenny. "They say it takes a village to raise a child. To have a program like the WJHA in our village takes some pressure off our shoulders, and it gives us some relief knowing that our kids are in good hands."
Be a part of the "village" of Manitoba youth by donating to the TNYF Spring into Giving campaign HERE! All donations make a difference for Manitoba youth, as just $150 provides a pair of skates for a WJHA student.