Project 11 lessons on personal boundaries create classroom bond
October 6, 2022 9:00 am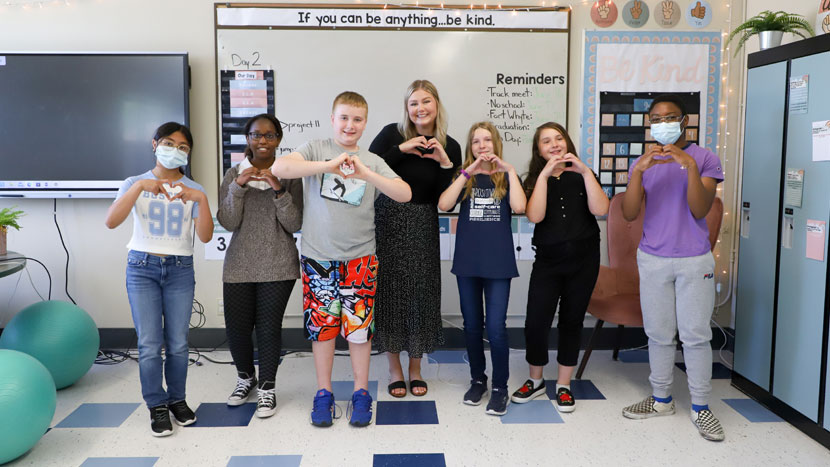 Creation is a big part of learning in school. At times, students are asked to create a story through writing. Other times, they need to create a poster for a class presentation, or a messy science project for the upcoming science fair.
Creation is incorporated throughout the mental health lessons of Project 11 too, but not just in the physical, artistic or building sense. Project 11 also helps students to create some intangibles which are just as crucial for learning, but traditionally haven't been an educational focus.
One of those unseen creations is healthy boundaries, and Katherine McGlenen, a Grade 6 teacher at St. Joseph the Worker School, has seen that become a big program takeaway for her students.
"The 'Creating Lesson' for my students was a huge breakthrough for them," said McGlenen. "It taught them that they need to create healthy boundaries for themselves in their life, and this is something that is not often talked about with young kids."
Going through the process of learning where to set our boundaries isn't an easy task for adults, let alone kids. It can take time to learn what we can handle with regards to stress, social time, emotions, and more. Boundaries are different for each of us, so having Project 11 provide students with helpful strategies to navigate their own limits is key to helping them find success inside and outside the classroom, and also helps them stay true to themselves along the way.
But creating healthy boundaries isn't just about setting them – it's about being able to communicate them to others too. At times, that can be even more challenging, but effective communication is also part of the healthy boundaries lesson.
"My students benefited greatly from learning how to deal with feeling stressed and overwhelmed. They understand that it is a positive thing for them to reach out and ask for help when they need it, instead of keeping it bottled up inside," said McGlenen. "The students also recognize when they are feeling strong emotions and use their tools from Project 11 to help them navigate their feelings. They've learned how to create healthy boundaries and how to communicate them with the people in their lives in a kind manner, and it's something that they use almost every day in and out of our classroom."
That's music to the ears of Project 11's Director of Educational Programs, Suzi Friesen. Lessons on creating personal boundaries have been very strategically included for students, and they serve several of the program's major goals.
"Setting personal boundaries can easily be misrepresented as pushing people away, when it actually achieves the opposite and allows us to make healthier connections with each other," said Friesen. "Knowing our personal boundaries cues us into situations we're comfortable with and what scenarios we might need to have some coping strategies ready for. If our friends and family know that too, they can be prepared for how we might react in certain situations and help us when we need it. At Project 11, we're always striving to help students build positive communication skills, develop their personal and social management skills, and increase their ability to connect with each other – creating personal boundaries is a great step along each of those paths."
As is Friesen's hope, McGlenen has seen a more connected classroom because of those lessons, and her classroom is a more supportive environment for all students to thrive academically and emotionally.
"Project 11 brings our class together because of all the discussions we have throughout the lessons. I continue to see my students feel more comfortable opening up to not only me, but to one another with each lesson we complete. They have all developed a better understanding for one another and continue to show support for their classmates and their emotions."