WJHA coach Maggie Litchfield-Medd impacting girls in hockey from behind the bench
March 15, 2023 9:00 am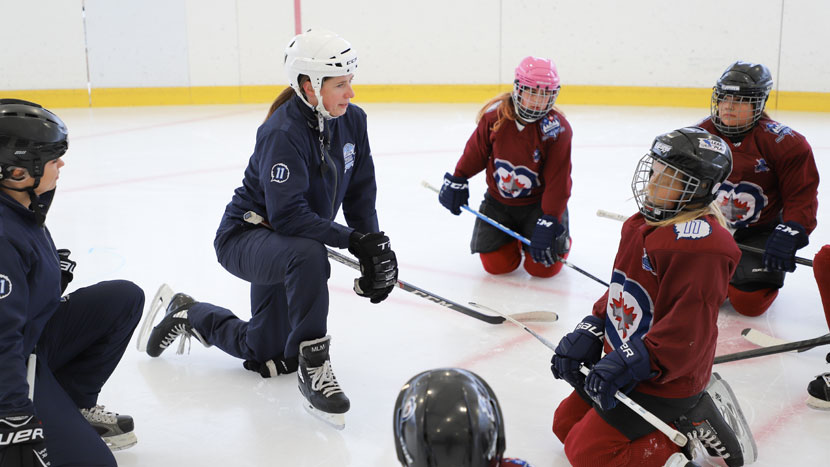 "I never had a female head coach growing up."
That was the experience of Maggie Litchfield-Medd, Manager of the Winnipeg Jets Hockey Academy (WJHA) Minor Hockey programs, throughout her hockey career.
That doesn't come from a small sample size either. After playing plenty of minor hockey, she played five seasons with the University of Manitoba Bisons women's hockey team – serving as team captain in her final year. She then represented Canada at the World University Games in 2015 and moved overseas to play in the Swedish Women's Hockey League.
The female coaches she did have along her playing journey were often players who came back as assistant coaches, which made them easy to relate to.
"They had a strong understanding of what my experience was as a player and did a great job of creating a close relationship with all the players that balanced out the high expectations of the head coaches," noted Litchfield-Medd. "Because they came from a playing background that was the same as mine, they were able to help me develop my on-ice game while also teaching me the mental side of the game. They understood hockey but also understood the emotional side of the game and what I was going through because they had gone through it."
The impact of those female coaches spurred Litchfield-Medd to step behind the bench too. She started by staying in Sweden to serve as the head coach for the Swedish Women's Hockey League team she played for, then returned to Manitoba to be an assistant coach at the university level with the Bisons women's hockey team as well as at the U-18 female prep level.
Now in her role with the WJHA, she continues to ensure girls of the next generation have female coaches to look up to – not only herself, but through the numerous females that are coaching WJHA girls' teams.
"I think it's important to have female coaches for the WJHA teams because girls can create a closer bond with their female coaches than their male counterparts because of similar experiences that a female coach would share," said Litchfield-Medd. "The girls see their coaches as strong women who have the same knowledge and understanding of the game, if not more than the dad that may have traditionally coached them. They get to see what they can be when they grow up – maybe it's not a hockey coach, but they know women can be leaders because they have firsthand experiences with it."
Litchfield-Medd has continued to blaze the trail for female coaches outside of the WJHA too. In February, she was part of the first all-female coaching staff in the history of Hockey Manitoba's program of excellence with the U18 Manitoba female hockey team at the Canada Winter Games in Prince Edward Island.
What was encouraging to Litchfield-Medd is that Manitoba wasn't the lone province with an all-female coaching staff behind the bench of their girls' hockey team.
"It is great to see how many female coaches there are today. Looking at the girls on Team Manitoba, most of them have a head coach who is female or an assistant female coach. It's very cool to see this transition in hockey, and this just shows how far female coaching has come since my playing days."
The difference the all-female coaching staff made to Team Manitoba was clear, as the bond the coaches shared rubbed off on the rest of the team.
"Having a tight group of coaches allowed for an environment that encouraged players to be their genuine selves," Litchfield-Medd noted. "This was demonstrated during tough games as the players and coaches stuck together, and on bus trips when we went to watch other sports during the Games, the girls were always their goofy loud selves."
Whether on Team Manitoba or with the WJHA, that is what Litchfield-Medd hopes to see more than highlight reel goals or show-stopping saves – girls feeling at home in the sport she loves.