Mental game: How one WJHA student uses hockey to manage anxiety
January 7, 2021 10:00 am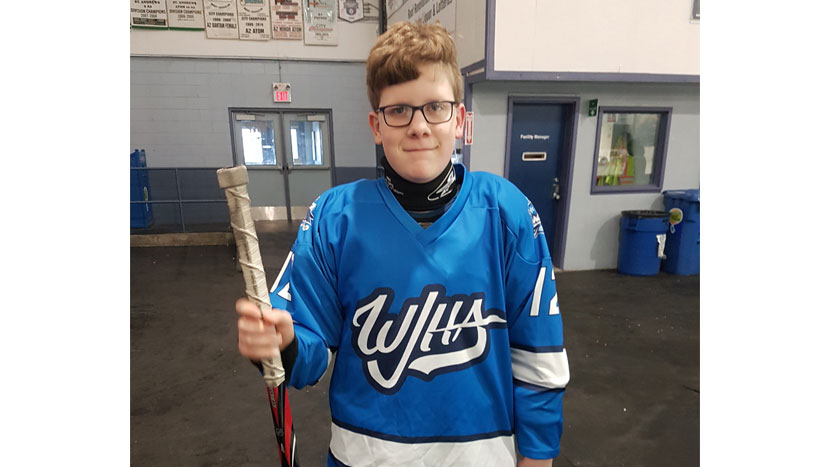 The Winnipeg Jets Hockey Academy (WJHA) isn't specifically known as a mental health program. In the True North Youth Foundation (TNYF) portfolio, that title belongs to Project 11.
However, when the WJHA offers students an outlet of playing hockey within a caring community, it's easy to see how the program itself can serve as a healthy coping strategy for the stress in kids' lives.
For Chase, a 12-year-old WJHA student who was diagnosed with Asperger Syndrome and multiple anxiety disorders at nearly the same time he entered the program, the WJHA has been exactly that. Like anything that helps us to grow and stretch ourselves though, participation in the WJHA has been a real challenge for Chase at times.
For starters, his involvement in a team sport program is in itself a display of the challenges Chase is facing. His participation in hockey and the WJHA was a surprise even to the therapist that Chase sees regularly to help him manage his anxiety.
"When he was diagnosed, we learned that most people with Asperger's are introverted…and better at individual sports," said Chase's mother Jenny. "We had already observed this through a couple of years in soccer where he was awkward and uncomfortable. We really thought this would be the same with hockey."
Initially, Jenny and husband James weren't mistaken.
"Before every game he would worry about letting his teammates down, disappointing his coaches or making a mistake," Jenny added.
Those feelings of anxiety on the ice are just a sample of the stress that Chase feels on a day-to-day basis away from the rink. In living with separation anxiety, social anxiety and general anxiety, Chase is seemingly facing his fears and worries around every corner.
With so many stressors, it can be tempting to turn away from them and try to hide, but both Jenny and James know that to be an unhealthy coping strategy. Instead, they've worked hard with Chase to turn those stressors into goals, and hockey has given them the perfect place to work at that.
"We had to turn his thinking around each time and give him one goal to accomplish," Jenny explained. "One game it would be to hold the blue line, the next game he would strive to skate faster than the last game, another game would be to protect his goalie."
That goal-setting mentality has made all the difference for Chase who, in spite of the challenges and fears he faces, loves being a part of the WJHA and has missed the in-person programming a great deal this year.
"I am proud every time I achieve one of my game goals," said Chase. "I hold the blue line really well, or skate as fast as I can. Last year I scored my first goal and all my teammates were so happy for me!"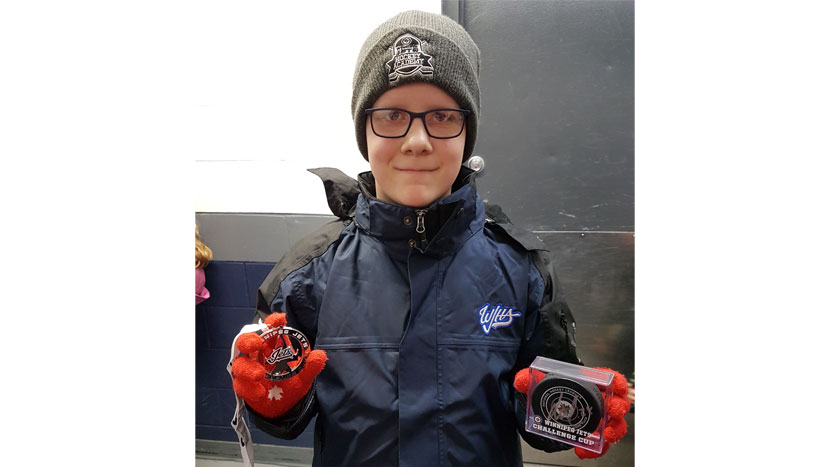 Along with the support of his family and teammates, when it comes to enjoying his time in the WJHA and developing through the program, a big piece of the puzzle has been his coaches. The term "coach" is truly all-encompassing in this case – the WJHA coaches aren't simply hockey coaches, but life coaches for the players. Taking on that kind of role for youth requires a lot of effort and willingness to get to know players personally, which Chase's coaches have.
"When you understand that just coming to the rink and being part of a team is a big step, you begin to appreciate just how far Chase has come and how much he has overcome," noted Rick Bochinski, Director of the TNYF-run Camp Manitou, who also volunteers his time as a WJHA coach and has coached Chase for three years. "To accomplish everything that he has over the past three years given his struggles is very inspiring for all of us as coaches."
In Chase's case, they've also been mental wellness coaches who have helped Jenny and James with taking Chase's stressors and turning them into attainable goals on the ice.
"At a younger age, it was clear that self-confidence was a major challenge for Chase. You could almost sense a feeling of defeat after games – he was his own hardest critic," said John Delaney, a True North Sports + Entertainment employee who volunteers his time with the WJHA as a coach. "As the season progressed, Chase started setting some goals for himself on the ice – smart hockey goals that if he set his mind to it, he could certainly achieve them and make a large impact to the success of the team. By doing this, he was able to quantify if he was having a good game and contributing, and as we all knew, he was – and now he knew too."
Chase's will to take on the challenges in front of him have not only been a source of growth for himself – they've been a source of inspiration for his coaches.
"Chase's determination and willingness to put himself in situations that may be uncomfortable or new has provided me with a new perspective in aspects of my own life," said Trevor Hollins, a WJHA coach who has coached Chase for several years. "We all have to push ourselves in different ways to get out of our comfort zone and grow, whether it be in our jobs or our personal lives. Chase is a great example of finding strength from within to push past your own expectations and the expectations of others to achieve something truly special."
The time and effort that Chase's coaches have spent with him will never go overlooked by his parents.
"It says a lot about the coaches that he is still in the WJHA and he loves it," said Jenny. "The coaches have given him a safe, comfortable space where he can be himself, there is no pressure to be the best, and he can just have fun."
Take it from Chase himself, who notes just how much the WJHA has made an impact on his life.
"Being a part of the WJHA has forced me to face my fears and get to know people, make friends and be part of a team," said Chase. "They have taught me how to exercise and improve my skills and work on my mental health."
As important as it is that the WJHA coaches have helped Chase to deal with his anxiety, they've done more than that. They've also helped him to see beyond his stress, worries and challenges.
"Chase will always have Asperger's and anxieties, but he now sees there is so much more to him," said Jenny. "These disorders aren't who he is, they are just a small part of what makes him unique. Being different doesn't mean you should hide from the world but put yourself out there and enjoy every moment."
Keep the conversation around mental health going by sharing this story or using the #HockeyTalks hashtag on social media.
For more information on the Winnipeg Jets Hockey Academy, visit TNYF.ca/OurPrograms/WJHA.