Month-long November TNYF 50/50 draw will conclude on Giving Tuesday
November 9, 2020 9:24 am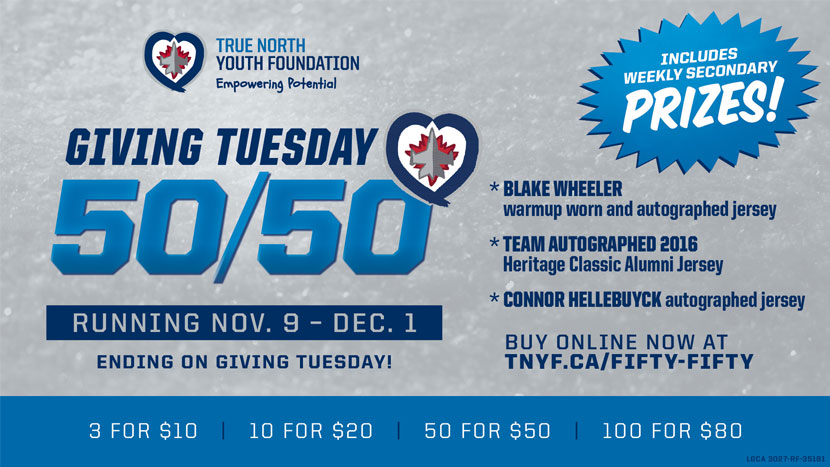 The life-changing work of the True North Youth Foundation (TNYF) isn't possible without the generous donations of many Manitobans. For many, that opportunity to give to the foundation comes through purchasing 50/50 tickets at Winnipeg Jets and Manitoba Moose games – something that hasn't been possible this fall.
To give fans a taste of the 50/50 draws they're accustomed to at hockey games, the TNYF is running a 50/50 pot throughout the month of November – giving fans both the thrill of participating in a draw and the opportunity to make a difference in the lives of Manitoba youth.
The month-long 50/50, proceeds of which will benefit the three core programs of the TNYF – the Winnipeg Jets Hockey Academy (WJHA), Project 11, and Camp Manitou – opens on Monday, Nov. 9 at 10 a.m. CST and will close on Tuesday, Dec. 1 at 8 p.m. CST and will also include the opportunity to win extra prizes throughout the month.
Prior to the grand prize draw for half of the 50/50 pot on Dec. 1, there will be weekly draws each Friday for those who have purchased their tickets prior to the weekly draw dates:
– Nov. 13: Shane Doan retirement warm-up Winnipeg Jets away jersey worn by Blake Wheeler
– Nov. 20: Heritage Classic team-signed Alumni Winnipeg Jets jersey
– Nov. 27: Connor Hellebuyck autographed Winnipeg Jets Heritage Blue jersey
Dec. 1 will be a significant day for the foundation, not just because of the 50/50 draw, but because that day is also Giving Tuesday – an annual and globally recognized day committed to giving and volunteering by rallying together for your favourite causes.
"Both the 50/50 draws at Jets and Moose games and Giving Tuesday are an integral part of our fundraising each year," said Dwayne Green, Executive Director of the TNYF. "That speaks not only to their importance for us as a foundation, but to the generosity of our Jets and Moose fans and Manitobans in general. Each season, we know we can rely on our fans to help support us through 50/50 participation, and though this draw will look different, we're confident that we can count on Manitobans to step up throughout the month and on Giving Tuesday."
Though these 50/50 and Giving Tuesday campaigns bring excitement for the month or the day that they run, continued giving is important year-round for the TNYF. Manitobans are encouraged to commit to continual giving beyond Giving Tuesday and become a game changer for many youth in our community through monthly giving that will help to fund such experiences as a week of camp, WJHA participation, or to help provide Project 11 programming to a classroom in Manitoba.
"We know the impact our programs have on youth makes a big difference in their lives, but we also know that we can't provide any of those programs without the generosity of Manitobans," noted Green. "Our regular supporters enable us to do what we do and are true game changers for us and the youth we work with."
Visit wjets.bump5050.com to purchase your 50/50 tickets leading up to the draw on Dec. 1.
No matter what your contribution, all our TNYF donors make a difference.
Visit weblink.donorperfect.com/BecomeAGameChanger for monthly giving options and to become a game changer for youth supported by the TNYF.
To make a one-time or monthly donation to the TNYF, visit https://interland3.donorperfect.net/weblink/weblink.aspx?name=E346020QE&id=6.