WJHA tutors teach accountability and importance of connection through continued pandemic programming
March 16, 2021 3:15 pm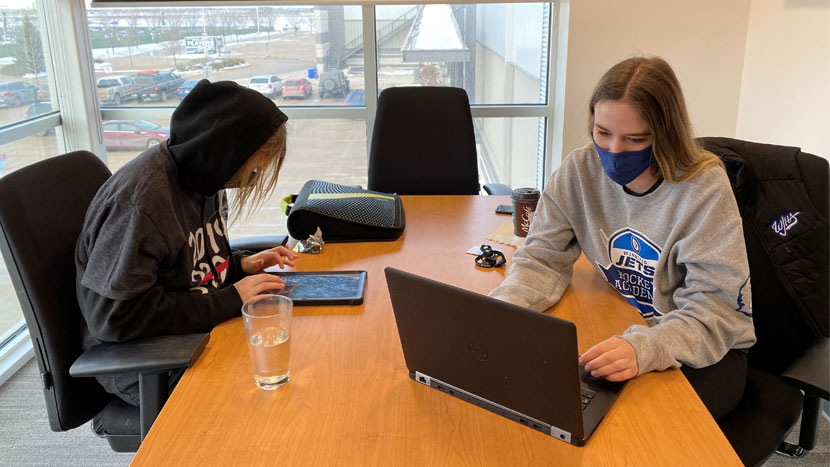 We've all been on a learning curve since the pandemic started a year ago and continue to adjust to doing life differently. Middle and high school students are a prime example as they've navigated a new school schedule and WJHA hockey coaches have increased the amount of tutoring available for those in need.
More time away from school may initially sound like a dream come true to many students, but it forces them to increase their level of accountability for their schoolwork and learning. While supporting students academically, the Winnipeg Jets Hockey Academy (WJHA) has helped students learn in a new environment and adapt to follow public health restrictions.
Thankfully, restrictions didn't completely stop tutors and students from meeting in person when health protocols came into place. For many, some tutoring had to move online. Meeting virtually isn't the same, but it has certainly proven to be valuable.
"We can't spend as much time in schools as we normally would, so it is a challenge to maintain the strong connections that we've built with students," said Jaclyn Fraser, WJHA Tutor and Student Support. "Being able to check in with students on a consistent basis is essential to identifying their needs and helping them reach their full potential."
The pandemic and reduced hours in school for students has made the tutoring program more important this year than any other. Less hours in school meant more time to connect with students for the WJHA, as the program targeted the days when students were not in school to aid them with their assignments and studying.
"Some students have struggled with attendance and accountability with the one day off, one day on schedule," said Joey Rewucki, WJHA Student Advisor. "Virtual schooling has also been a big hurdle for some of our kids. Accountability plays a role in some of the struggles of the virtual learning, however, for others who may not have proper electronics to complete their online schooling, it is quite easy for them to fall behind during those periods."
The WJHA has been making that hurdle much more manageable for many students though. By sticking to their programming and remaining a steady presence, they've seen greater accountability from students towards their work, and better grades as a result in many cases.
"One student that I meet with weekly has struggled with her school attendance and at-home learning," noted Fraser. "Since we've started tutoring, I have seen her take more accountability over her schoolwork. She now comes to tutoring prepared and knows what she needs to do to succeed. She is more confident and has shown a lot of growth when it comes to time management."
Rewucki too has his own tutoring success stories.
"One student I work with has autism and struggles with grasping certain topics. I've been one of the goalie coaches and his minor coach for three years, and it was great to start tutoring with him. He was struggling in math when he first started tutoring but put in a lot of work every single week and really came a long way as the year progressed. One of the most rewarding things was finding out that he got 100 percent on his last test of the semester in math after working so hard to achieve that goal."
Moments like these are the most rewarding for the tutors. They may tell students on and off the ice that hard work pays off, but for the students to be able to see that come to fruition is priceless.
Whether getting 100 percent on their math test or seeing other improvements, the progress made in the classroom leaves significant impacts with the students too, and they're not afraid to share how much it means to them.
"If you don't have the help, it is harder to stay caught up this year especially with online learning," said WJHA student Kole. "WJHA tutors have helped me understand different concepts better than the teachers. Having one-on-one time without needing to rush makes it easier. I have learned how to study better and what to focus on and memorize."
They've been equally thankful to have mentors that they can just spend time with, something that can't go overlooked when youth haven't been able to spend time with their friends in the same way.
"I like that the WJHA helps me with my schoolwork because it makes my work easier, I have the chance to get caught up, and I can get extra help and I don't feel worried or judged," said WJHA student Taijah. "It's also nice that I get to see the coaches when I come to the Iceplex."
"It's nice to see coaches that you don't always see anymore, especially since we could see them all the time during a regular school year," added Kobe, another WJHA student.
The WJHA coaches are well-aware of how valuable that connection is because it's been just as important for them during this time.
"Students have lost out on having a consistent schedule filled with things they love to do – sports, clubs and seeing friends," said WJHA coach Trevor Hollins. "Connecting a weekly tutoring session doesn't replace these things, but it does provide an outlet for those that have lost out on those important connections."
The pandemic has actually created some situations where coaches can better connect with students. When the program could gather in groups, it wasn't always easy to get one-on-one time with each student. That has been more attainable under the restrictions.
"You can tell that the few minutes you get to check in or have a real conversation with each student are so meaningful," added Hollins of the normal programming. "With individual tutoring sessions, being able to spend an hour or two with a student has been a fantastic opportunity to develop and maintain lasting connections, impart good habits and help students achieve academic success."