Jets partner with Bell for annual #HockeyTalks mental health awareness game Jan. 25
January 17, 2022 11:14 am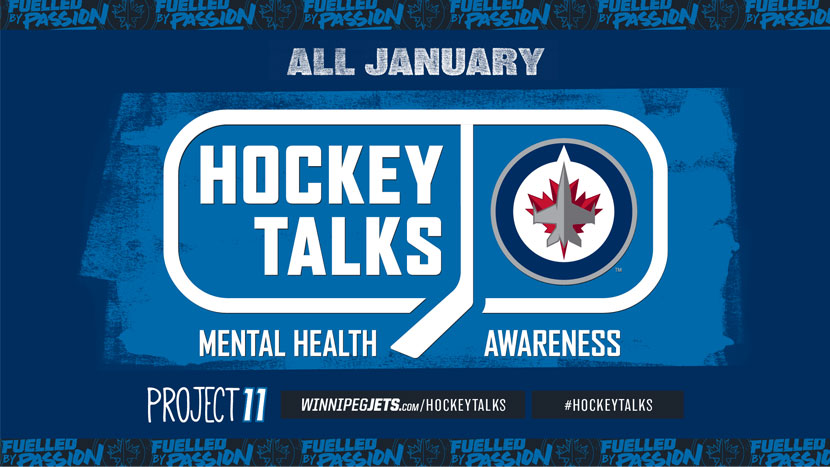 The Winnipeg Jets will again bring awareness to mental health care through the annual NHL #HockeyTalks campaign, and with the additional support of Bell as the gameday sponsor for the team's dedicated #HockeyTalks game on Tuesday, Jan. 25. The league's national public awareness campaign is designed to encourage conversations about mental health and share support and information from leading experts in the hopes of alleviating some of the misconceptions and stigma associated with mental illness.
The Winnipeg Jets will focus on this initiative from Jan. 17 to 31, further engaging in the conversation and sharing information and stories through digital platforms. This includes bringing awareness to local mental health organizations and their resources through the team's social channels and highlighting the work and important wellness messages of the True North Youth Foundation's (TNYF) Project 11. The campaign is especially timely this January as students again faced remote learning, and as the pandemic continues to affect social experiences and extracurricular activities and outlets for a third academic year.
Winnipeg Jets players have joined in the conversation with Project 11 students in videos that will be shared throughout the campaign, and they will further show their support with #HockeyTalks helmet decals which will be worn for all games during the two-week campaign.
Fans can show their support for the initiative by uploading their picture to a #HockeyTalks frame and posting their picture via social media with the #HockeyTalks hashtag.
The team will again raise funds for Project 11, this year with #HockeyTalks hoodies, which will go on sale Jan. 25 at TNYFAuction.ca. Two sets of player-worn hoodies will also be auctioned through the same site after the Jan. 25 #HockeyTalks game. More details on the auction will be shared through the Jets' social channels closer to Jan. 25.
Project 11 is a cross-curricular mental health awareness program available to all Manitoba teachers for Grade K to 8 classrooms. The program has also begun its senior years pilot project which will fully launch across the province for the 2022-23 school year. During these especially difficult times, the program has helped many youth and their families to put mental wellness at the forefront, and has emphasized the importance of not only speaking openly about mental wellness, but having the tools and resources to engage youth in these conversations in an age-appropriate way. The Project 11 team has trained more than 1,000 new educators during the pandemic alone, putting its preventative mental wellness curriculum in more than 450 schools and reaching more than 64,000 Manitoba students.
Project 11's monthly Check In podcast will release two bonus episodes this month as part of #HockeyTalks. Co-hosted by Suzi Friesen, Director of Educational Programming with the TNYF, and local country-folk musician Don Amero, the podcast provides another platform to discuss pertinent mental wellness topics with the help of special guests and community role models from a variety of backgrounds and industries. Not just for students engaging directly in P11 curriculum, the podcast is a meaningful wellness resource for any teen, parent, or young adult looking to engage in mental wellness conversations, expand their knowledge and learn from others' experiences. This month's episodes include:
Dr. Andrew Hall, Medical Director for the Manitoba Adolescent Treatment Centre on the impacts of remote learning on youth and strategies to combat feelings of isolation – currently available
Mindfulness guru Uday Chudasama on the topic of happiness – available Jan. 19
Fit City Project founders, Winnipeg Blue Bomber alumnus Milt Stegall and workplace health and wellness expert Jordan Cieciwa, on the benefits of physical fitness on all aspects of health – available Jan. 2
The P11 Check In podcast is available on Apple Podcasts, Spotify, Google Podcasts and YouTube with new episodes released monthly throughout the school year.
To learn more about how the True North Youth Foundation works to provide mental health education and resources for youth, please visit ProjectEleven.ca. Teachers can sign up for virtual training at any time.
The Winnipeg Jets are proud to partner with Bell for the Jan. 25 #HockeyTalks game to engage even more people in the mental wellness conversation in conjunction with Bell Let's Talk Day taking place on Jan. 26. For more information on Bell Let's Talk Day, visit letstalk.bell.ca.
Fans can learn more about the Jets' #HockeyTalks efforts at WinnipegJets.com/HOCKEYTALKS. Project 11 has also compiled a comprehensive list of community resource support organizations and their contact information which can also be found on that page, or at the following direct link: ProjectEleven.ca/wp-content/uploads/2022/01/Community-Services-P11-Jan-12-2022.pdf.
MENTAL WELLNESS
According to mental health experts, on average, one in five Canadians will experience a mental health problem or illness in their lifetime; thereby affecting indirectly many more Canadians through a family member, friend or colleague. Stigma or discrimination attached to mental illnesses presents a serious barrier, not only to diagnosis and treatment, but also to acceptance in the community. Approximately 70 percent of mental health problems and illnesses have their onset during childhood or adolescence. Identifying the signs early and getting connected to tools and support is the most important way to prevent problems from becoming worse. Mental health problems and illnesses can be treated effectively.
These statistics were compiled from information available through the following websites: Mental Health Commission of Canada, Canadian Mental Health Association, and the Centre for Addiction and Mental Health.