WJHA students and staff couldn't be more excited to be back on the ice
October 14, 2021 10:00 am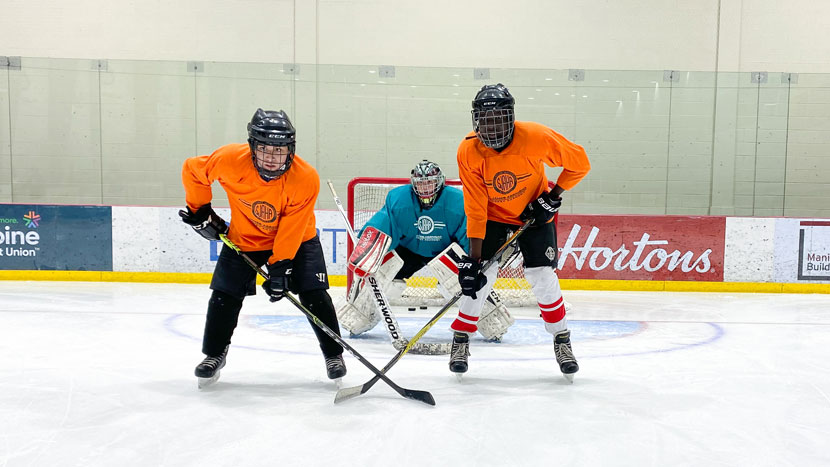 Even for high schoolers, playing video games can get old.
Prior to the pandemic, many teenagers might have argued the opposite; that they could never get enough time in front of the screen. After a 19-month stretch that included many stints where spending time at home and connecting virtually were the only options for youth, many have gained a new perspective.
"I found it extremely boring without being able to play hockey. Playing video games for an entire year is really boring!" noted Tyler, a Grade 11 Winnipeg Jets Hockey Academy (WJHA) student who attends St. James Collegiate.
Not all WJHA students may have been playing video games throughout the 2020-21 school year, but regardless of what they filled their time with, it wasn't the team building, camaraderie or physical activity that the WJHA's on-ice sessions and supplementary programming have to offer. Though the WJHA was able to maintain connections with students through tutoring sessions, the lack of physical activity evidently left a major hole for students.
"Not being able to work on my skills for hockey to keep improving has been hard. I wasn't able to see my friends either," said Kyra, a Grade 10 WJHA student from St. James Collegiate.
Things are starting to look a little more like they used to though. Instead of facing off as Mark Scheifele with an Xbox controller, youth are again skating around the rink themselves with pucks on their sticks.
As Kyra alluded to, the sport itself is only one element of what students have been missing. The social time that hockey sessions offer WJHA youth is something none of them will be taking for granted any time soon.
"It's been amazing being able to get back on the ice and playing games with my friends while learning new skills again," continued Kyra.
"I've really missed being around all the coaches and my friends. It's a really great environment that I've missed so much during the pandemic," reiterated Chris, who's in Grade 11 at St. James.
That great environment makes the WJHA more than just a place to make friends and score goals. Students have come to appreciate the WJHA as a place to grow and a place to learn some valuable life lessons.
"I've been able to learn how to play a sport I'd always wanted to play, and I was also able to learn a lot of good habits with my general work ethic," said Grade 11 WJHA student Kwag. "After years of practice, I am way more confident as a hockey player and off the ice in life."
"The WJHA has showed me that it is okay to fall down and get back up or miss a pass and work harder to go get it. It has also shown me that mistakes happen to everyone and that if you fall, just get up and try again," added Kyra.
Those lessons are testaments to why the program was founded, and why it continues to be so successful. For WJHA Director Murray Cobb, being able to be back on the ice with students for the 2021-22 season puts the WJHA back to the way it was meant to be – an all-encompassing program that will help youth in ways they don't yet realize.
"The pandemic wasn't able to stop everything we do, and obviously tutoring and finding new ways to connect with students off the ice have been, and continue to be, super valuable to us," Cobb said. "It's clear, though, why we chose hockey as an avenue to engage students in their schools and communities – because it works. Youth gain so much from being active and having role models to coach them along the way. The relationships built on the ice and experiences gained from working hard and improving simply can't be replaced."