Project 11 Mental Wellness Summit available to community to offer encouragement and healthy coping strategies
May 21, 2021 10:00 am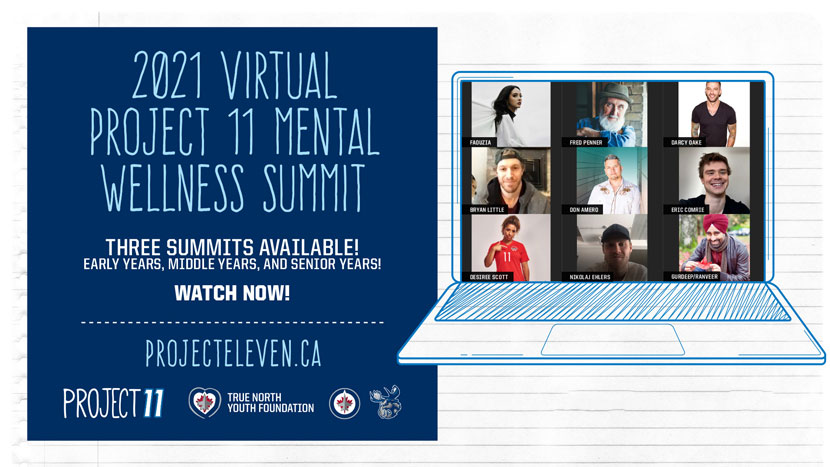 Everybody needs encouragement and some excitement in their life, but both of those things have at times been tough to come by in the pandemic.
Project 11, an engaging cross-curricular mental wellness program for students in K-8, regularly strives to bring those elements to students' lives with in-class programming, while also emphasizing the importance of having a support system that not only provides encouragement, but which brings joy.
To bring an extra boost of encouragement and fun, Project 11 released their fourth annual Mental Wellness Summit – which includes three age-tailored videos for early, middle, and senior years students – to classrooms across Manitoba in early May.
The Project 11 Wellness Summit combines entertainment and education in a dynamic presentation that reinforces the importance of mental wellness and promotes positivity, empathy, community and open communication in topics critical to mental wellness. With everyone needing at least a little encouragement in a time like this, Project 11 is releasing their Summit videos to the entire community for free at ProjectEleven.ca.
"Though we're a curriculum-based program, we're always striving to bring the conversation around mental wellness outside the classroom," said Suzi Friesen, Director of Educational Programs for Project 11. "The Summit really does give our classrooms a strong sense of community through hearing stories and positive messages, even when we all watch it separately. That sense of community is integral for our city and province as we go through this challenging time, and we wanted to allow all families the opportunity to learn more about our programs and some of the mental wellness practices that can be useful through tough times, and to have that encouragement we all need right now."
The Summit videos open the conversation of wellness of heart, body, mind, and soul to community members of all ages through interviews, opportunities to learn from specialists, musical performances, dance and movement breaks, and more. Viewers can look forward to seeing many familiar faces in each video, including children's entertainer Fred Penner and comedian Big Daddy Tazz in the early years video; illusionist Darcy Oake, superfan Cameron Hughes and Olympian Desiree Scott in the middle years video; and local musicians Faouzia and Don Amero in the senior years video, along with several Winnipeg Jets players in each.
"We all know the power that a role model can have on our lives," noted Friesen. "I know students have shared their appreciation of our Summit guests. The thoughtful messages of encouragement and healthy coping strategies they've shared for our audiences can really make a positive impact on community members young and old."
To view all three Project 11 Mental Wellness Summit videos and for more information on Project 11, please visit ProjectEleven.ca.
For teachers who would like to register their classrooms for the program, visit ProjectEleven.ca/REGISTRATION.