Winnipeg Jets 2021 virtual Gala on Dec. 1
November 4, 2021 2:48 pm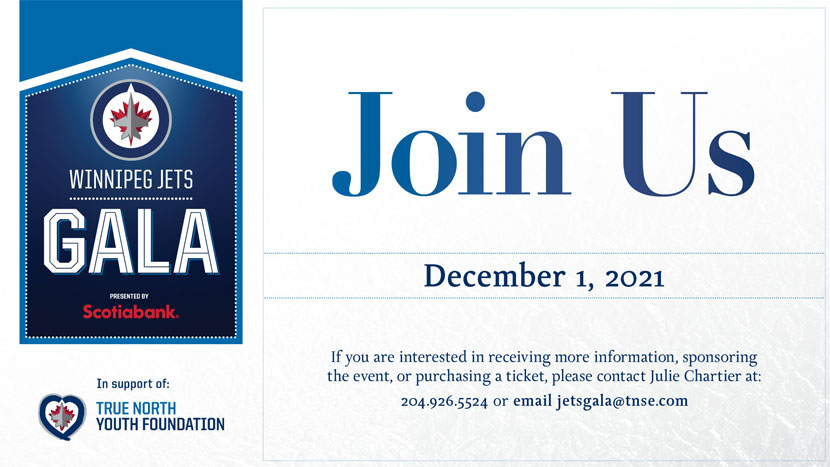 The Winnipeg Jets Gala will again take place virtually from the comfort of viewers' homes on Wednesday, Dec. 1, and will feature renowned illusionist Darcy Oake, performing interactive illusions with the virtual help of Winnipeg Jets players.
The annual event is in support of the True North Youth Foundation (TNYF) and its mission to empower the potential in Manitoba youth through its three core programs, the Winnipeg Jets Hockey Academy (WJHA), Project 11 and Camp Manitou.
The evening will also include exclusive player content, a fireside chat hosted by Winnipeg Jets colour analyst Jamie Thomas with Winnipeg Jets Sr. Vice President & Director of Hockey Operations/Assistant General Manager Craig Heisinger and Sportsnet's Hockey Night in Canada Studio Analyst Kevin Bieksa, along with a silent auction, raffle, and more.
Hosted by Project 11 ambassador and radio personality Ace Burpee, the spotlight will be on mental wellness and the work of Project 11 in Manitoba schools – the importance of which has only been emphasized as youth have navigated the changes and challenges of the pandemic which has now infringed on three school years.
To enhance the evening and allow attendees to both relax and indulge, a wellness gift box valued at over $300 and containing tasty local sweets and treats sourced from local businesses will be delivered to attendees' homes.
Just as Manitoba youth have relied upon the TNYF and its programs throughout the pandemic, community support of the Winnipeg Jets Gala remains significant to the work of the WJHA, Project 11 and Camp Manitou, as all programs have pivoted to best support youth in new ways over the past year and a half and now begin to resume in-person and on-ice programming. Remote schooling and loss of social interactions have had significant impacts on students' academics and mental wellness, making the resources of Project 11, tutoring of the WJHA, and socialization and physical activity of Camp Manitou even more essential for TNYF youth. The work of the TNYF will be even more important in the coming years as each program seeks to continue building confidence and physical, social, and emotional skillsets, as well as make up for opportunities lost throughout the pandemic.
To purchase your gift boxes for the Winnipeg Jets 2021 virtual Gala, please email jetsgala@tnse.com, call 204.926.5524, or visit TNYF.ca/GALA for more information. Those who purchase in groups of ten or more prior to Friday, Nov. 5 will be entered into a contest to have their boxes delivered by a Winnipeg Jets player or coach.
The TNYF is the charitable entity of True North Sports + Entertainment and of the Winnipeg Jets and Manitoba Moose Hockey Clubs. The TNYF is relentless in pursuing its vision of empowering potential in youth by administering meaningful programs that enrich physical, social, mental and emotional aspects of a child's life. Thanks to the continued support of Winnipeg Jets and Manitoba Moose fans in our community, the TNYF was able to continue connecting with youth through their programming during a challenging 2020-21 season and positively impact more than 70,000 Manitobans.
To learn more about the True North Youth Foundation and the impact of its programs, please watch our program videos at TNYF.ca/WJHA, TNYF.ca/CAMP-MANITOU, and TNYF.ca/PROJECT-11.