12 Days of Giving – Day 5: Creating connected and supportive classrooms through Project 11
December 18, 2020 10:00 am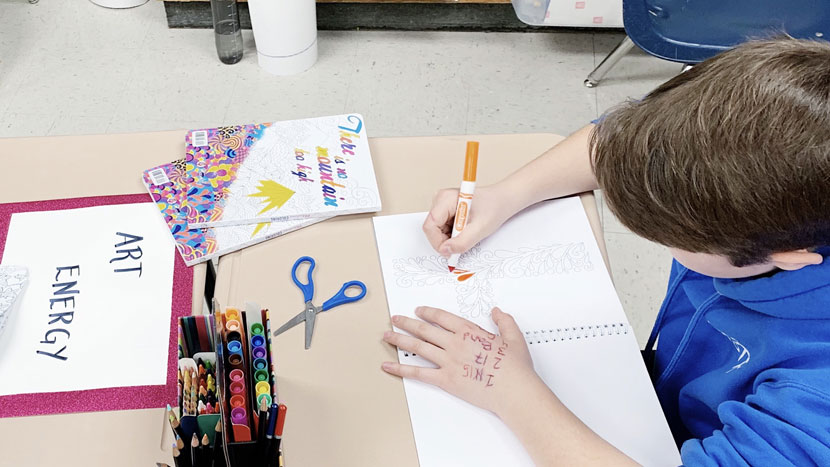 An important first step to learning is having a safe place to learn.
That's something Darren Roy, a middle years teacher at Ecole Leila North in Winnipeg, has believed for a while, and a safe and connected classroom has been something he has actively been building through the Project 11 curriculum.
A big part of that has been giving his students daily routines to anchor to.
"My daily classroom routines begin with a guided 'Mindful Meditation' and 'Spirit Buddy' conversation," said Roy of his in-class routine. "Everyone participates in a few minutes of focused breathing and self-observation of their morning moods. They are encouraged to optionally share their thoughts and feelings after the process is complete. Some days have better participation than others, but through patience and perseverance, these routines do impact a students' sense of belonging and understanding of their unique contributions to the classroom community. I have observed improved growth-mindsets and positive learning relationships with all of my students. They also show more willingness to tackle challenging content-area learning once they feel trusted, safe, and valued."
When the pandemic hit Manitoba and forced all schools to begin remote learning in spring, it was immediately obvious to Roy that having to teach via virtual methods wouldn't be the only barrier to learning for his students – the loss of their regular Project 11 routines might also impact their learning capacity.
Remote learning may have been daunting for students and their parents, but it was perhaps just as daunting, if not more so, for Roy and many teachers.
"The move from physical interactions to online connections was quick and challenging for my classroom community," he noted. "I was not a teacher who regularly included technology during our in-person instruction prior to the pandemic. It admittedly made me anxious and worried. I knew that I needed to be strong and persevere for my students and their families and model reasonable resilience to hurdle the challenge of using a new electronic platform to teach."
To show that resilience, Roy leaned on a familiar pillar from his in-class sessions – Project 11.
"I established an online classroom space that reflected our routines prior to the pandemic. It was important to maintain some regularity amidst the chaos of the world outside the classroom. In addition to 'Literacy' and 'Numeracy' activities on our virtual learning platform, I included a 'Self-Care and Mindful Meditation' tab. This space was for Project 11 activities and other self-regulation tools for best supporting our social-emotional wellness. More activities were completed by my students in this area than the other content areas, and it was evident that my classroom community was most engaged there as we navigated the uncertainty of new stress, worries, or anxieties."
On top of the resources he provided, Roy's daily half-hour video conferences with his students always began with a 10-minute guided breathing and mindful meditation activity.
"The most well-attended part of the meeting was always during the meditation," noted Roy. "This familiar daily routine was valuable, calming, and useful for all of us – me, my students, and their families. It reminded us that we feel safe, valued, and part of a caring learning community, even if it's through a virtual form."
Needless to say, Project 11 has helped both Roy and his students get through a difficult time, and Roy's philosophy of students learning better when they feel connected and supported in their classroom has only been reinforced through that experience.
Give teachers like Darren the chance to create connected and supportive classrooms through Project 11 by DONATING TODAY!