12 Days of Giving – Day 10: Giving youth a place to learn outside the classroom
December 15, 2021 7:00 am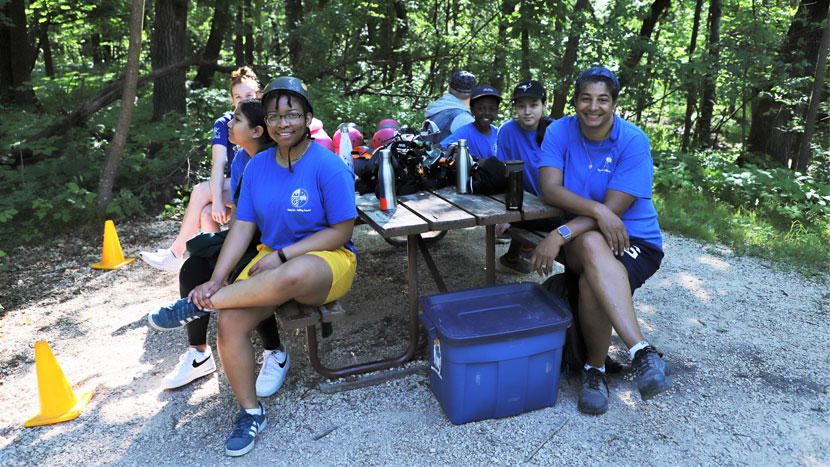 Camp Manitou produces some exhilarating physical experiences for youth – stretching your arm as high as you can to reach the next rock on the climbing wall, a refreshing wave of water rushing over you as you jump into the pool, or the wind whipping through your hair as you cruise down the zipline.
For staff and students from Gonzaga Middle School who attend the camp each year for a day of fun and bonding, spending time outdoors in the fresh air is as much about the mental and social aspects as it is about the physical. With youth so often glued to screens or sitting in school for the bulk of the day, spending time at Camp Manitou gives youth a place where they can interact in a new way and gives their minds a break from typical schoolwork.
The time spent at Camp Manitou is still learning time, though, as has been the case for Gonzaga Middle School students. Rather than being tested on their times tables, the students get to test how many times they can make it to the top of the rock-climbing wall. Rather than test their spelling accuracy, students test their accuracy with a bow and arrow. Camp Manitou provides a wonderful place to round out students' in-class learning, build self-confidence, learn new skills and grow the classroom community.
"For Gonzaga, the greatest benefit has been connecting staff and students, especially our new students, in a safe and fun space. It has helped to build relationships and a sense of community, and has provided challenges to help kids test themselves." – Gonzaga Middle School staff member
Be a game changer this holiday season by giving more youth like students from Gonzaga Middle School the chance to round out their learning at Camp Manitou by donating to the TNYF 12 Days of Giving campaign HERE! All donations make a difference for Manitoba youth, as just $50 provides lunch to a camper for a week of summer camp, and $270 covers the cost of a week of day camp for a child who might not otherwise have the opportunity to attend.