P11 extends programming to include middle years French curriculum
November 19, 2020 9:30 am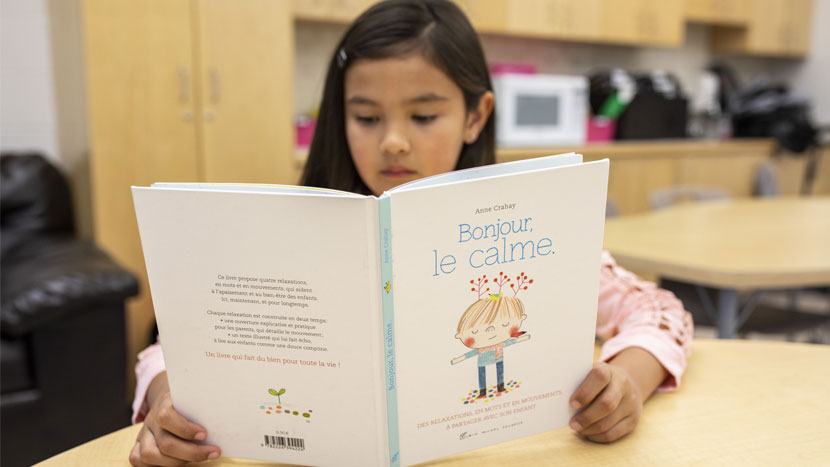 Project 11's mission is to get everyone speaking a common language – the language of mental health. It's a language that regularly uses words like "self-awareness", "empathy", and "relationships". In a diverse province like Manitoba though, specifically with a large French-speaking population, the way you say those words might look different, perhaps more like "la conscience de soi", "l'empathie", et "les relations".
Since inception, Project 11 has been striving to include everyone in the mental health conversation, and they're taking another step in that direction this year by adding to the existing K-4 French lessons and extending their French P11 curriculum to middle years students in Grades 5 through 8.
"When we started Project 11 several years ago, our goal was to reach all youth in Manitoba with our mental health programming," said Suzi Friesen, Director of Educational Programming for P11. "We've made good progress, but language is an obvious barrier to reaching even more students. Our goal is to eliminate those barriers that might stand in the way of youth learning how important their mental health is or learning that if they are struggling with their mental wellness, they're not alone in that."
With the French program newly available to middle years schools this year, many French and Immersion teachers and administrators are looking forward to including the program in their classrooms.
Rachel Foidart, Vice Principal at École Précieux-Sang School, is a prime example. She recently started working at École Précieux-Sang and has had the school jump into the program head-first with all of their classrooms participating in Project 11.
"I am extremely grateful that this program is offered in Canada's two official languages," said Foidart. "As a French administrator with a background in counselling, I feel it is extremely important that we offer equal opportunities for increased mental wellness to both students in English programs as well as their French or Immersion peers. As a mother to two children who still only speak French, I am excited that they will have the opportunity to learn from this program and build their resilience and strategies in caring for their mental health."
Equal opportunity and inclusion are just scratching the surface of the significance of offering Project 11 in another language. P11 educators who teach the English curriculum have been benefitting from the common language the program creates that helps students express their emotions and struggles, and the addition of a middle years curriculum will further the opportunity for French students to also have a shared language they can use to express themselves.
"Teaching this program in our students' first language or their language of instruction is so important in developing the capacity to communicate their needs, practice their critical thinking skills, and develop their resources in the language they are most comfortable using," added Foidart.
Translating an entire educational program to another language is no small feat, but Project 11 benefitted greatly from having two of their staff – Manager of Educational Programs Kerri Waldbauer and Administrative Coordinator Angeli Booz – fluent in French.
"Kerri and Angeli made sure all of the language was student-friendly for each grade," said Friesen on the work of the P11 team to translate the program. "We're blessed to have such a multi-talented and committed team that gives us the ability to extend our programs and make positive changes in the lives of the many diverse youth in our province."
Foidart has seen first-hand the positive changes that happen in students because of Project 11's ability to adapt and grow. Increased confidence, and the ability to better cope with stress and life's difficult situations are skills that students will benefit from for the long term.
"Honestly, I get emotional when I think of the possible product of a student that had the opportunity to follow this program from Kindergarten right through Grade 12."
Some of Foidart's colleagues have seen those life-changing impacts too. École Précieux-Sang School phys. ed. teacher Christian Bissonnette has taught the program in English and is well aware of the impacts of the program. Bissonnette got involved with P11 early on, and after doing some research on the program, passed along a mental health resource guide to the staff at his former school to introduce them to the program. Months after sending the info, one of his colleagues told him that her son, a former student of Bissonnette's, had tried to take his own life due to mental health struggles. Thanks to the information though, Bissonnette's colleague was able to find the help that her son needed.
Needless to say, Bissonnette has known for a long time how important Project 11 is, and that every student in the province should have access to its lessons.
"Now that Project 11 is available in more grades in French, it means that an ever-growing French Immersion and Division Scolaire Franco-Manitobaine (DSFM) student population will be able to benefit from the program," noted Bissonnette. "This engaging content will be worth it if it makes a difference in the life of one student in each classroom."
With the work of the P11 staff and the enthusiasm of educators like Foidart and Bissonnette, the program will surely be ever-growing too and continue to make a difference in the community, one student at a time. That news is very good – or shall we say ce sont de bonnes nouvelles – for students, parents, teachers, and the entire community.