WJHA makes hockey a haven for young girls
March 29, 2021 10:00 am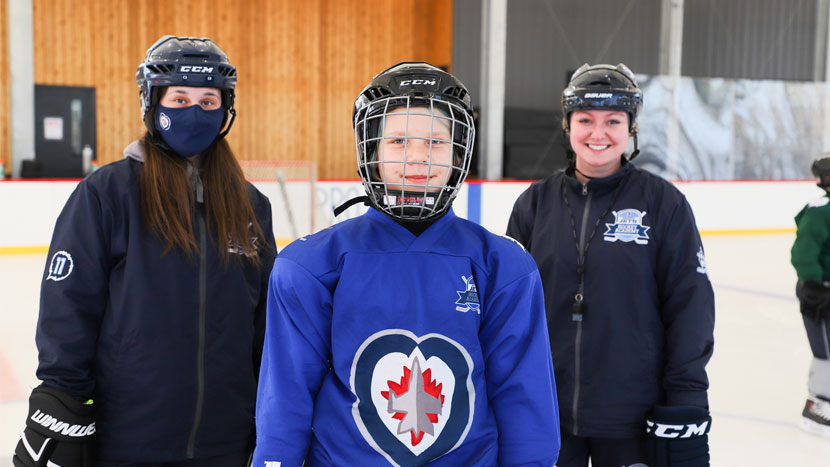 The hockey rink has become a home for Winnipeg Jets Hockey Academy (WJHA) student Vera. That isn't a statement that is necessarily going to turn any heads – at least not anymore.
For Vera's mother Alena though, that fact would have once caught her off guard.
"The WJHA introduced Vera to an exciting world of hockey. As a person who grew up in a culture that saw hockey as a boys' sport, I couldn't even imagine that she would be interested in playing hockey."
It's amazing how much can change, even in one generation. Vera, whose family is originally from Belarus, has been very involved in the WJHA, and truly loves the sport. When Vera was asked if she's ever seen hockey as a boys' sport or has ever not felt welcome as a girl in the sport of hockey, her answer was very simple.
"Never!"
That's music to the ears of Vera's WJHA coaches Danica Rowinski and Janelle Forcand. Clearly both are big advocates for involving girls in hockey. As coaches in the WJHA, though, Danica and Janelle are much more than just instructors on the ice for the girls they coach, but also off-ice mentors who aim to impact their lives for the better.
In the same way that the WJHA uses the sport of hockey as a starting point to engage students in school and increase graduation rates in at-risk youth, the program uses the game to empower girls and show them that when they put their mind to something, they can achieve whatever they want.
That approach seems to be working for Vera.
"I've learned how to skate a lot better and made new friends," she said. "The most important lesson I've learned so far is how to be a team player and accept new people."
Those valuable lessons that extend far beyond the sport make it even more important that girls have the opportunity to participate, and the confidence built in learning hockey skills is undoubtedly raising Vera's confidence off the ice.
"Hockey has helped Vera come out of her shell and be confident in who she is," said Danica. "She has made new friends with people on both the male and female minor teams and loves to compete against the boys. Her skill level has improved so much, even just after one year on the minor team."
Alena sees the growth in self-confidence in her daughter as well.
"She likes to be seen as a strong, powerful girl."
That's exactly the way her coaches have come to see her too.
"If I had to describe Vera using one word, it would be fearless," said Janelle. "She has no limitations set upon herself and is not afraid of a challenge. When she puts her mind to something, she will go after it and get it and I think hockey has played a huge role in that. The confidence she exhibits on and off the ice is inspiring. As a coach, one of my favourite things to watch is young girls being unapologetically themselves and not back down from anything, and Vera embodies that to the core."
To Alena, that fearlessness and confidence that Vera shows is not only a result of her own personality, but of having such positive female role models to look up to in her WJHA coaches.
"I think it's great that she can see ambitious, energetic girls that are passionate about the sport."
Danica and Janelle both take that role model position very seriously and hope to inspire young girls like Vera to chase their dreams, regardless of what those dreams might be. Their aspirations might not always be in the world of hockey, but they know firsthand the skills and attributes learned on the ice will carry them far in any future they choose.
"The impact hockey can have on someone's life is endless and all girls should have the opportunity to benefit from this game," said Janelle.
Even with the ability to play hockey for much of the winter taken away, the WJHA has remained connected to the athletes to ensure physical, academic and emotional well-being.
"It was a huge highlight to receive a letter from coach Janelle during the lockdown," Vera noted.
The hope of the coaches is that experiences like those will make impacts in the lives of girls like Vera that will last for years. They may not have known at the time how much hockey would positively impact their lives, but those impacts have stayed with Janelle and Danica and have given them the confidence and determination to reach their goals.
"Hockey is so much more than just a sport," said Janelle. "It has the power to instill confidence, hard work and resilience and ultimately change lives. As female coaches, it is our responsibility to ensure the next generation of girls feels empowered to lace up their skates, step onto the ice, and learn the game that has given us so much."