Project 11 high school pilot giving teens place to share their stresses and emotions
November 18, 2021 2:11 pm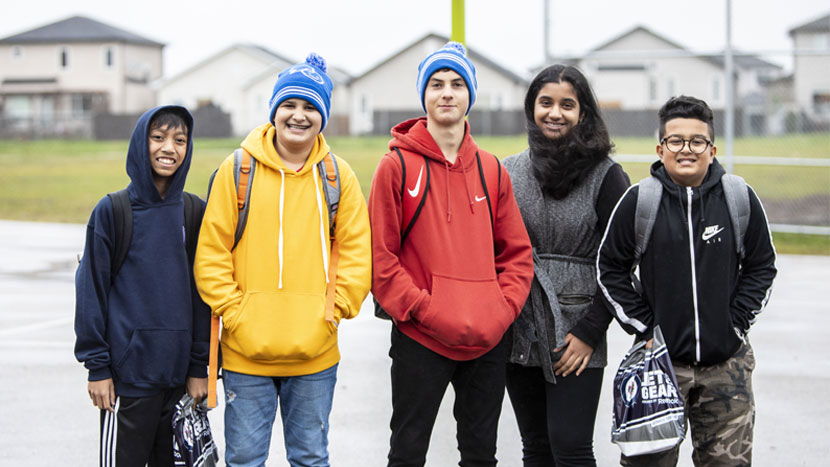 Life can be stressful for teenagers. Or to say it in their terms, "the stress is real".
That phrase may get thrown around lightly, but it's still true. Grade 12 student Brooklyn can attest to that.
"Over the past few years my anxiety got increasingly worse and trying to balance my social and academic life got overwhelming. In my Grade 10 and 11 years, I thought my marks defined me and every move I made had an impact on my future. My mental health was at its lowest as I buried my head in my books and stopped taking time to do the things I enjoyed."
Those feelings aren't just Brooklyn's – countless high school students have similar experiences. Without question, bringing the discussion on mental health to high schoolers is integral work.
After working with middle years classes since inception, and in early years classrooms a few years later, Project 11 is doing just that by expanding their programming to high school classes in Manitoba. The high school curriculum is in its second pilot year before taking full flight in fall 2022. Once that happens, Project 11 will officially be available to all classrooms that cover the entire span of K-12.
Reaching that teenage demographic and rounding out their program for all school-aged youth is significant for Director of Educational Programs Suzi Friesen and the Project 11 team.
"We've had the chance to impact high school students many times in the past by delivering the story of Rick Rypien, who's experience served as the initial inspiration for Project 11 and continues to fuel the program," said Friesen. "To soon be able to have them talk about the challenges they're facing on a daily basis will help high school students understand that they really aren't alone, and it will set them on a path for positive mental health throughout their lives."
That's already been the case in classrooms participating in the pilot, including Brooklyn's. It hasn't just made individual impacts for each student, but for their entire class.
"As we shared personal stories, talked about difficult subjects, and learned about all the different aspects of mental health, we grew closer and established new friendships. It was mind blowing to me how little you may know about someone and what they're going through even if you've spent the last 12 years of your life with them. Project 11 encourages everyone to be more vulnerable and breaks the stigma that should not exist in the first place."
The pilot perhaps could not have come at a better time for high schoolers, as the pandemic has wreaked havoc on their routines, their recreation, and their relationships.
For Grade 11 student Kayden, not having sports and friends to spend his time with meant that a big hole was left. That hole, unfortunately, became all too easily filled with anxiety.
"Sports, friends, and family have a big impact on anxiety, and with COVID, it all became too real how we take all these things for granted," said Kayden.
The program, though, has given him insight on how to deal with such situations.
"I think that everyone should know that no matter how small you may think your problem may be, you should still talk about it and not feel guilty expressing your emotions."
The program has left a similar impact on Grade 11 student Seth. He notes that eliminating stigma starts internally with each of us not judging another's situation. That's something he'll be striving to do more often.
"The pandemic has made me feel more sympathetic for people as you don't know what kind of situation they are faced with in their home life. This has really made me feel like I should be treating others like I want to be treated and even asking simple questions like how their day is going or giving a simple compliment when accomplishing something. Sometimes these little things can be the highlight of someone's day and make them feel better than before."
The stress may still be real for youth, but with Project 11 getting the conversation started, at least the knowledge that they aren't alone in that stress will be real for youth too.