First Shift program takes over Learn to Play, but core values stay the same
October 31, 2019 11:23 am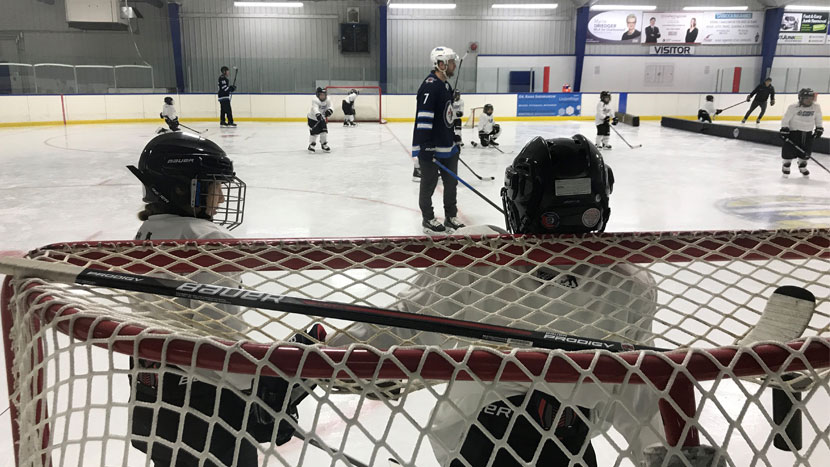 All NHL hockey players remember their first shift in the league. It stands out as a pivotal moment where they 'made it'. A group of NHL alumni are helping kids get that 'first shift' feeling as well, not in the NHL obviously, but by putting them on skates for the first time.
The Winnipeg Jets have been involved in this kind of programming for several years through the Learn to Play program. The program involved Grade 3 students from several school divisions, including Pembina Trails School Division and Seven Oaks School Division, and brings the kids to a nearby rink to participate in hockey skills learning once a week. The program, which supplies the students with all the hockey gear they need, runs for eight weeks, and then they change to a new group of kids, meaning the program can get 800-1000 kids throughout one year. Now that program will take on the Bauer Hockey First Shift program name, and it represents the combining of several grassroots hockey development programs.
"Canadian Tire had a First Shift program, and there was the Learn to Play program, which we ran," said Justin Kurtz, a former Vancouver Canucks and Manitoba Moose player, and the Local Manager of the First Shift program. "Now across Canada, it's all amalgamated under the Bauer Hockey First Shift program for everyone to use. It's a really smart way of doing it."
Though the change brings a new name, new partners, and a sense of unity between hockey programs across Canada, much remains the same for Kurtz and Derek Meech, a Winnipeg Jets alumnus who serves as the First Shift's Local Coordinator. They still work with school divisions, they still get anywhere from 800 to 1000 kids through the program each year, and the equipment is still all provided for the students free of charge. The core values of teaching kids the basics of hockey, and letting them have fun with it are still foundational too.
"The first week, the kids get fitted for equipment and get a sense of the process and the rink," said Kurtz. "And then the classes come once a week for eight weeks straight. They'll do their drills and their skating, and then go back to school."
"It's pretty simple, which is what makes it so good," added Meech.
Kurtz and Meech are always amazed at how quickly the kids pick up the game. By the end of a season, they will even see some kids advance into organized hockey thanks to the program.
"For some of these kids, this is their first experience of skating," said Kurtz. "So even in a couple of weeks they come a long way. The end idea is to get some kids into the game, and some will sign up for registered hockey and we've been seeing that over the years that we've been doing this."
Having played so much hockey in their lifetimes, both Kurtz and Meech know what a difference a program like this can make, especially with former NHL players involved.
"When we were that age, we would've loved to have NHL alumni come in and mentor us, so this is a great thing for everybody involved," said Meech.
"We played the game forever and this is a way of giving back," said Kurtz. "The main thing is they're enjoying it, and they have a smile on their face."
And as much as they are teaching these kids the basics of hockey, they know they are giving them a foundation for life beyond hockey too.
"The program really provides great life lessons," Meech remarked. "In a literal sense, when you fall down, you get back up. It's no different in life. And when students see others struggling because this is something new to them, they know that they don't have to be perfect at everything, and it's alright to struggle too. In the end, they're all learning together and they're all in this together, so they get to grow together."
For more information on the Bauer Hockey First Shift program and how it will impact children across Canada, read the NHL/NHLPA press release at www.nhl.com/news/nhl-nhlpa-partner-with-first-shift-program/c-310612474.