WJHA student Dominick honoured with Air Canada Fan Flight award
May 2, 2021 10:00 am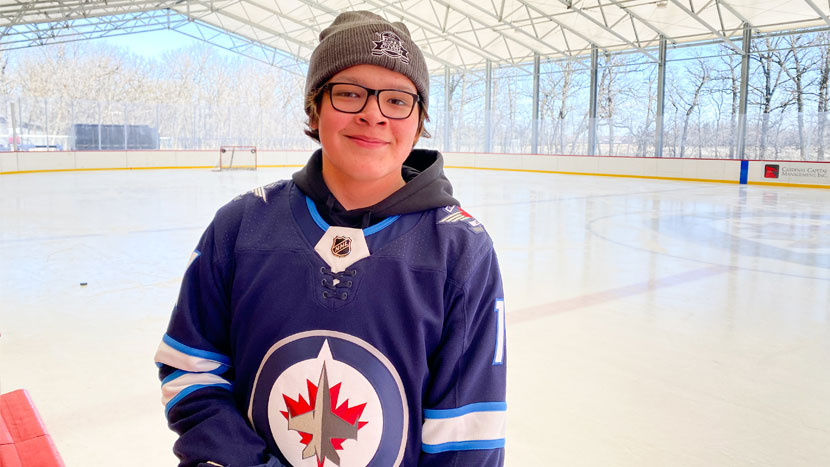 The resiliency of the Winnipeg Jets Hockey Academy (WJHA) has been tested this year, as the program hasn't been able to run its regular on-ice programming with students for much of the season. The resiliency of the students has been tested too, as interactions with the program have had to change. The WJHA has found ways to safely continue programming such as tutoring and virtual workout sessions with youth that have maintained the character development they aim for, and students likewise haven't lost sight of being involved in the program and their community.
It's that kind of development and character that Air Canada seeks to promote each year through their Air Canada Fan Flight awards, and though the pandemic has forced them to change the structure of the award, they know that it's as important as ever to encourage youth this year. In Winnipeg, Air Canada chose to recognize WJHA student Dominick as their community champion in 2021.
"I was in shock and I'm still trying to process it," said Dominick.
Murray Cobb, Director of the WJHA, however was not surprised. In his eyes, Dominick has been a leader in the WJHA, setting examples for his peers and WJHA staff alike.
"Dom is a most deserving recipient of the Air Canada Fan Flight as he's always been a leader within the WJHA and his community," said Cobb. "This was evident from the time he entered middle school and began to donate his used equipment to the WJHA so other kids could have the same opportunity he embraced. As Dom entered high school, he became the go-to guy for organizing skates at the outdoor rink to help his classmates stay active and healthy through the cancelled COVID hockey season."
The Fan Flight award sees the Air Canada Foundation select a deserving community champion each season from all seven Canadian NHL markets who have made a difference in their communities. In a typical season, Air Canada would have sent Dominick to see the Winnipeg Jets play on the road, but this year instead presented him with a gift box designed especially for him, including a video message from Jets head coach Paul Maurice, flight passes for future travel, game tickets to a future Jets home game, a personalized jersey, and other gifts to celebrate his actions.
"Leadership, kindness, and teamwork are values Air Canada stands for," said an Air Canada representative. "Dominick has shown so much resiliency over the past year and continues to be there, leading the way for his teammates despite his own hurdles. The Air Canada Fan Flight is one of the ways we give back to the communities we serve. Through this program, we are able to recognize youth like Dominick who exhibit admirable qualities and are making a mark on their communities as leaders. It is our hope that by providing this once-in-a-lifetime experience, we can provide these youth with unforgettable memories to show our appreciation and support."
Dominick's grandmother, Kelly, has seen those traits develop in her grandson as well. Having others recognize Dominick's strong character meant a lot to her.
"It's awesome. I'm so proud of him and his accomplishments and that others have taken notice as well. The WJHA has impacted his life in so many ways. He has become a responsible, respectful, and kind person who will offer help to those who need it," said Kelly.
When asked what made her most proud to call herself Dominick's grandmother, she couldn't even list all the things that came to mind.
"So many things come to mind, but seeing him grow into a man with so many great qualities would be near the top."
A person's true character often shines through in life's toughest moments, and Cobb has seen just how much of a leader Dominick has become over the last year.
"Dom has helped his family get through a difficult year dealing with unforeseen tragedies. In these hard moments, Dom was able to step up, as always, to make those around him feel they can pull through and take care of each other. Overall, Dom is that unique natural leader who always goes out of his way to make sure everyone around him is doing well and is taken care of."
Though others know how deserving Dominick is, his humbleness shone through as he admitted that he never could have imagined something like this happening to him. That quality is undoubtedly another reason Dominick is so worthy of the award. For him though, it all circles back to the WJHA and the lessons he's learned from the program.
"The WJHA has always had a positive impact on myself and my family," he noted. "All the ice times and off-ice lessons that can help me with my future in life are all things that stand out to me."
The WJHA hopes to make that positive impact on each student in their program, and hopes that those impacts will leave their mark long past each student's time with them.
Kelly too hopes that Dominick's experience in the WJHA, along with winning the Air Canada Fan Flight award, leave him with a desire to be a leader and keep chasing his dreams.
"I hope the lesson Dominick takes away from this experience is that when you do the hard work for something that is important to you, great things can happen."