12 Days of Giving – Day 9: Giving youth the tools to chase their dreams
December 14, 2021 7:00 am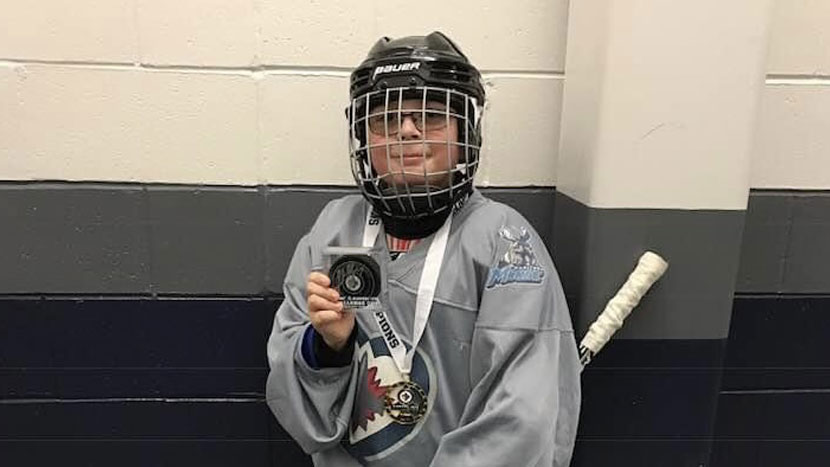 Every student faces challenges, and those challenges are unique for everyone. For Grade 10 Winnipeg Jets Hockey Academy (WJHA) student Riley, making friends proved to be difficult for him when he was younger.
To compensate for that, Riley often found himself trying to impress his peers, which frequently ended up getting him in trouble instead. His WJHA coaches, though, stuck with him through those trying times – something that is paying off today.
Early in his time with the WJHA, Riley was invited to join one of their minor hockey teams, which instantly made a difference for him in that it gave him a team on which to make friends and a place to fit in. It also gave him more time to connect with WJHA coaches who have become mentors to him on and off the ice. Their guidance on the ice helped improve Riley's hockey skills, in turn boosting his self confidence and showing him what hard work and dedication can result in.
That improved sense of self-assurance and drive gave Riley the tools to chase his own dreams away from the rink, which has taken the form of a grass cutting and snow removal business that he started four years ago. Riley already has his sights set on new goals as he continues to grow, such as working at the True North Youth Foundation's Camp Manitou this summer. With the lessons of teamwork and hard work he's learned from the WJHA, he's sure to be a great mentor to the next wave of youth.
"WJHA minor hockey and after-school programming has created a positive impact on me for many reasons, such as being part of a team, making friends, being accountable for my actions, and learning how to be a great mentor from my coaches both in school and out of school. They have taught me to always work hard for what you want and be respectful to everyone." – Riley, WJHA student
Be a game changer this holiday season by giving more youth like Riley the chance to chase their dreams through the WJHA by donating to the TNYF 12 Days of Giving campaign HERE! All donations make a difference for Manitoba youth, as just $150 provides hockey skates for a WJHA student.