Flatlander's Beer Festival back at Canada Life Centre June 2 & 3
April 12, 2023 10:24 am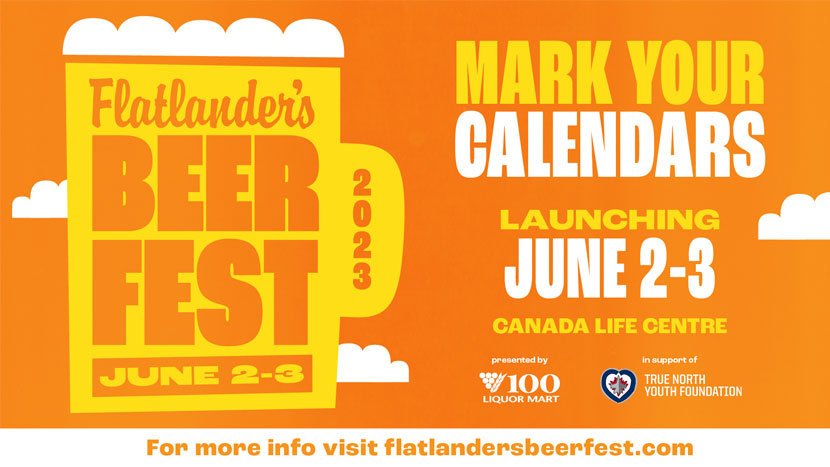 The Flatlander's Beer Festival presented by Manitoba Liquor Marts will take over Canada Life Centre once again on June 2 and 3 for the festival's 19th in-person event in support of the True North Youth Foundation (TNYF).
More than 300 beers – including local craft beer, craft beers from across Canada and international beers from 15 countries – ciders, spritzers and ready-to-drink beverages will be available to taste, including more than 150 products exclusive to the festival or available in very limited release. The VIP tasting event is also back this year, where purchasers will enjoy beer-inspired eats with access to the tasting at ice level an hour prior to general admission on Friday.
Tickets for three tasting timeslots are available:
• Friday, June 2 – 7-10 p.m.
• Saturday, June 3 – 1-4 p.m.
• Saturday, June 3 – 7-10 p.m.
VIP Tasting Event
• Friday, June 2 – 6-10 p.m.
Food to complement the beers and beverages will be available through a variety of food trucks on the arena floor.
On sale now through Ticketmaster, Tickets for this year's festival start at $44.95 plus fees and include all samples, a program and a keepsake sampling cup. Designated driver tickets are also available for $25 plus fees. Tickets are also available at Winnipeg Liquor Mart locations.
Last year's festival raised over $190,000 for the TNYF, allowing them to continue their important work of empowering potential in Manitoba youth by administering meaningful programs that enrich physical, social, mental and emotional aspects of a child's life. This is accomplished through their three core programs – the Winnipeg Jets Hockey Academy, Project 11, and Camp Manitou.
For more information on the Flatlander's Beer Festival, visit FlatlandersBeerFest.com.