WJHA Maple Leaf Construction Scholarship gives student funds for school and lessons on giving back
June 30, 2023 9:34 am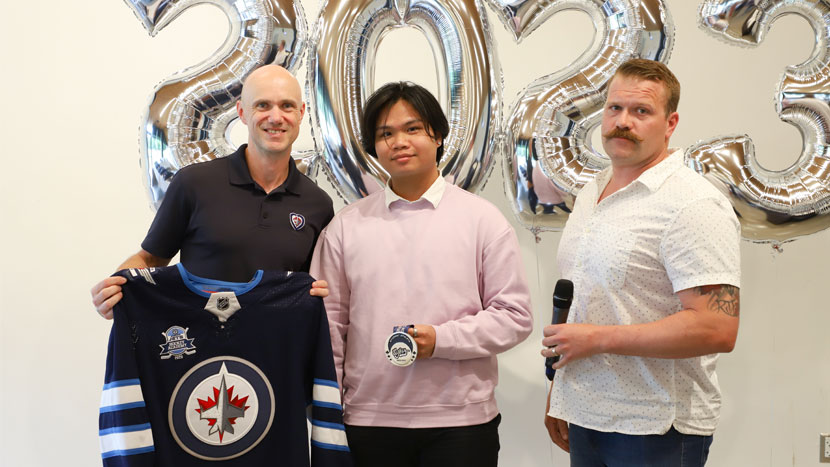 Winnipeg Jets Hockey Academy (WJHA) graduating student JM wasn't aware of what a cover letter was until he was taught how to write one in an after-school session run by the program. Now, having been awarded the WJHA's Maple Leaf Construction scholarship that will provide funds for four years of post-secondary studies, he'll likely be writing more than a few cover letters in his future.
For JM, those will hopefully be directed toward employers in the field of computer science, where he plans to start his studies.
"I've always been interested in computer games. Sometimes, when I would play, I would wonder about how the game was made, and how hard it was to get reflections to look accurate to real life," said JM of his passion for video games.
He's keeping his mind open to other applications for computer science skills too.
"Maybe I'll try making a website or an app like the next Instagram or Facebook or something."
Wherever he takes his skills, JM's been given a solid foundation to work from thanks to the WJHA. That all started on the ice for him when he joined the program a decade ago.
"Being on a minor hockey team allowed me to make lifelong friends that I wouldn't have met if I wasn't asked to play for the WJHA."
It also taught him lessons that still ring true in his life both on and off the ice today – and which he will continue to reflect upon for a long time to come.
"Have fun. Winning isn't everything," said JM. "Hockey isn't always about winning and bragging, it's to have fun."
That concept made way for many more lessons to be learned through the WJHA after-school program in high school – and it went far beyond just learning about cover letters.
"I really liked how the after-school program taught us things for the real world that we normally wouldn't have learned in classes," said JM. "I got to try things that I probably never would have tried if I didn't partake in the after-school program, like volunteering at a homeless shelter or an elementary school. Volunteering at the elementary school was some of the most fun I've had during the after-school program. Playing games in the gym and doing arts-and-crafts with the kids brought some fun memories back."
The WJHA's lessons of giving back particularly resonate with Maple Leaf Construction, which is one reason they choose to donate funds for a scholarship for a WJHA student each year.
"As an organization, we have strong belief that giving back is an important contribution to society," noted Garrett Fitzpatrick, Vice President of Field Operations with Maple Leaf. "We believe in creating career opportunities for people. That may not always be through a formal education, but if someone wants the opportunity to pursue a post-secondary education, we wanted to try and help break down barriers that may be preventing them from achieving their goal."
Maple Leaf doesn't just make a one-time donation to the winning students of their scholarship either. They ensure that the cost barrier of post-secondary education is removed throughout the students' degrees by providing them with funding for four years to get them through their chosen program.
"Our hope is to create more opportunities for JM to achieve his goals without the added stress of trying to figure out how to pay for his schooling," added Fitzpatrick. "We also wanted to make sure the scholarships carry students through their entire degree so that they do not have to stop short because they can't afford to finish."
Those lessons of giving back resonate with JM too, and with the WJHA and Maple Leaf Construction both giving back to their communities so generously, JM's has some great examples to learn from and emulate beyond the program.