Chase the Ace draws impacting youth at TNYF and beyond
November 16, 2021 10:11 am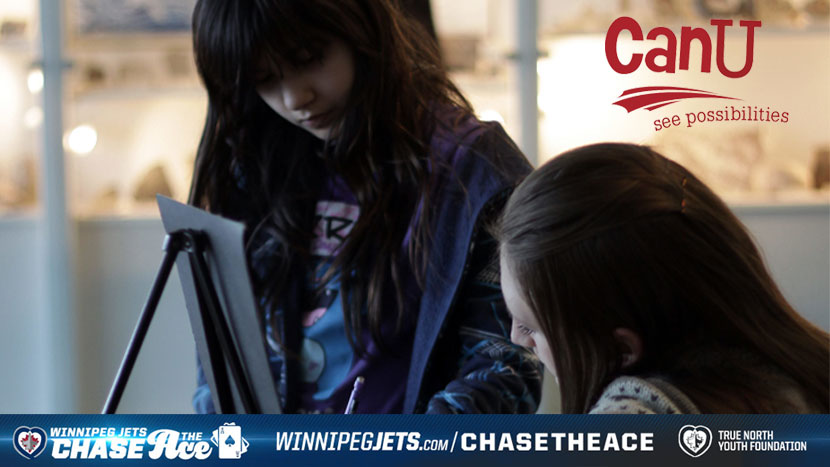 There's nothing more important to the True North Youth Foundation (TNYF) than empowering potential in Manitoba's youth. Though they reach as many students as they can through the Winnipeg Jets Hockey Academy, Project 11, and Camp Manitou, they're fully aware that they cannot be alone in that mission.
Many other local organizations strive for that same goal, which is why the TNYF has committed to supporting other youth-focused organizations through their Chase the Ace fundraisers.
One such organization is CanU Canada, a Winnipeg-based charitable organization that started in 2010 and inspires hope and confidence in the leaders of tomorrow through its out-of-school mentorship and hands-on educational enrichment programs for youth in Grades 5 through 12.
Though CanU has many success stories, one Grade 11 student recently exemplified the very impacts the program hopes to make in youth. As a newcomer to the program, she started out very shy. With time, her confidence grew and her willingness to try new things led her to dreaming of running a book club. Being inspired by CanU's Read, Write, Share Club, the student asked CanU staff to help her lead a similar club for younger participants.
"CanU believes in our youth and wants them to reach their fullest potential, so we put the supports in place to make this leadership opportunity happen for her," said Britney Wilson, a CanU representative. "She led a Read, Write, Share Club for our Grade 5 and 6 participants, and did an outstanding job. She really came out of her shell and was uplifting, inspiring, and enthusiastic with the younger participants. She was even encouraged by the book club to start her own writing website."
Help the TNYF and CanU continue to make impacts like these by purchasing your Chase the Ace tickets today at WinnipegJets.com/ChaseTheAce.