TNYF 12 Days of Giving – Day 7
December 11, 2022 8:00 am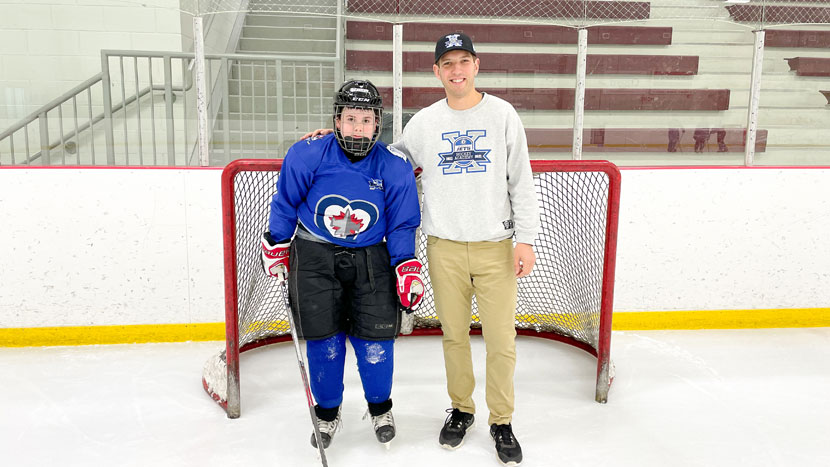 YOU can give youth the chance to develop their confidence
Joining a new school can be tough for any kid. But thanks to donors like you, the Winnipeg Jets Hockey Academy gives students a place to connect and fit in.
WJHA student Cameron experienced that first-hand in Grade 3 when he moved to Bernie Wolfe School five years ago. It was upon moving to that school that he was invited to join the WJHA. With Cameron tending to be shy and preferring to keep to himself, he was having trouble making new friends, so he and his parents gladly accepted the invite to the WJHA. They're glad they did, as he's built bonds with classmates who are still his friends to this day.
The whole program has sparked a new kind of confidence in Cameron ever since. His self-assurance has helped him to make friends and trust his hockey skills and instincts, but he's also become more confident in his leadership abilities. Over the years, he's become almost like an assistant coach at times as he helps demonstrate on-ice drills for his teammates. That has led to him stepping up as a leader in class too.
For Cameron's parents, Jodie and Curtis, it's hardly a surprise to see their son's confidence grow after seeing how the WJHA coaches interact with all the students. They bring a positivity and passion that makes it clear their work isn't just a job for them, and it allows the kids to be themselves and have fun in a group environment.
Now in Grade 8, Cameron looks at the new students coming into the WJHA and how they develop from not being able to skate to flying around the ice. It's a reminder of how much he's developed in the program too, and how far he's come since he first joined the WJHA.
"I believe the greatest benefit that Cameron has experienced as part of the WJHA is his confidence. He exudes confidence when talking about the program and telling us what he's done on the ice." – Jodie, Cameron's mother
YOU can make a difference this holiday season by giving more youth the chance to build relationships and confidence in the WJHA by donating to the TNYF 12 Days of Giving campaign HERE! All donations directly impact the lives of Manitoba youth.