Fishin' with the Jets raffle in support of Project 11 now open
December 15, 2021 8:45 am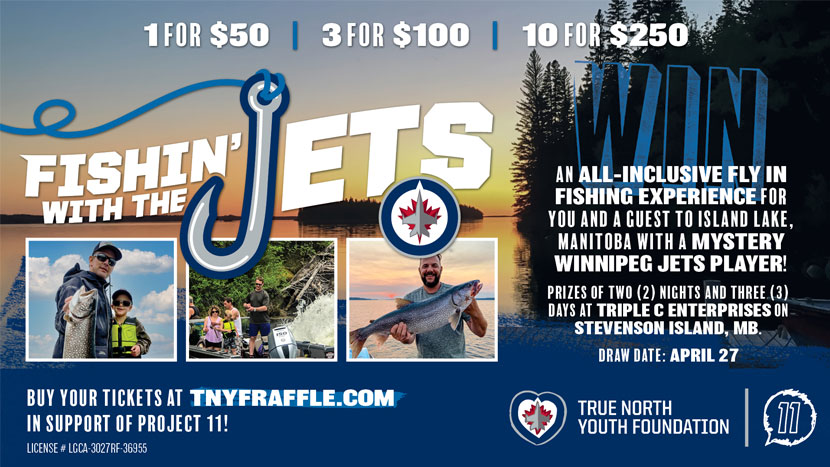 The Winnipeg Jets Hockey Club and the True North Youth Foundation (TNYF) are putting together a truly unique experience for a few lucky fans with their "Fishin' with the Jets" raffle in support of Project 11. The raffle will see two lucky winners win an all-inclusive fly-in fishing experience for two with a Winnipeg Jets player in summer 2022.
The Fishin' with the Jets trip will take place at Stevenson Island on Island Lake in northeastern Manitoba. The two winners and their guests will join a Jets player on a chartered flight to Stevenson Island on a Friday morning and enjoy two full days of fishing for walleye and lake trout guided and outfitted by Triple C Enterprises, who will be providing all fishing equipment and accommodations for the trip. All meals and preparation will also be covered for the fishing trip, courtesy of Mach 1 Construction. Following the weekend of fishing, winners will fly back to Winnipeg on Sunday.
Fans can purchase Fishin' with the Jets raffle tickets at TNYFRaffle.com now until April 27, 2022 at 9 p.m. CT at one ticket for $50, three tickets for $100, and 10 tickets for $250. The raffle ticket link will also be accessible through a QR code that will be available on WinnipegJets.com, on Winnipeg Jets social media channels, as well as in venue at Canada Life Centre and at all five Jets Gear locations (St. Vital, Polo Park, Kildonan Place, Canada Life Centre, Bell MTS Iceplex).
The two winners will be drawn on April 27, 2022 shortly after ticket sales close. Raffle ticket purchasers must be 18 years of age or older and located within Manitoba's provincial borders at the time of purchase. As per Transport Canada's vaccination requirements, winners must be fully vaccinated to participate.
Return travel from Winnipeg to Island Lake will be provided, but winners will need to cover their own travel to get to and from Winnipeg.
All raffle proceeds will go toward Project 11, the TNYF's preventative cross-curricular and bilingual mental wellness program available to all Manitoba educators and which emphasizes the need for mental wellness to be as much a focus as physical well-being.
For full details on the Fishin' with the Jets raffle and fishing experience, visit TNYFRaffle.com.