Filipino WJHA student brings family-focused mentality to the ice
November 7, 2022 9:00 am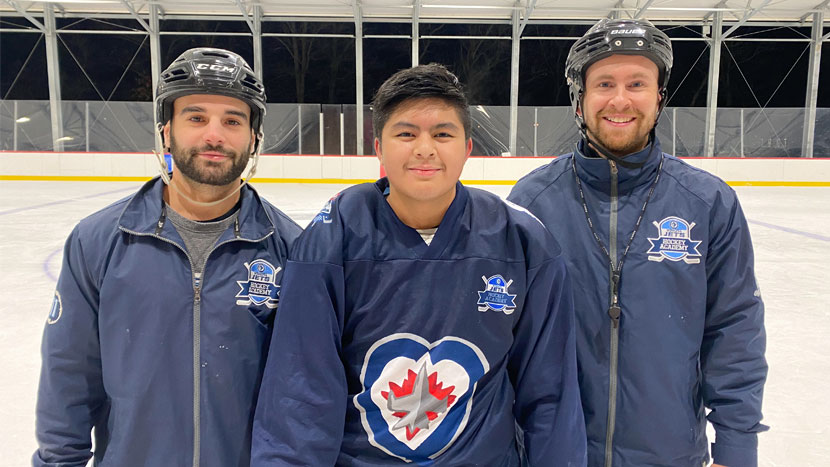 When you ask Winnipeg Jets Hockey Academy (WJHA) student Joseph what makes him proud to be Filipino, two things quickly come to his mind. One of them is the food, for which the Filipino community is so well-known for. But he also loves how family-oriented his culture is.
That's not by chance. His parents have raised him and his siblings in a home where they celebrate their Filipino heritage in numerous ways, and focusing on family is an important part of that.
"We speak Tagalog in the household around our kids so they get used to the language," said Joseph's mother, Criselda. "We cook Filipino food, which they love to eat, and we always emphasize the importance of family and elders and the importance of 'blessing'."
Hockey doesn't tend to be one of those things included with Filipino culture. But as a Filipino youth living in Winnipeg, Joseph – who's in Grade 9 at St. James Collegiate – has found a way to make hockey a part of his culture.
His six years in the WJHA have not only taught him the fundamentals of the sport, but that hockey's focus on teamwork isn't so different from his Filipino culture's focus on family.
"The WJHA has helped me learn how to skate and helped me with my stamina, as well as working better with a team," said Joseph. "I enjoy skating and working with my teammates."
Joseph is perhaps his own toughest critic when it comes to teamwork, as his coaches have never seen him struggle with those skills – no doubt thanks to the way his parents have raised him.
"Joseph is always one of the first to congratulate a teammate on a success, and the first to offer a pat on the back or check in with those who might be struggling," said Trevor Hollins, WJHA Youth Advisor and coach of Joseph's WJHA minor hockey team for several years. "One memory that stands out is Joseph's willingness to put the team first – he has always been a great defenceman, but when we were short a few forwards for one of our minor hockey games, he stepped up without hesitation and even scored a goal."
Joseph's WJHA coaches have even seen his care for family and community beyond the ice surface.
"Where Joseph really shines is his willingness to give back and help others," added Hollins. "This is on full display through his interactions with younger WJHA teammates and has continued now that he is in high school, as Joseph stays connected with his middle school by volunteering with video production and scorekeeping at sporting events. He is busy, balancing school, volleyball and hockey – but unlike most students his age, it is second nature for him to make time for other people and give back to his community."
That family focus is only a small part of his culture that Joseph brings to his team, and both he and his parents are grateful for him to be on a team where he can share who he is. Doing so is crucial, in Criselda's opinion, for people of all cultures if we want to create a more cohesive community.
"His team is multicultural, and everyone works well together, including team members, coaches, and families," noted Criselda. "As a community, we can learn about other cultures by attending different festivals or events that occur in the city like Folklorama and Festival du Voyageur, or encouraging other cultures to try new activities that aren't typically played in their culture, like hockey."
That's exactly what the Winnipeg Jets will be doing on Nov. 8 when they celebrate Filipino Heritage Night. Through a specially designed Filipino-inspired logo, Filipino cuisine, and entertainment throughout the night, the Jets will be showing that, though hockey may not traditionally be a part of Filipino culture, it's a place where people of the Filipino community can belong.
It's something that hasn't gone unnoticed by Joseph.
"I think it is awesome the Jets are celebrating Filipino culture, because I don't usually see much recognition in hockey events."
Along with the efforts of the Jets for special games like Filipino Heritage Night, the WJHA is doing their best to change that. They want hockey to be available to everyone, and no matter what background a student comes from, they want them to know that they're welcome on the ice.
"Our WJHA school and minor hockey programs are meant to be inclusive, fun and safe regardless of a student's background," said Hollins. "WJHA students have the opportunity to learn and grow together from elementary all the way though high school; with this time spent together, students and coaches alike learn a great deal about each other's culture, creating a welcoming environment where teammates feel comfortable expressing their true selves."